I wish I could send each of my readers a card — but, I figure an E-card is almost as good.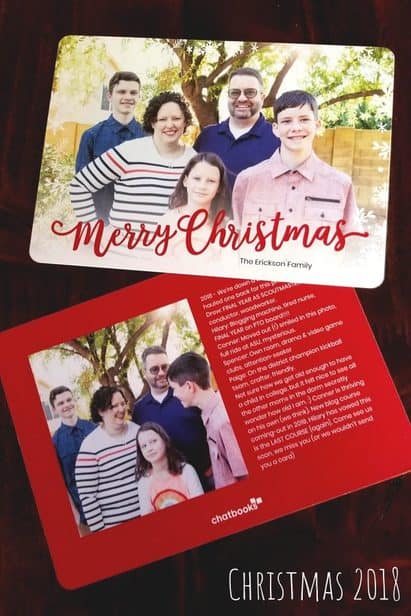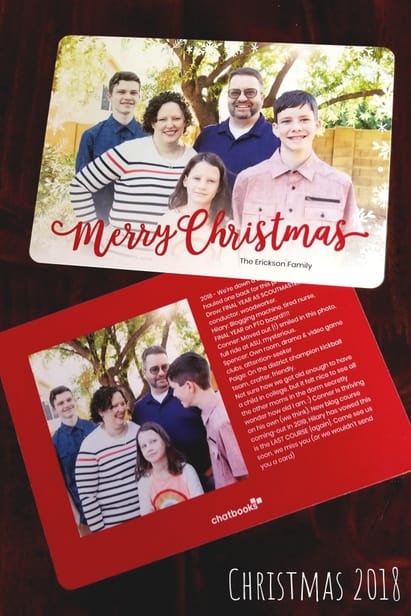 I wanted to share with you what's happened with our family in 2018, just like I send to my friends who I use a stamp for. 🙂
2018- We're down a kid most days, but hauled one back for this photo.
D: FINAL YEAR AS SCOUTMASTER!!! Conductor, woodworker.
Hilary: Blogging machine, tired nurse FINAL YEAR ON THE PTO BOARD!!!!
C: Moved out (!), smiled in this photo, full ride at ASU, mysterious
S: Own room, drama & video game clubs, attention-seeker
P: On the district champion kickball team, crafter, friendly.
Not sure how we got old enough to have a child in college, but it flet nice to see all the other mos in the dorm secretly wonder how old I am. 🙂 C is thriving on his own (we think).
New blog course is coming out in 2018. Hilary has vowed this is the LAST COURSE (again).
---
I'll be honest, a big thanks to Chatbooks for helping me produce these babies, or I would have never gotten them done on my own.
Also, I adore rounded corners. Just me?
I hope you are having a very merry Christmas.
But, even if you're not (and I have certainly been the homesick new mom at Christmas), I want to wish you a warm holiday, and invite you to provide yourself some grace at this time of year0. Life is never perfect, but memories happen when you least expect it. 🙂
Hilary