This December 2018 Dia & Co Open Box review will show what I got, what I thought and what I kept!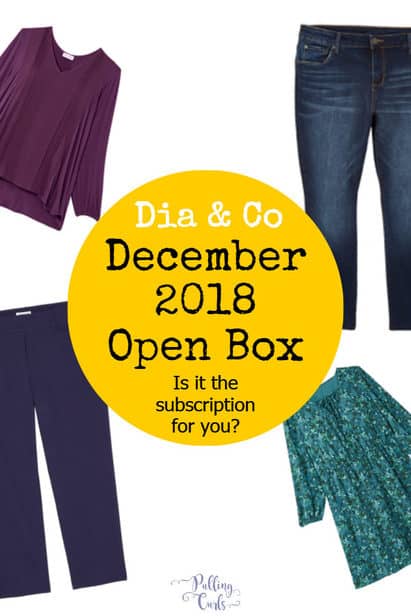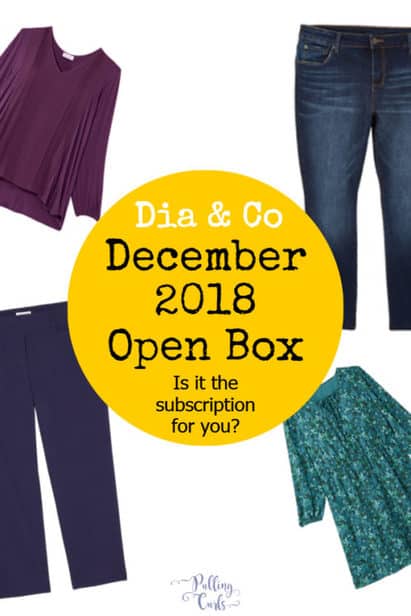 I was really excited to get this box, because, I requested some wintery items. Which, is unusual for this Arizona girl!
In case you're interesed in more info on Dia — I have a post that links to all of my Dia & Co reviews, and I also have a page on the cost of it all — Dia & Co Pricing that will help understand the cost.
Ok, let's see what's in the box:
**Full Disclosure: I do get the box for free from Dia as an influencer — but, all opinions are my own — as you'll see. 😉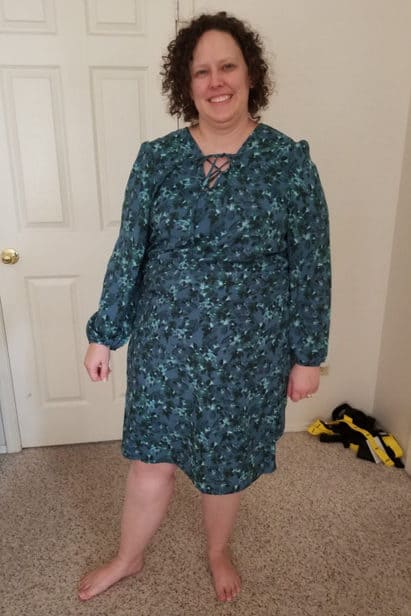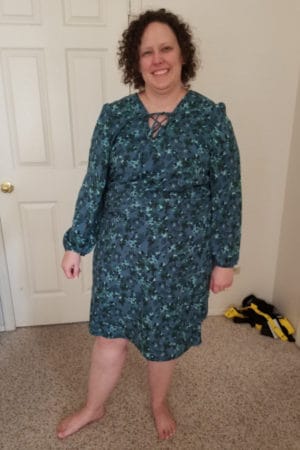 Molly & Isadora Sage Long Sleeve Lace Up Elastic Waist Dress $59 ($44.25)
I LOVE the dresses that Dia has sent me.
Sadly, this one was a bit too small — like, everywhere. I could probably make it work, but I didn't like how tight it was. I would need a size up, and they didn't have an exchange available.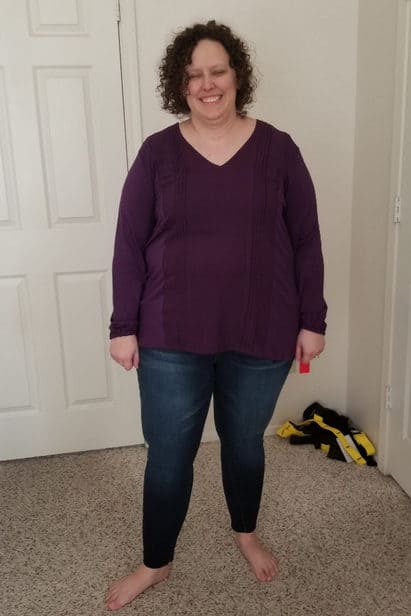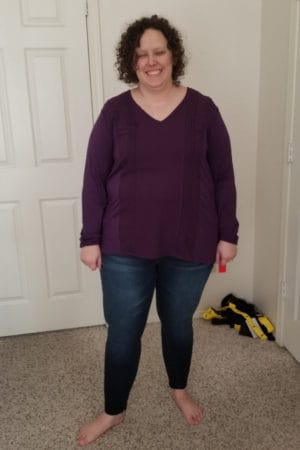 Molly & Isadora Brenna Long Sleeve Pleated Tunic $55 ($41.25)
Guys, if you saw my box from last month you know how much I love purple. And this shirt did not disappoint. It fits well. I like the pleating in the front (it's hard to see in this photo) — it looks classier than a basic T, but is still super comfy. BIG fan, total win with this top!
STS Blue Lenox Skinny Jean $59 ($44.25)
These jeans are pretty good. I like the coloring. But, they were SO tight on my calves, and pretty tight on my thighs/butt. I wanted a size up.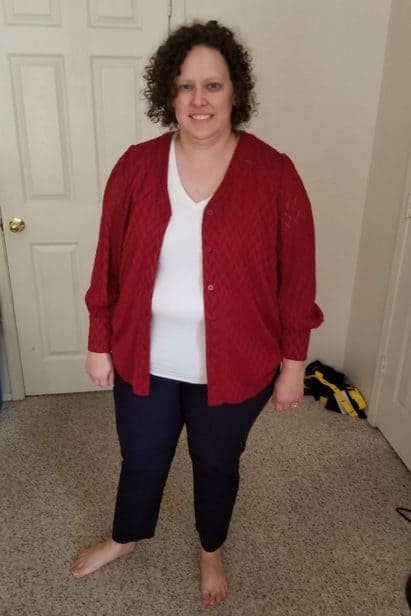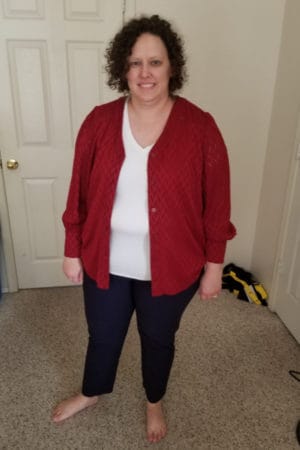 Ryan Whythe Georgina Long Sleeve V-Neck Button Down with Wide Cuff Detail $59 ($44.25)
I REALLY like this red shirt. And it looked good buttoned up, except for the last button…. which was a bit tight. So, after spending 20 minutes deciding which way looked better, I photographed it open.
I think it looks pretty decent open as well.
It has a really nice texture, very different than the other things I own.
Prescott New York Coventry Petite Straight Leg Trouser ($51.75)
These are a nice dress pant but SO FREAKING SMALL. Like, I needed two sizes up! I think I may have pulled something trying to get into them.
I ordered an exchange up to two sizes.
Dia & Co Box Total: $301 ($225.75)
>> Get Your Own Dia Box Today <<
Dia 2018 Box review:
I've gotta say — I think this is my 5th box, and I'm a little miffed they haven't gotten my sizing right. I have been pretty much the same size since I started. I have been losing a bit of weight lately, and of course I hope to lose more weight, but all of my other clothes fit.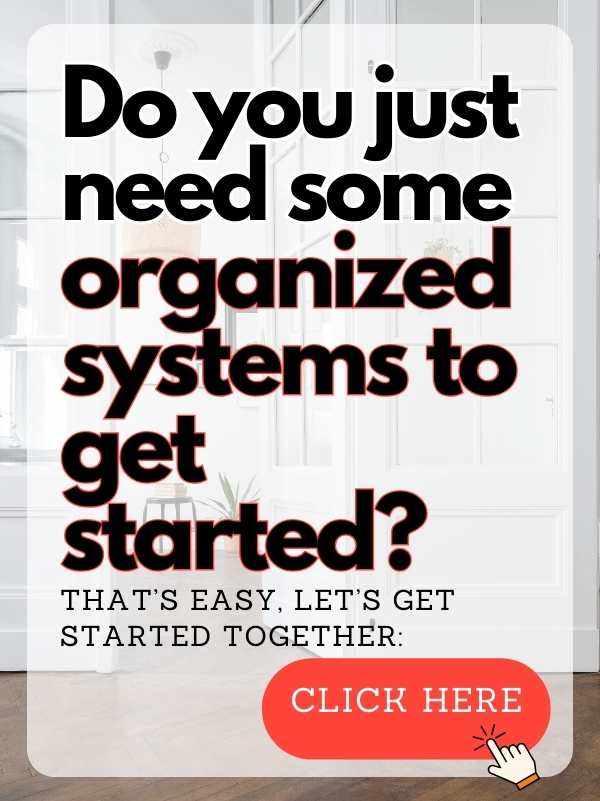 Anyway — I was just kind of disappointed in this box.
Honestly, if I got this one without it being a blogger box, I'd probably talk to their customer service, and mention how upset I was that things didn't fit at all (they were only able to exchange a couple of the pants) — maybe return the whole box and ask them to try again. Maybe they'd credit your styling fee to the next box.
So far, their customer service has been top notch.
A note on returns/exchanges: I was able to exchange the pants. They made a note of the other items — and said they might be able to send the right sizes in future boxes. BUT, I was going to be out of town when the exchanges came, and they gladly extended my return window for 3 more weeks, so that made it easy!
Honestly, I've had a great box with Dia previously, this one was just a dud — which is going to happen.
AND, I wanted to be honest about that. 🙂
If you liked this post — sign up to see my next box — and check out my other fashion posts below that!
[thrive_leads id='30908′]
[pt_view id="23ee41a1fk"]