P is still pretty little, and doesn't walk, and isn't a huge fan of standing up. I hadn't done Disney with any one this small… but it worked alright, and mainly because of ONE reason. Our Ergo carrier. If I hadn't had this I think my arms would have fallen off and I would have died. We also used the Ergo carrier to haul her to and from the park so we coudl put Spencer in the stroller and not move as slow as honey (thank goodness for tiny kids, Spencer only weighs 35 pounds right now).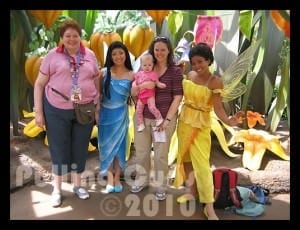 It was a good age though. Sometimes I'd help her walk when we were in line, she fell asleep fairly easily in the carrier which meant we could still go on and off of rides with her asleep (she always woke-up during the fight scene in pirates of the carribean though).
I had to haul her to a couple of the "girly" people though. We had to see tinkerbell, and while she was OK those other pixies were hilarious. The blue one said "oh goodness, she hasn't grown into her wings yet, and I will have to have Tinkerbell tinker her a new voice, she has obviously lost hers". I couldn't bring myself to wait in the hour long princess fantasy faire line.
That. is insane.
We took plenty of snacks for her, and I tried to always have some handy when she got fussy on a ride. We particularly liked these (hey, blogger bloggers… did you know you can get images from Amazong easier on your blog now — fyi, I am paid if your purchase through this link, but don't — I think I got my box for like 3 bucks at Walmart). They disolve in their mouths but are nice like teething biscuits that they can hold and feed themselves.
All in all she did pretty great. Of course, she also got 3 teeth while we were there, so that was less then great, but she slept alright at the hotel.