Today's new post is all about feeling great about how you look without spending a lot of time OR money to get that way — easy everyday makeup. Find out some of my favorite products to help you look great!
I am a firm believer of getting up, getting ready and making yourself look your best as you start your day — but, for the last few weeks, my desire to do that waned. I'd find myself at the computer at 5 pm still in my Pajamas with my hair not even touched.
And frankly, that doesn't feel all that great.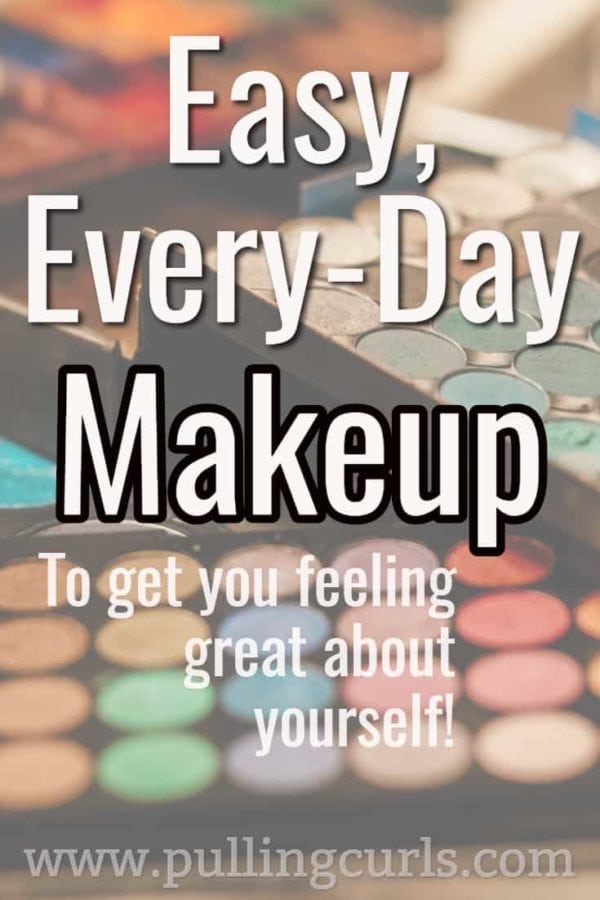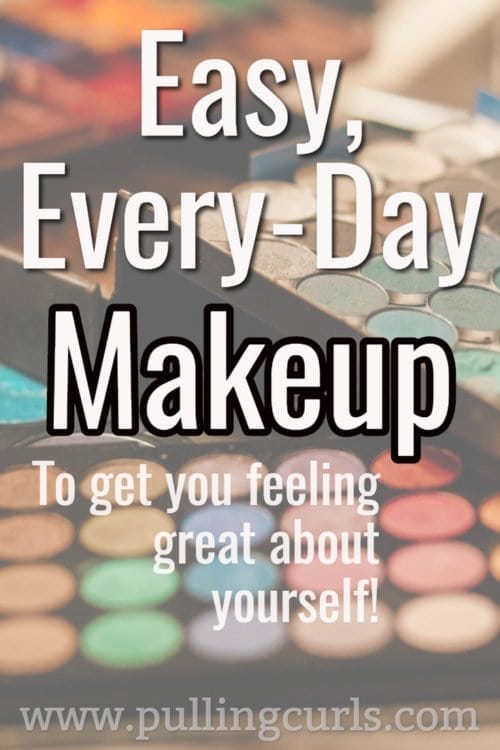 All day I'm just so focused on my work, or even binging on Netflix — I haven't taken the time to take care of myself. To allow myself to give the world the face I want to present.
Of course, I am also the first to say that the face I want to present doesn't take hours to put on.
AND after that week I really started to look for some products that would look good, but also stay on all day long, looking good.
Don't miss my newsletter that will give you 5 extra tips to get you looking great FAST! I feel so much better with makeup — but speed is key in my world. 🙂
I sometimes felt like I put on makeup — but by about noon I looked like I hadn't put on makeup. Which is the ultimate act of futility! This post is going to take about lipstick and eye makeup that stays on ALL day — you're gonna love it! Oh, an ddon't miss my other post on DIY makeup organization.
Easy Everyday Makeup
I have found a few things that I really like that I wanted to share with you (today I'm sharing great products for lips, eyes and face — stay tuned to win a free blush!)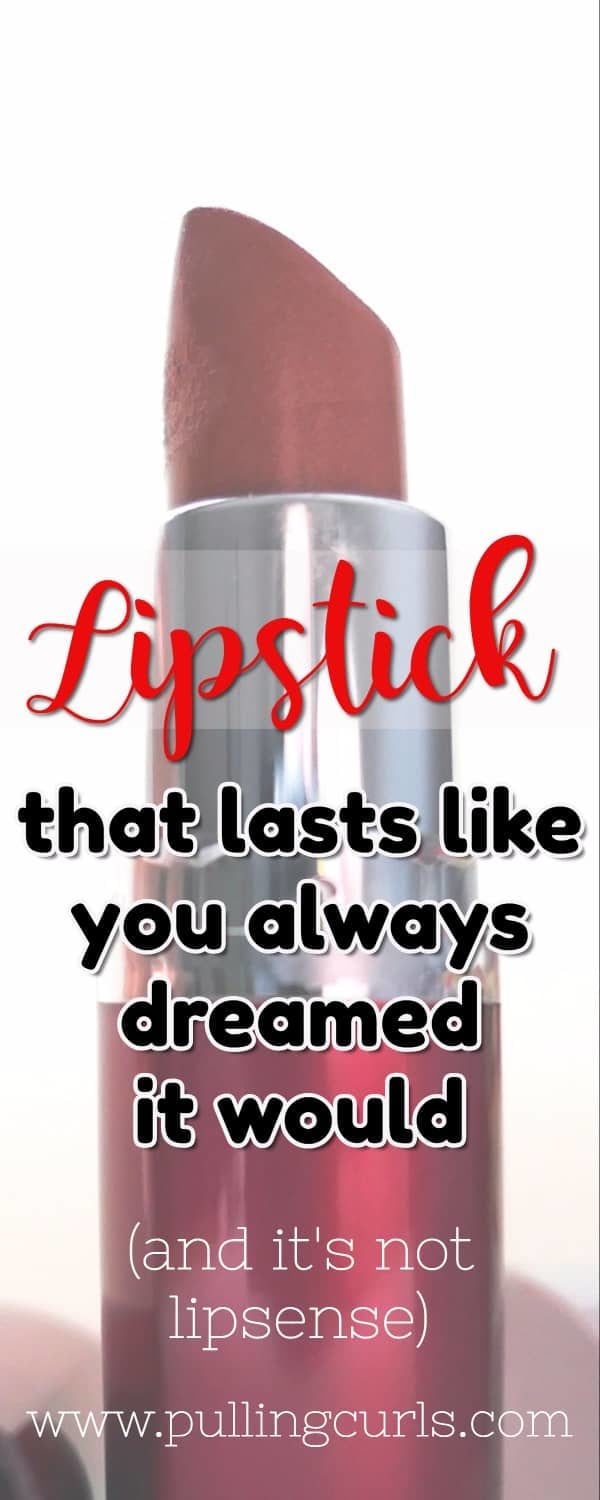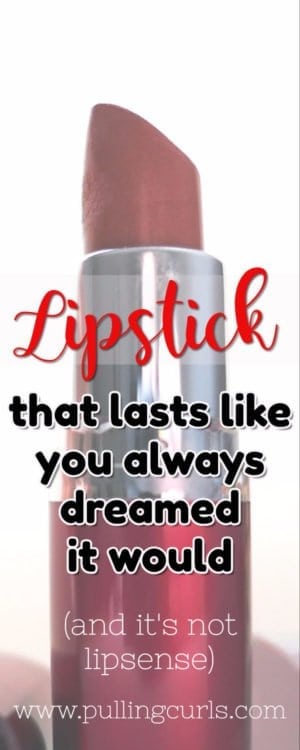 Lips
I hated leaving lipstick marks on my cup all day.
I know, it's a bit OCD — but it was just something that bugged me. Plus, just a couple hours after I put it on — my lipstick would be gone.
No more!
I'd heard tons and tons of stuff about Lipsense, and admired my friend's. I was amazed by how it stays on all day and looks great.
And then I saw the price tag. Yes, it might be worth it — but I just thought there had to be some better alternatives out there for a gal!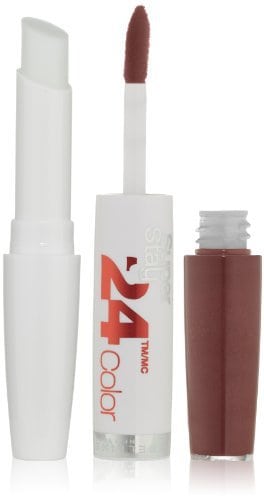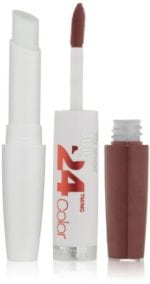 And then I read my friend Camille from Friday We're in Love article about Lipsense alternatives — and the next time I was at the grocery store I picked some up. It's Maybelline 24 hour lipstick. I love this color and this one. BTW, the Amazon price is WAY cheaper than you'll find it in store (huzzah!).
And I. Love. It.
It stays on all day long and looks great the whole time.
Minuses: Once you put it on, you have to let it dry for a couple of minutes before putting the balm on — and I am impatient, also you do have to use makeup remover to get it off. Also, your lips feel a bit dry after a few hours (but once you put the balm on — it feels great).
Anyway, I would 100% recommend it. It looks great!
**These are SO much cheaper on Amazon than in the store (be sure to double check other sellers as well)! I started with one but now I have 3 or 4 of the colors — so buying them on Amazon will save. I would say that the colors you see on Amazon are pretty close to everything you'd get in the store anyway. Just an FYI — Amazon is my new shop for makeup!**
[show_shopthepost_widget id="2586399″]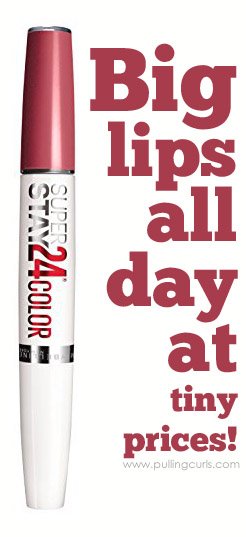 Eyes
I somehow have the special gift for eyeshadow disappearing in just a few hours.
It doesn't matter if I have drugstore eyeshadow primer or even high-end primer — my eyelids seem to just suck it in. 🙂
I was constantly buying eyeshadows that had "lots of pigment" — but they still got sucked into the eternal abyss that is my eyelids.
It didn't seem to matter the price on the shadows or loads of pigment. By the end of the night, it was as if I did nothing.

And then I found Maybelline Eye Tatoo liquid eyeshadow. The beauty of this is that I apply it like a primer, and then I sometimes throw on some of that other "highly pigmented shadow" over the top of it (which wear way better than without it — or even with my regular primer).
It still looks great at the end of the day. It's amazing! I love it! They actually have a whole line of it.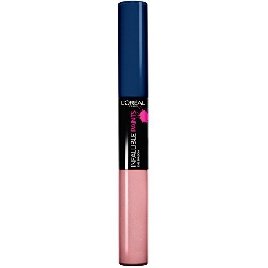 I also recently tried the Loreal Eye Pigment Paint. That stuff is POTENT. I have the pink and navy one (super Type 1 — the one shown). I smear the pink all over my lid and then dot a little navy in the corners and then blend, blend, blend. But, if you wanted a STRONG look — then you could totally go wild with this stuff!
**As I said above — Amazon has GREAT prices on makeup, so don't forget to check them next time you buy — check out the prices!**
Face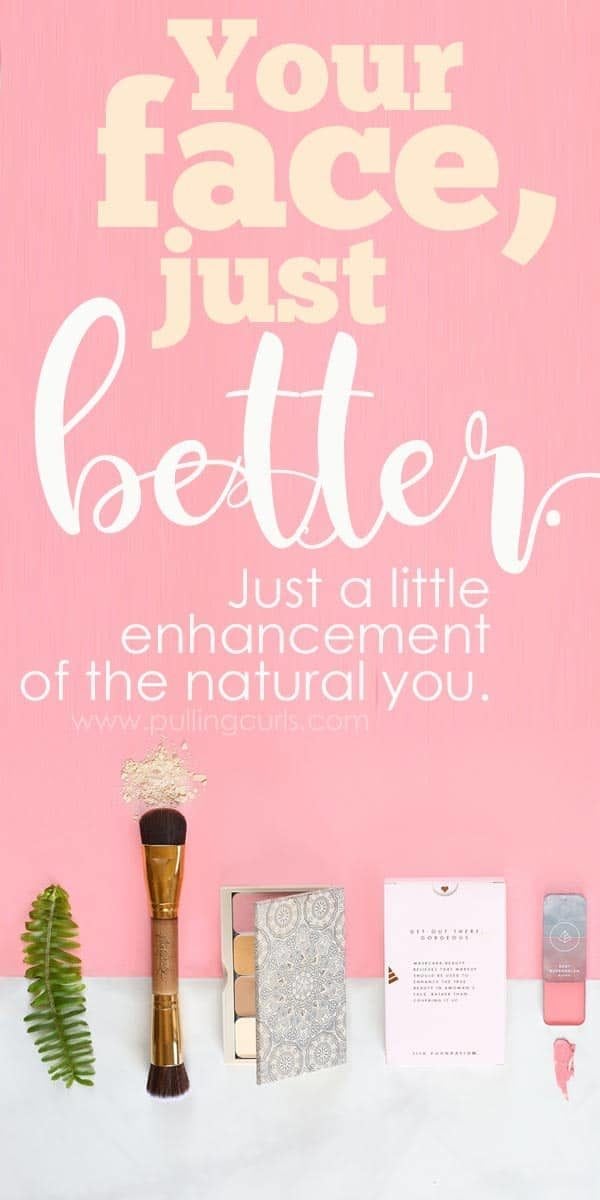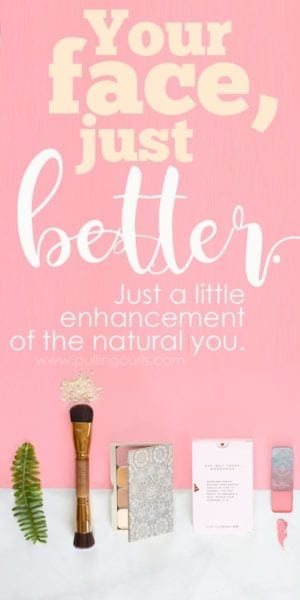 I have recently heard about the MasKara brand of face makeup. I have followed her on YouTube for a long time — even since she introduced it.
My friend Lindsay said that it is the perfect makeup for Moms.
Lindsay is a busy mom with 3 girls under the age of five.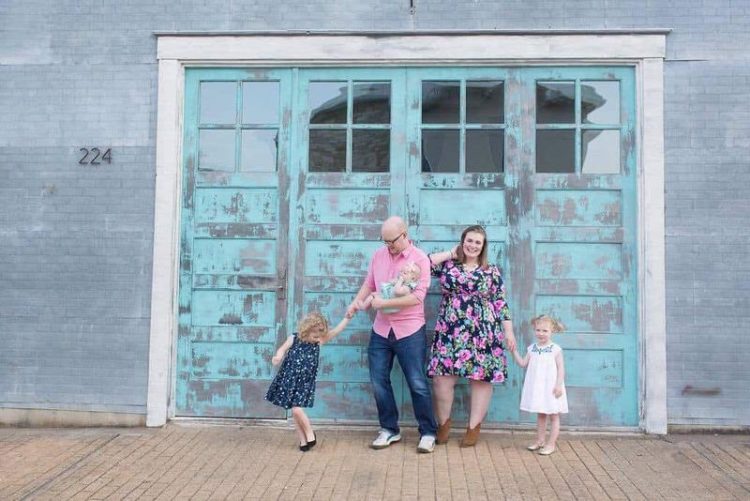 The idea is a quick routine that stays on and looks great.
I have to say that what I've noticed is how amazing the shading looks. I love it on other women but I truly have NO idea how to do it on myself. However, I've watched a few Mascara artists do their "thing" and in a VERY short time they look GREAT. I also like how it doesn't have to come in a set and you can just buy what you need.
Here are the deets direct from Lindsay (who I've been friends with since she was 12):
Maskcara's mission is to help women discover and appreciate their natural beauty.
You don't need to change a thing–makeup should just enhance what you already have.
You don't need endless steps and products, you just need a few right ones.
And above all, makeup should be fun! Not a requirement.
With few exceptions, every woman I have done makeovers on says, "I don't know what I am doing when it comes to makeup. And I feel like it's too late to learn."
[clickToTweet tweet="It's never too late to figure out makeup and look amazing! It's easy, stays on and you feel great!" quote="If you feel like you don't know what you're doing with makeup and it's too late to learn – you're wrong!"]
It's not too late! And IIID foundation makes it easy and affordable. Every mom needs some IIID foundation in their life! It is much quicker, cheaper, and more natural looking.
Use your customize a palette of 4 cream foundations and you apply the colors exactly where you need them the first time. Instead of starting with an all over foundation that takes away all of the natural dimension from your face.
There is also a range of beautiful eyeshadows and powders, face cream, and a setting spray.
Take a peek as Lindsay goes from fresh face applied in just a few minutes!
;
Ironically, just about the only thing this line can't do is mascara! But that is in the works!
Have you ever walked into Ulta or Sephora and felt totally overwhelmed? Have you wished you had someone to just tell you what you needed and how to use it?
That is what I love to do. Online or in person. I will help you find the best match for you, even if that match isn't Maskcara. I will be your makeup personal shopper.


You can find out more by contacting Lindsay Himmer
Email: hacwithlindsay@gmail
Instagram: @hacwithlindsay
YouTube (including her makeup in 3:33 episode)
Be sure to mention party code #1929 or that you found her on Pulling Curls so she'll take EXTRA good care of you!
**I would suggest contacting Lindsay to find out which shade would work best for you!!**
Sign up below for my 5 best tips for looking great fast and then check out my other posts below that:
[pt_view id="23ee41a1fk"]