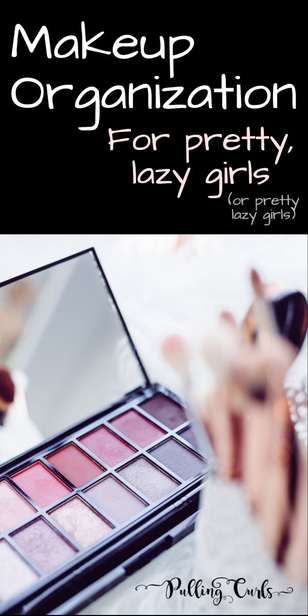 This post will cover makeup organization for busy moms who want to feel great about the way they look without a lot of effort. DIY some organization to help you get ready faster each day!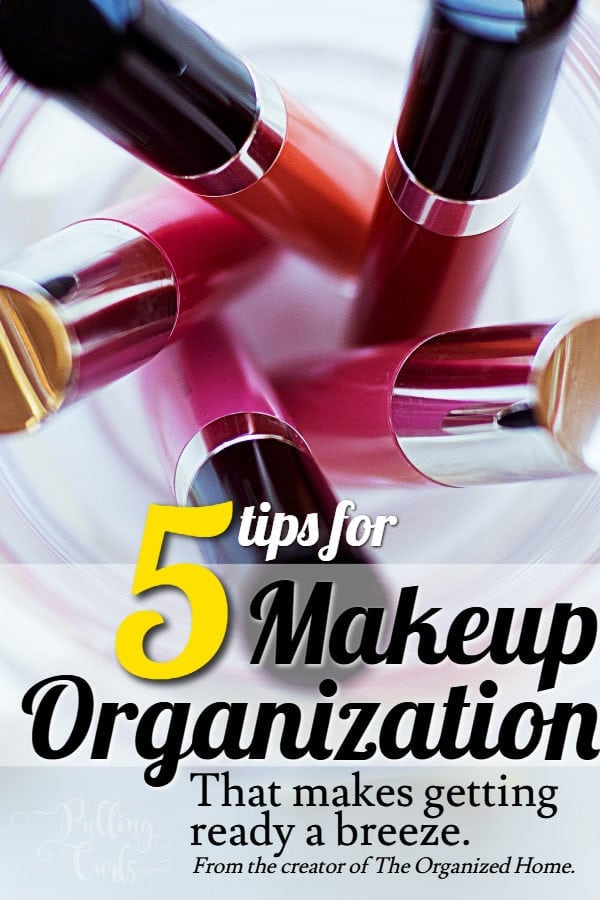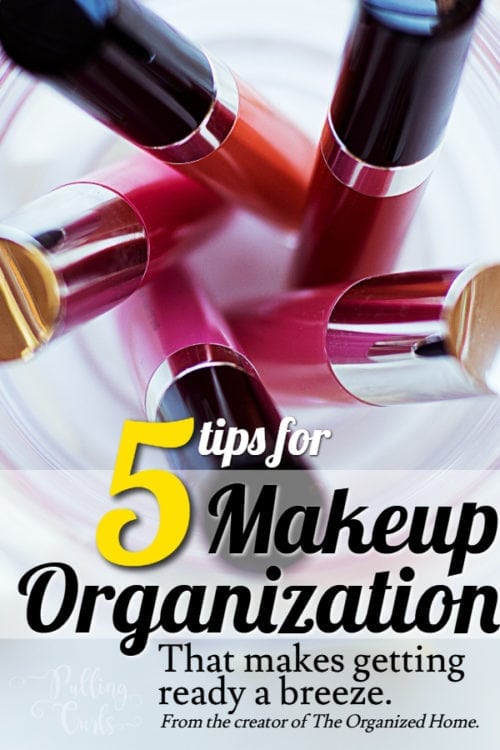 I must admit that I see makeup as a speedbump along my way out the door. While I do enjoy a good YouTube video about makeup application, I don't really enjoy applying it to my own face.
Plus, having to dig to find what I want drives me completely insane. Makeup organization makes it a pretty small speed bump on my way out the door.
I realized that if I wanted to feel great about the way I look — I needed to figure out a way to store it all in a way to make it as easy as possible.
Easy as possible –that's really what I should re-name my blog (but that wouldn't be easy at all — so I guess I'll stick with Pulling Curls). 🙂
If you're
looking for easy organization ideas
? — the tips in
this
that changed how I view organization!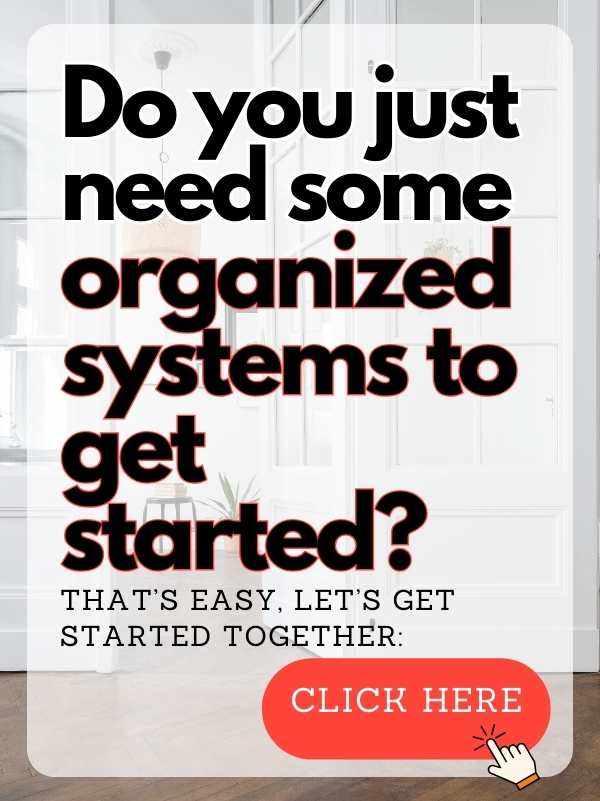 Makeup Organization
Here are 5 tips to your Makeup Organization
Minimize Your Makeup Stock
Throw old makeup away. Ever had pink eye? It's miserable — and I'd 100% buy new mascara in order to NOT have it. It's easy to think that you can keep makeup forever, but as soon as it starts to smell or separate — it's time to get rid of it!
Divide-out Special Occasion Makeup
Make a special spot for special occasion makeup. I keep my Halloween, fake lashes and a few other things in a separate spot. I do use it every now and then, but it doesn't need to be in my regular makeup area.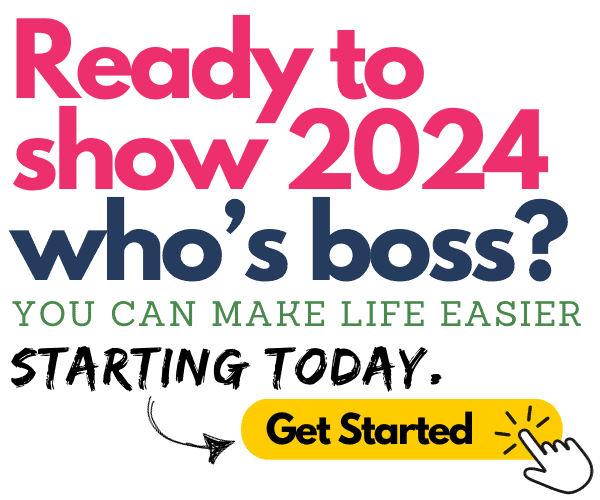 Think outside the box for makeup organization
Use vertical. I love using vertical organization (you can read more about it in that link, and also take my 5-word organization challenge where I explore vertical organization more) for makeup. Makes it really easy to grab it! This can be stacking palettes like books, or using cups for lipsticks, brushes etc. All of that makes it very grab- and go
Related Post: How to Organize Games
DIY Makeup Organization
Get cheap containers that fit your needs. I made one from an Amazon box — but Dollar Tree has TONS of awesome organizers. Just take the makeup you need to store in your purse or take measurements and a tape measure/ruler with you.
I have also made a makeup drawer organizer from an Amazon box.
Monitor valuable makeup organization real estate
Use your areas thoughtfully. I keep eyeshadow palettes and lipsticks in my drawer, and I also have a makeup organizer that fits in my under-sink cupboard (on top of a shelf, so I can store something under it).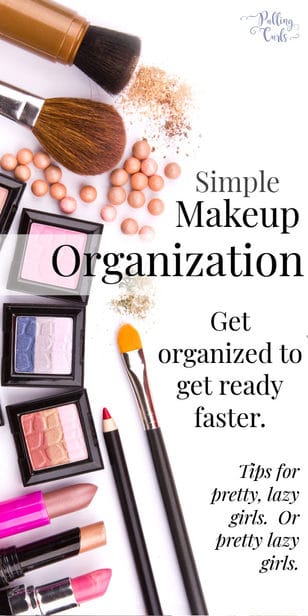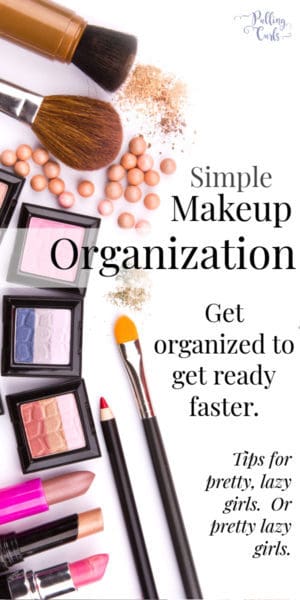 A few final thoughts about makeup
Drugstore makeup rocks. You can often find tons of dupes for your high end favorites. PLUS, you don't have to feel horrible when the makeup needs to be tossed. Check on Pinterest for dupes and I bet you'll find something great (I was jealous of Lipsense — but I found a great alternative here).
Stop holding onto makeup that doesn't work. It's a sunk cost — move on and get new stuff that you can love!
Get in a routine that you really like how you look. Then just use it. No need to mix it up each day. 🙂
You really want a makeup routine that:
Makes you feel great
Doesn't break the bank (that price point is going to be different for everyone)
Last all day (again, this post on easy everyday makeup has great stuff in that area)
And, doesn't take long (organization plays a big role in this)
As long as you can do all those things — I think this is routine that is sustainable.
If you liked this post — sign up for my easy beauty ideas and check out my other beauty/fashion posts below that!
[pt_view id="23ee41a1fk"]