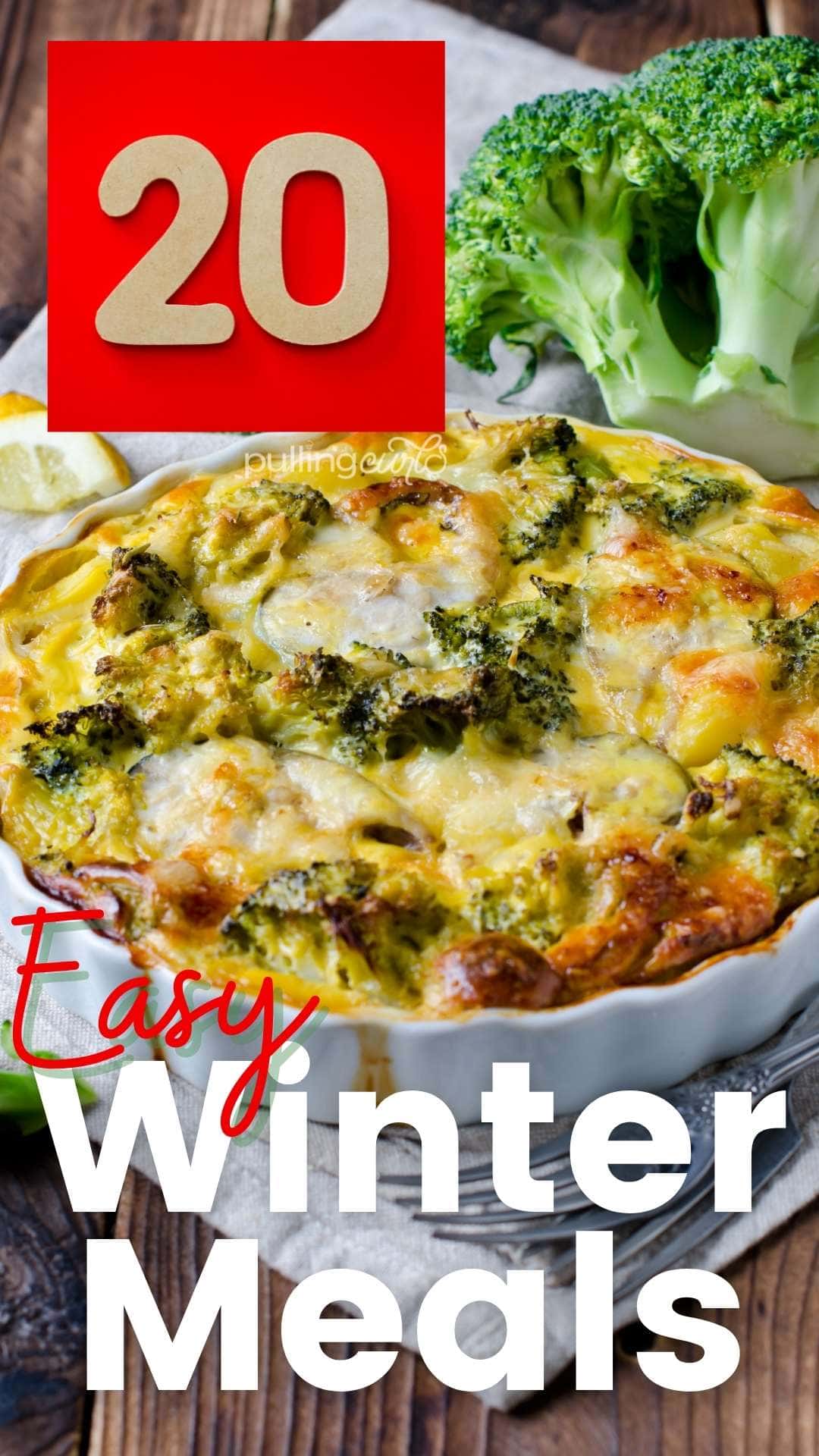 Easy winter meals includes soups, casseroles, and more. These hearty winter recipes might even give you some winter lunch ideas for work too.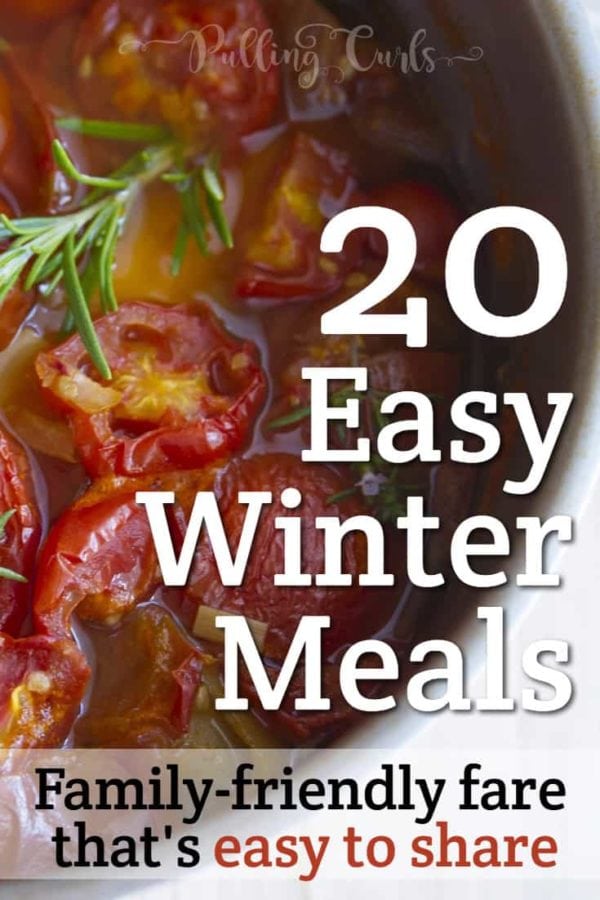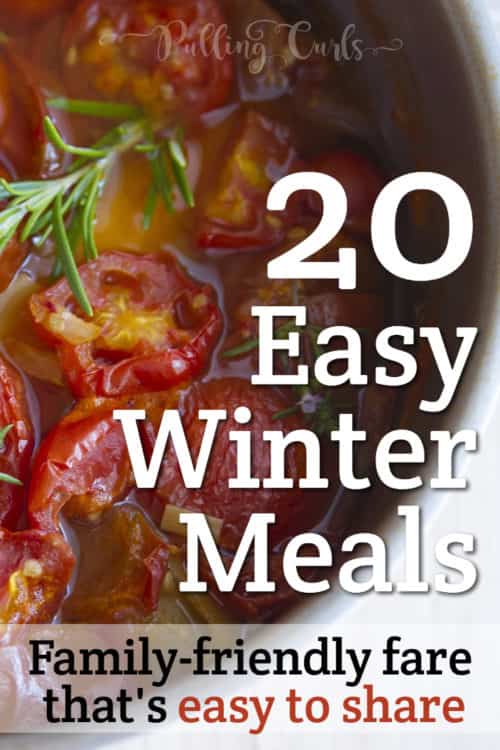 These easy winter meals are awesome dinner ideas for a cold rainy night (or snowy).
These are all meals that our family loves, and I hope you'll love them too!

Easy Winter Meals:
Chicken Enchilada Chili — if you love it at Zupa's you'll love it here! Love that it uses coconut milk!
BBQ Chicken & Black Bean Pizza — get all the fun of pizza, with a little more healthy and filling topping – plus something different from your usual pizza fare!
Chicken Gyros — love the taste of gyros, but don't have any marinated lamb hanging around?
Cheater Korean Beef — For peeps who love Bulkogi but want the convenience of using ground beef. This one's really tasty and different.
Sesame Noodles — We get into the rut of Ragu and spaghetti – this one mixes up your pasta fare! The sauce is so easy — I just mix it in my hand blender. I'd recommend using a little siracha instead of the jalapeno (we like it better that way)
Million dollar Spaghetti — We often have this when we have the missionaries over. I use a full pound of pasta to feed more, but it's still very tasty!
Chicken Tamale Casserole — The cornbread and the creamed corn gives such a winter warmth. Very easy, and great to have kids help with (they love poking the cornbread.
Kung Pao Chicken Tacos — mix up your usual tacos with a little Asian rendition. This one's super tasty!
Brown Sugar Crock-Pot Pork Loin — we just made this one along with some Hasselback potatoes and it was AMAZING. The entire loin was gobbled up!
Cafe Rio Pork — serving a crowd? This one Makes an easy dinner, add the toppings you want for a delicious winter salad!
Ricotta Pancakes — Breakfast for dinner is a tasty alternative the regular dinner offerings. With the ricotta, even though these are light, they're plenty filling!
BTW if you're a busy mom and feel the afternoon crunch HARD when it comes to dinner time? Check out Family Routines — it guarantees to give you a hand in organizing your life so things get easier.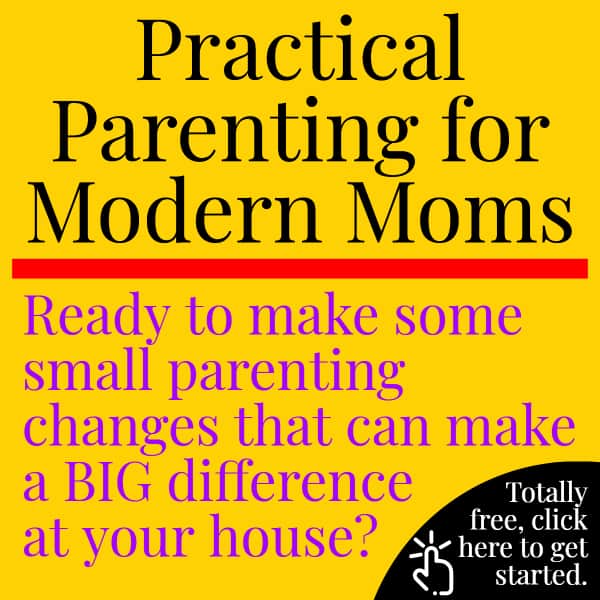 Calzone Rolls — One of my favorite dishes of all time (I often sub Italian sausage for the salami), that Rachel Ray knows what she's doing. 🙂 BTW don't miss my post on if you can have salami during pregnancy.

Balsamic Chicken Pasta — Another way to change up pasta. It took a little but my kids LOVE Balsamic foods now, it is such a great flavor! BTW, this one's from Deals to Meals — they have an awesome grocery service that matches recipes and the sales that week. they have GREAT, family-friendly and easy recipes! You can read more about my favorite meal services here.
Corn & Cheese Enchiladas — So different and tasty, this meatless dish will have your kids asking for seconds!
Ramen Casserole — While not the healthiest dish, I make a 9X9 of this and serve it with a salad for a yummy dinner!
Broccoli Pie — this one has a pretty long cooking time, but is easy to put together. Throw it together while your kids are doing homework and let it cook while you watch some Netflix together!
Spicy Honey Thighs — these are a favorite of mine. Be sure to use thighs, I could eat these once a week!
Lemon Shrimp — my kid's favorite meal. Plus, we have a lemon tree outside my window so this one is great to do in the winter for us! Be sure to stock up when shrimp is on sale!
Slow Cooker Split Pea Soup — I love split pea soup and my kids love sausage, so this one gives into each of our cravings!
Three Cheese Italian Chicken — this one goes in the crock pot, so an easy meal to get out of the way in the morning!
Like these types of meals? Be sure to grab my free meal planner and check out out all of my other food posts below that: