In this post: Like any good pair, fever & vomiting come together late at night when life seems most inconvenient. Here are a few ways to help banish the dynamic duo.
This post was written in cooperation with FeverAll.  Big thanks to their support of parents with feverish children everywhere.
You hold your baby close, the fever is high.  They're miserable, you're miserable for them.  Their hot little head next to yours  beaded with sweat.  You wonder how the night will go — when the unthinkable happens.  They puke all over you.  Fever & vomiting is one of my least favorite pairs as a parent, but they often go together like Abbott and Costello.  Just not near as funny.  How can you keep their temperature down if they can't get medicine?  Let's find out.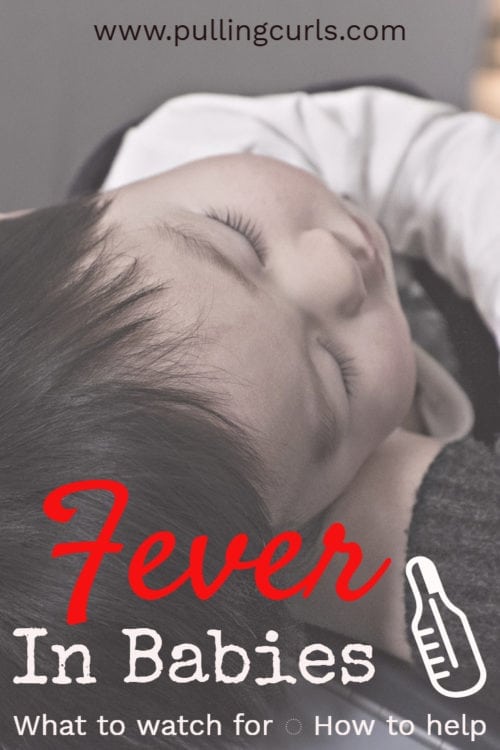 Fever in Babies:
Fever is usually defined as anything above 100.4 — yes, your baby might run 98.7 like all the books say, but normal fluctuations including outside temperature, # of layers you have them in, as well as where they are in their circadian rhythms can make it go up and down throughout the day.
Babies under 2 months of age should not have a fever.  If they do, you need to take them to the pediatrician.  Call to make an appointment now.  They just don't have the germ fighting ability that an older child will have.
From 2 to six months of age, you need to be really thoughtful about fevers.  If they're too high or concerning, a trip to the pediatrician is never a bad option.  Check with your doctor about what medications you can give your baby, and at what point you should call them.
How to check for fever
The easiest way to take a temperature of a baby is an axillary thermometer.  It's less invasive and easiest to get.  However, the gold standard for a temperature is a rectal temperature.  However, if you do plan to take a rectal temp — make sure that you have a thermometer meant for that.  It should have safeguards so that you don't go too deep.  Really big problems can happen if you take a rectal temperature incorrectly, so be sure to follow the packaging instructions.
How to reduce a fever
Fever is usually reduced in a number of ways, but the #1 way to reduce it for children is acetaminophen.  You can find it easily as a liquid (and you likely take it as a tablet when you have a headache, they also have chewables).  But, the main problem with babies is that they often won't eat at the same time they don't feel well.  So, not only do you have a miserable child, you also don't know how to get anything in them to help them feel better.
Acetaminophen has been used for years in the treatment of fever, aches, and pains in kids.  Ask your pediatrician about it on your next visit if you have further questions.
Fever & Vomiting
What can you do if your child refuses the liquid medication or if they're vomiting, so it won't stay down anyway?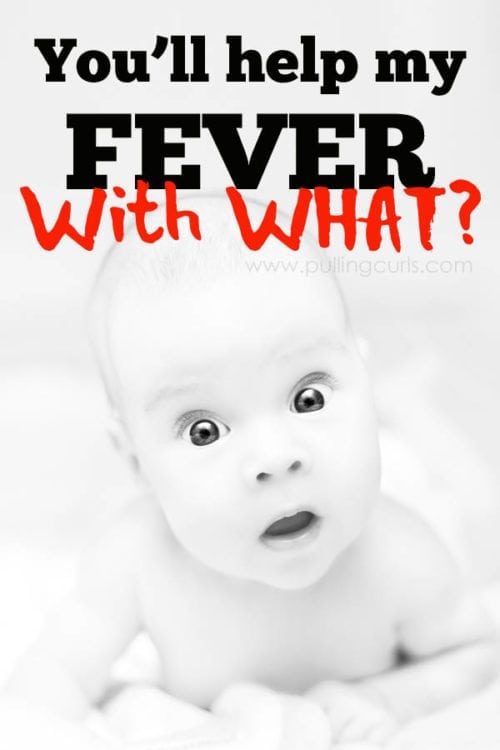 In for the rescue comes FeverAll.  FeverAll is acetaminophen but in a suppository form.   For those who've never had one, — a suppository goes in your rectum and is quickly absorbed that way.  Newsflash, we actually give a fair # of drugs in suppository form in the hospital.  When people are sick, it's often the best way to get medication in them.  Even if the thought makes you cringe.
Putting in a suppository is easy and your baby won't cringe like you do since you're always wiping their cute bums. 🙂  Just follow the instructions in the package.
One of the best parts of FeverAll is not being concerned if your child "got it all" — a lot of times fussy kids will refuse medicine, and you only get half a dose down.  FeverAll is already measured for you, just put it in and you're good to go, with accurate dosing!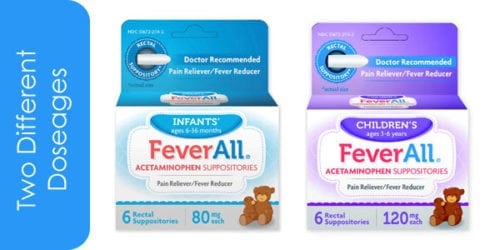 FeverAll comes in two strengths:  infants for babies 6 months to 3 years and children's ages 3 to 6 years.  In fact, we use the adult-strength for older patients in the hospital all the time.  Super effective!
Note:  I swear fever always happens late at night when it is MOST inconvenient to grab it at the pharmacy.  I'd recommend having a package on hand when you have a baby.  That way you don't have to haul them to the store to grab it.  They're not expensive and totally worth it to keep on hand.  Look for FeverAll your local Rite Aid, CVS, Walgreens and Walmart stores. https://www.instagram.com/p/BKUkYWLgJ4Q/
If you want other ideas on how to help a fever, be sure to check out my  Children's Fever post.
Use FeverAll® only as directed. If you have specific questions about fever, acetaminophen or using FeverAll, speak with your child's pediatrician. FeverAll Acetaminophen Suppositories are available at major retailers and drugstores across the U.S, such as Walmart, Rite Aid, CVS and Walgreens. For more information and current offers, visit www.FeverAll.com.
This is a product-provided, sponsored conversation written by me on behalf of FeverAll® Acetaminophen Suppositories. The opinions and text are all mine.
Do You Have Family Health Questions?
I've got answers! Learn more about taking care of your family's health effectively with Pulling Curls Newsletter!