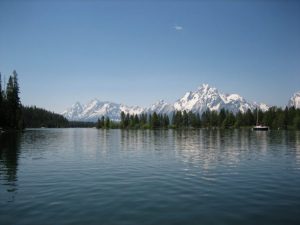 I have been brought up knowing that the Tetons was the hidden gem stepsister (or brother) of Yellowstone. SO many people make the drive to Yellowstone and miss this amazing park.
We stayed Colter Bay village. I have always either stayed in Jackson Hole (which is about 45 minutes outside the park) or at Colter Bay. My parents actually foot the bill for the cabins there (thank you!!!!!) and my brother and his family was just minutes away from us as well. It was fun to do things that we'd done SO many times as kids. As a side note, these cabins run somewhere between 99 and 150. They are the basic necessities. There's only showers and the floors are COLD linoleum. However, that's as close as I ever got to camping as a child — so you've gotta take roughin' it where it comes, right?
We were there for four nights. We spent some good time at Colter Bay. We went out on the lake in a motorboat (I think it was 56 dollars for a 2 hour motorboat rental). This was one of our favorite parts of the whole trip. We're unlikely to be able to rent a motorboat anywhere near us anytime soon so it was an adventure we only get to do in the "wild". Plus, being able to captain your own boat so close to those amazing mountains was something we all cherished (and slowly the kids LOVED going over the larger boats wake on the water — although they were not thrilled with this part initiall).
Of course, we had wildlife drives, and those were very fun.
We went into Jackson one day (also had to get S new shoes — since he apparently grew 1.5 sizes while we were on vacation — oops!). We went to Bubbas (yum — it's a GREAT BBQ place there, reasonably priced too), and got to see the shoot-out. My kids actually adored it instead of leaping into my lap and hiding from all the gun noise. NOTE: It's not as good as when I was little, there's more singing and dancing and no falling from the rooftops — but it was fun regardless.
We had some cook-outs as a family, and those went really well. We even took family pictures!
One day we took the boat across from Jenny Lake and went on the hidden falls hike. NOTE: This is not the "easy" hike it pretends to be in the guide. You go up quite an incline, but it's very much worth it (and well shaded on a hot day). My kids LOVED it and of course were running up the mountain with Drew and I huffing and puffing behind. So, hopefully I've inspired all of you to visit both of these national parks. The cost to visit both is only 20$ for an entire week. They also have camping sites if you're willing to haul your stuff up there (which we weren't coming from CA). It is always one of our favorite trips (we're already planning to do it again in 4 years).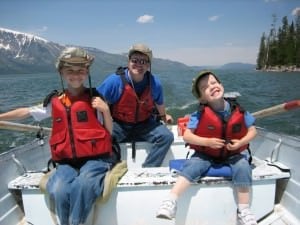 The motorboat ride.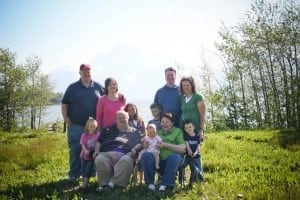 This is as good as it gets. 🙂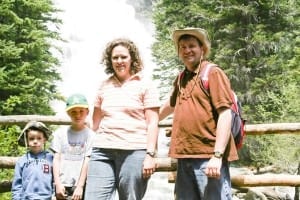 Our hike to hidden falls (and yes, Spencer had a sweatshirt on our entire trip!).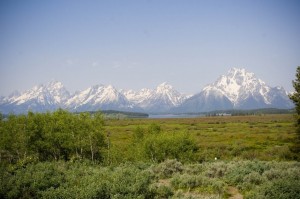 Fancy camera photo…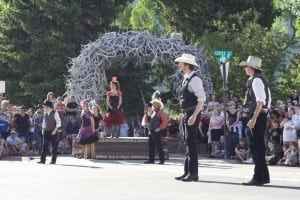 The shootout.