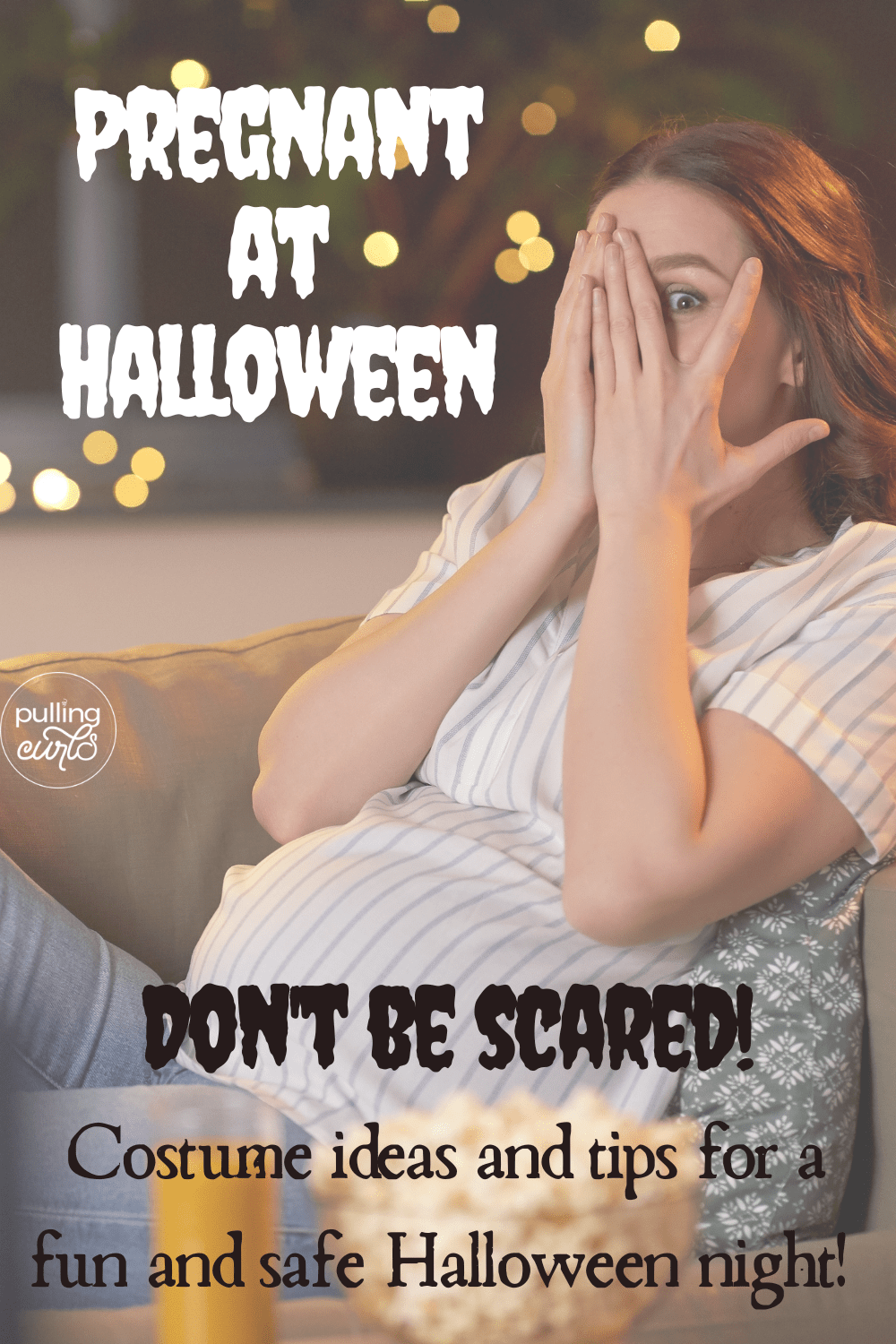 As if pregnancy isn't scary enough, finding a costume for the pregnant mamas can be fun (and hard). I'm here to help you! I've rounded up some of the best pregnant Halloween costumes. The best thing is, whether you want to go all out or have simple costumes there is a costume here for you.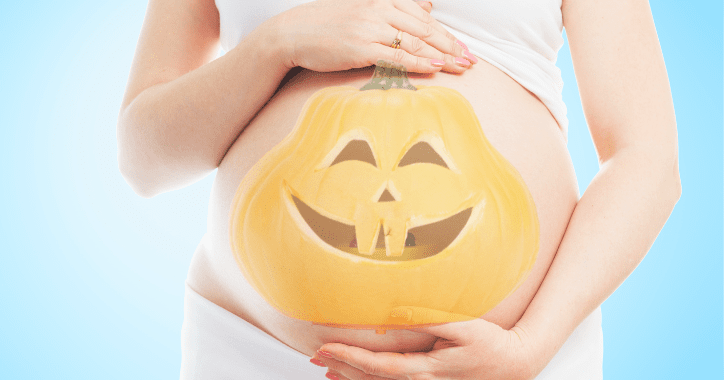 Halloween Costumes for Pregnant Women
Unfortunately, I don't have any suggestions of my own. By the time I thought about a family Halloween costume that would work with my baby bump — I went as Calvin and Hobbes' mom…. not a far stretch.
Being pregnant takes a lot out of you — It's a good idea to be realistic about what you want to pull off. We'll start with some easy DIY costume ideas:
Easy Pregnancy Halloween Costumes
Etsy is full of great ideas for expectant moms. The best part is many of them you can buy but they're also a great way to get inspiration for your entire family.
Magic 8-ball is cute and really easy to recreate!
I love this couple's option – beer belly & baby belly. All you need is a black shirt in the appropriate sizes and some HTV.
This shirt is perfect if you're further along and have a big belly. You could even recreate it easily with some glue dots and construction paper.
Who doesn't love Mike Wazowski? This would be a great option for pregnant moms of a little monster fan!
If you're looking for a really simple idea this one could easily be done with a paint pen or markers.
I've seen a few other ideas like Humpty Dumpty, an avocado pit, crystal ball, disco ball, and more.
There are so many options from a simple costume to an elaborate costume. You can decide how much effort you want to put out.
Costumes to Hide Your Pregnant Belly
If you're not ready to announce yet but have a Halloween party to attend here are some maternity costume ideas that can help hide your little belly:
This Unicorn snuggie is certainly roomy and is a cute idea to keep you comfy and warm.
Depending on how far along you are anything with a high waist or empire waist will work. Think fancy queen like costumes.
Another fun option could be to go as a scarecrow. Overalls and a flannel are a great way to hide that little bump.
It might be fun to go as a pregnant woman, you could get everyone guessing. Then, when you announce, it will be EXTRA funny. 🙂
Favorite Maternity Halloween Costume Ideas
Are you or your partner Star Wars fans? Turning your growing belly into the Death Star is a perfect costume. You could also go as Queen Amidala and really play up the Star Wars theme.
If you ask me what my favorite pregnancy Halloween costume idea is I think I would have to say going as a Mummy. I think it's fun and funny.
Another great option is having a bun in the oven, especially if you're looking to make a pregnancy announcement out of your costume.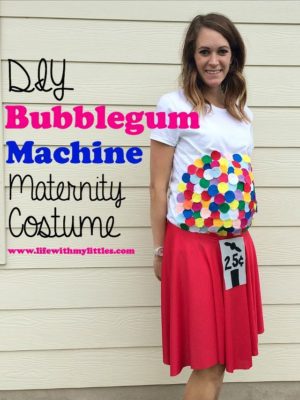 Chelsea from Life with my Littles has a super cute Gumball Machine Halloween Costume that isn't hard to make.
She also has an awesome list of the best pregnancy Halloween costumes with a lot more ideas!
Items you can use to make an easy DIY Halloween costume:
If you find yourself needing a last minute costume you could start by seeing what supplies you already have on hand.
These might give you some ideas on costumes you could make on your own:
Tips to Enjoying Halloween While Pregnant
It's important to keep a few things in mind at Halloween. If you want your Halloween night to be fun I suggest you:
Make sure your costume isn't too restrictive or too hot. You'll just be miserable.
Make sure you drink plenty of water.
Sit down as needed, don't spend the whole night on your feet.
Make sure you balance sweets with protein. While you might not be diabetic, sweets can have a bigger swing on your blood sugar than when you're not pregnant, so be thoughtful of what is going in your mouth.
Give yourself time to recover. If you have a late night having fun give yourself plenty of time to rest over the next couple of days.
In the end, you'll likely only be pregnant a few times in your life so if you're feeling up to it have fun with the holiday and create a costume you couldn't wear at another stage in life. A little creativity goes a long way and you likely have some regular Halloween costumes that you could pull pieces from to create something fun.
I hope this post gave you plenty of ideas on how to accentuate your bump this Halloween season! Remember to take care of yourself, if you're not having fun, take a step back and let some things go!
If you liked this post — be sure to sign up for my pregnancy newsletter, and check out my other Halloween costume ideas below that!
[pt_view id="0726fa8b7b"]