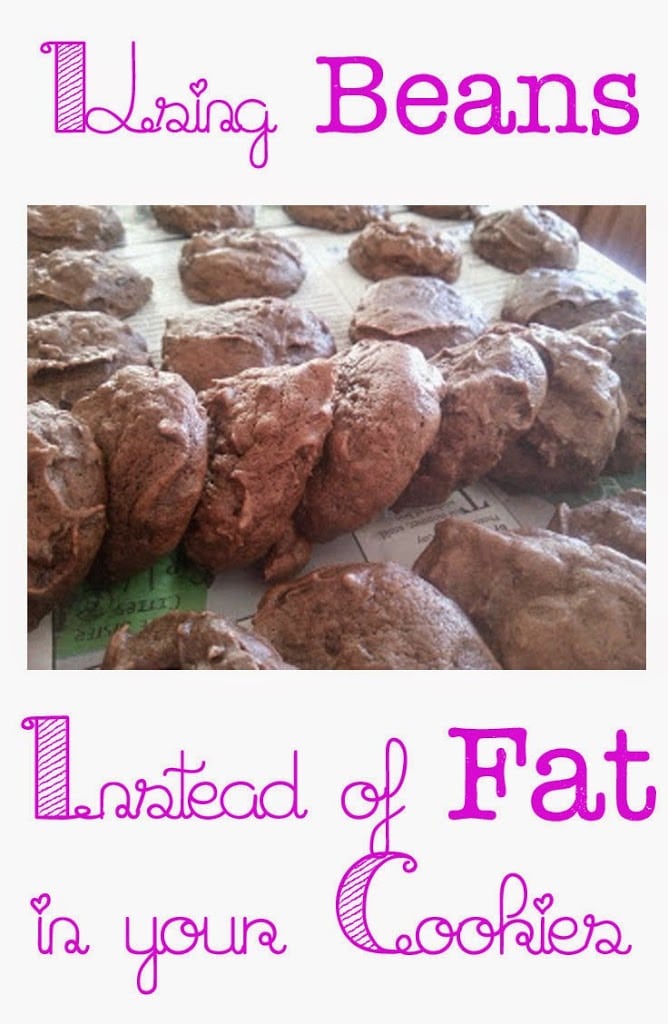 I know, who am I? I garden, I know WAY more about our drip system then my husband, I compost, I am a plumber. I am making myself sick just talking about it.
One of my other dirty little secrets is that I add beans to cookies in lieu of the fat. Well, in lieu of SOME of the fat. If you've seen my kid
s lately, you'll know that fat isn't really their issue, but I really like the added properties the beans give the cookies. And since they're hidden, they are none the wiser and gobble them up.
It started with Everyday Food Storage she uses white beans in cookies and it got me thinking about using them in other things.
I'd tried it in these chocolate cookies and I finally came up with a pretty decent recipe, I'll put below. These cookies are REALLY good. I just ate 3. I can hear the zombies in my ear right now…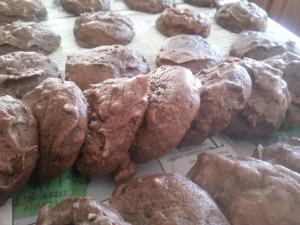 Chewy Beanie Cookies
Makes about 100 cookies (when I make cookies, I make a LOT of cookies, also this works out well for the bean/butter ratio)
1 can of black beans, drained and rinsed well
1 cup of shortening
1/4 cup of butter (completely random application of fat products, I would just use what you have, thi just worked for me)
6 cups brown sugar
1/4 cup water
1/4 cup vanilla
8 eggs
6 cups of all purpose flour (I used half wheat, half white)
1 1/3 cup of cocoa (frankly, I may try 1 cup next time, I think they wouldn't suffer)
2 tsp salt
1 tsp. baking soda
2 bags of chocolate chips (I always use one milk and one semi sweet)
Nuts if desired (and my kids do NOT desire, but I think they'd be great)
Okeydokey. What do you do is put the beans, shortening and butter in the bowl. I don't soften the butter because I use it to help mash the beans. Some people puree the beans ahead of time. I am not one of those people. Then, I slowly bring my mixer up to a high speed and beat the crap out of the 3 ingredients. Til' the butter turns an ugly shade of grey and the beans look pretty well squished.
Then, add the sugar, water, vanilla and eggs and beat again. Again. Beat this part a lot. While the chocolate chips will hide a lot of the bean-ness, I just prefer not to have a lot to hide.
Then, add the flour, cocoa, salt, soda, mix until moistened and then add the chocolate chips. Once those look encoporated. I always take it off my mixer (I have a 6 qt kitchen aid, so this may not work for everyone, in which case you'd have to use half a can of beans, or cut down on your shortening) and mix it a bit by hand with a spatula.
Then, place them on a cookie sheet, cook at 375 for 7-9 minutes.
These don't do well with over-crowding, I don't know why. So I did a 4X5 pattern and they did well. Any more, not so well. But, ovens and cookie sheets will vary.
And that is all. Here's some extra photos for your viewing pleasure.
And I don't add beans to everything, but I think they're good when you can hide them. Believe me, with all the chocolatey goo in these, they're pretty well hidden.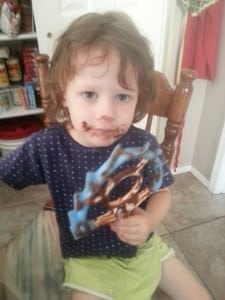 Everyone likes them, even the batter.
Well Spaced