Oh man, do I love Halloween. I just love how silly you can be, and pretend to be someone else. There were lots of time this year that I wanted to BE someone else, but this time I got to be Princess Leia. I was pretty distraught when I asked in my Primary class if anyone knew who she was, and they all had blank stares. Maybe next year I should be Barbie. 🙂
So, here we are, ala my tripod in our front yard.
That one's the best shot, but Conner's eyes are closed. I may see a little photoshop in my future… He looks obviously thrilled in both of them. Somehow I am soothing my mother feelings (being that his was the only costume I made this year) by him trying to be the stern teacher Obiwann…. right?
Our smallest Jedi sure raked in the candy. She was adored by our neighbors (she's the smallest kid in our neighborhood right now, so it's great to be tiny, right?).
I must admit her enthusiasm only added to the effect.
Ok, just in case someone wants to copy me, although I wouldn't recommend it it. Especially on this one, this sucker was hard. I made her headpiece from a "cat" hood pattern. I just elongated the ears, adding pipe cleaners so they'd stand out (but not hurt her if she fell). It is lined, and I added a layer of really thick (may have used 2 layers) batting between so that I could sew in some wrinkles. It's amazing. No? Her robe is just a basic kids bathrobe. Easy peasy.
Luke couldn't wipe his happy little face off. At all…. I tried.
Spencer's outfit was a karate ghee (sp?) which I sewed. I REALLY Wish I'd just gone to savers and gotten one, I see them there all the time, but live and learn (btw, all of these costumes, except for Conner's were sewn back in 2006, I think). His leg wraps (which you can't really see in the photo above) are just strips of faux sued sewn together with a Velcro closure in the back and a boot cover on the bottom — I have gotten very good at boot covers).
Ahh, Master Obiwan, you have us under your spell…. your grumpy little spell….
Conner's costume is a child's hooded robe pattern (it's a quick simplicity one) made out of a crushed velvet type material. That material has a name, but I can't remember it. I probably would've done something heavier, except we live in AZ… I think you could easily mistake him for a wizard with this fabric, but c'est la vie. I made his tunic just by sewing a "sac" together, leaving holes for the arms, neck and legs and then cutting it to wrap in the front. It was super easy and with the faux sued, it doesn't ravel so you don't have to worry about sewing hems. Easy peasy!
Turns out, Leia just isn't a costume to look skinny in….
What is behind me? How did my butt get so big? Sorry for my use of butt, we don't say that at our house, but I thought it was necessary for this photo…. I lost 50 pounds since the last time I wore it. Curses. It's just a pattern. I made it out of cotton. Mistake. That sucker wrinkles like nobody's business. But it was cool. Whats' done is done.
Drew could barely walk around without scaring the be-jeepers out of P. It was kind of sad, and kind of funny. I'd even watched a bunch of youtube clips about Darth Vader yesterday, to try to de-sensitize her.
We already had a Darth Vader voice changer, and then I made him a black cape. I think this one's out of polyester, so I did have to hem it all. Bother.
So, here's the yearly comparison.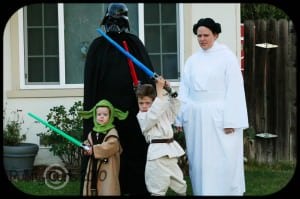 2006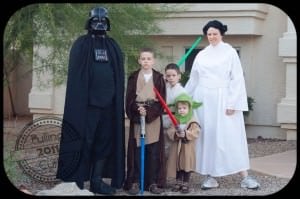 2011
Is it possible I look fatter now? Anyway, it is amazing how the kids look like each other. Fun how we cloned Drew like that.
Hope you all had a great Halloween! We did, we had a great ward party, which took me almost away from the sadness of the old truck or treat and the Halloween Happening. Life goes on, and I do believe it may get better. 🙂
May the force be with you. 🙂