Does anyone remember when I had a photography business? That was a long time ago. Baby #3 sure changed a lot of things in my life, including my lack of spare time.
ANYWAY, I wanted to resurrect some of the great posts on that blog, just in case anyone wants the info.
Today's post was originally here. But I will paste it below for your viewing pleasure.
Let's face it, hospitals are pretty boring places. I find, after my first baby I'm pretty well bored out of my mind, and trying to savor it before I go home to complete chaos. It's a great time to take pictures of those little babes. Their faces all scrunchy, head all coned, face read and spotted. Let's face it — they're not getting any smaller. 🙂
Some of my favorite shots are done in the warmer. It gives a really "medical" feel to it all: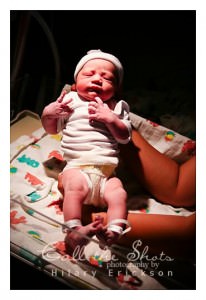 This photo was taken by Drew, as I was having a little mending done on myself at the time. My main thing for my husband was to not use the flash, if at all possible. Keep checking the LCD to see if they're coming up blurry. I have some other similar shots (taken by moi)
here
.
Take a picture with the people who helped you: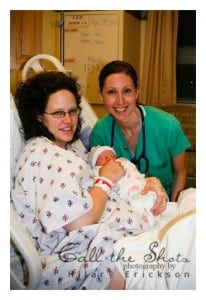 This is my nurse Kelly. Sometimes when I look at this photo I realize people do nice things for other people. Of course, for me it's more of a "pay it forward" kind of a feeling. I don't mind taking pictures with my patients, and I wish I'd had pictures of our nurses on the other two (although I look at them a little less favorably, Kelly did a great job).
Grab a picture of your surroundings.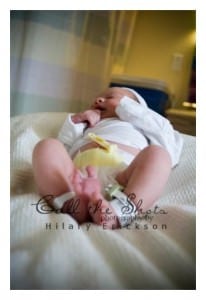 I like how this one captures my surroundings for those 2 days. Plus, the tags on her legs, her cord clamp, the funny hospital T-shirt. It totally captures her little hospital life.
The hospital, oddly enough, has dramatic portrait lighting.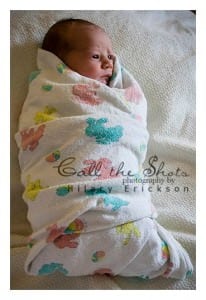 Most hospital rooms have a window in them. For these shots I just did them on the bed, and made sure she was looking at the light (sometimes you have to turn them around, since they sometimes get their heads in a certain position and really like it that way). I like how she's in the nasty hospital bunny blanket and how tiny and amazing she looks. I sure love my little subject. I'm glad I got some good shots in the hospital.****
Edited to add in 2014, don't be afraid to ask your nurse to take some family shots. We WANT you to remember that day and have wonderful memories to look back on. I don't mind taking a few photos. I guess it could get excessive, but it's not like labor nurses are shrinking violets. 🙂