This was originally posted here, but is pasted below for your viewing pleasure.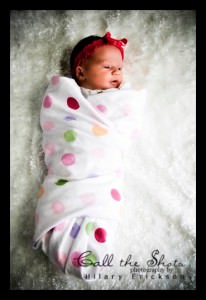 Bundle them up! This pictures shows how amazingly adorable the baby can be in all those cute bright blankets you got for your baby shower. They're just the right size, and they won't be great for long, so you might as well use them now! 🙂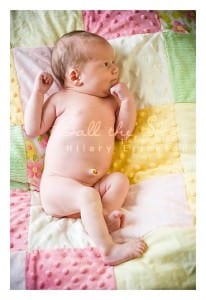 Go naked! Sure, don't post them all over the internet (and this one isn't actually my favorite, but it's the best one that's fit for internet consumption) but the little belly button, those crackly fingers and toes. They're gone all too soon!
Get those cute little baby parts. Have a part of an outfit that you just love! Zoom in so you remember it! Don't forget those precious little hands and feet!
And finally, don't forget some great backgrounds. Of course, look for fabric cheap at Joann's. Look for one color fabric. The one on the left is a fuzzy fabric and the one on the right is just an old blanket. Dark fabrics work great, and of course, the black fleece from J's works wonders! Also, I used a quilt that I made for her as the background in some of these. Have a blanket your grandma gave her? Take a photo on it, so that when you give it to her someday it will have extra meaning! Just TAKE THE TIME to take those pictures. I adore these pictures of P and while I thought I was a little frivilous doing a photo shoot almost daily I am glad I did.