Originally posted here.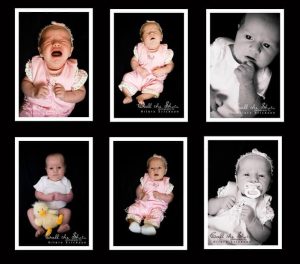 If you want "newborn" photos I recommend the earlier the better, but of course you can take them ANYTIME. These are of P at 1 month of age.
Take pictures of everything, are they asleep, are they crying, you'll like them later!
Take the props with you. The little duck shows how small she is, and the pacifier shows how hard we worked to get a decent photo. 🙂
Light their little eyes. Make sure there is a light source in front of them. I take most of her pictures in a chair that faces a sliding glass window. That makes her eyes have those catchlights, makes her look alive and like she's something special.
No need for socks. Unless you have amazingly cute socks or shoes, just leave them off. You'l miss those tiny piggie toes one day!
But again, just TAKE PHOTOS. You can do it! Just give it a try!
**I can't stress enough taking EARLY newborn photos. If you are waiting until you feel good enough to get great pictures, your baby will have baby acne and you will be sad. I may or may not have cried through a couple of photo shoots in the bliss of postpartum depression, but I'm glad I did them. Of course, take pictures all through your child's life — but that first week is PRIME newborn time!