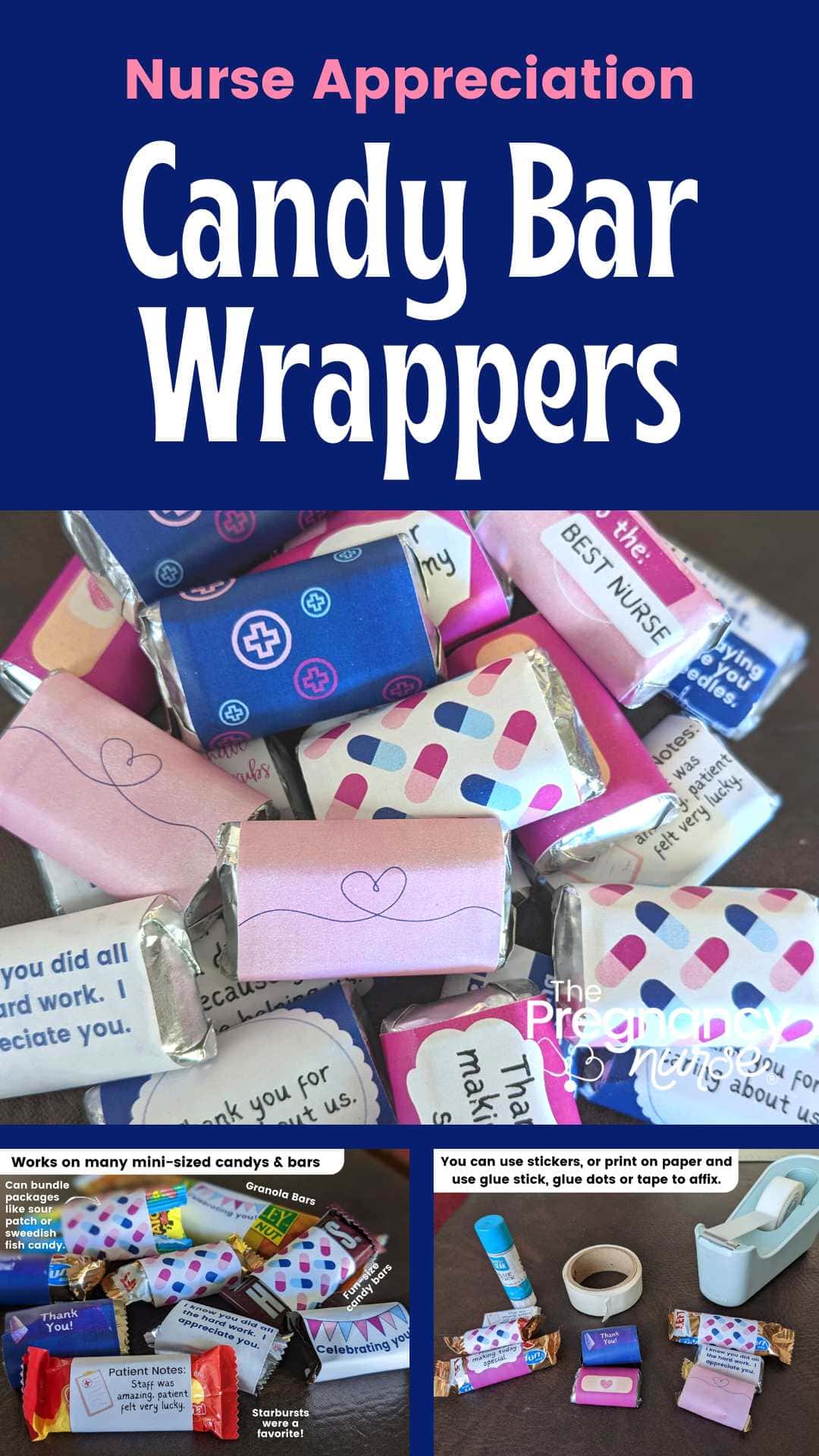 Mini candy bars are a favorite to thank your nurses with. This page will show you how to put them on the bars, and also where to get supplies if necessary.
First off, hello! I'm Hilary — many people know me as The Pregnancy Nurse 👩‍⚕️. I have been a nurse since 1997 and I have 20 years of OB nursing experience, I am also the curly head behind this website Pulling Curls and The Online Prenatal Class for Couples. 🩺​ I've gotten tons of gifts from patients, and I know these will be a big hit!
You can purchase or make stickers on your own. The stickers featured in this post can be purchased here.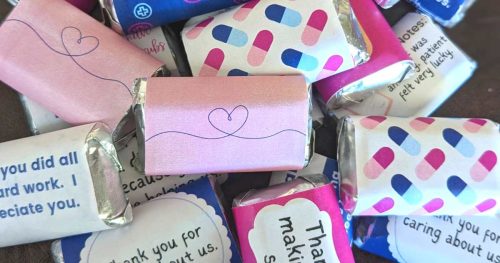 They make a great nurse gift you can leave in your room for every person who visits to say thank you (without breaking the bank).
This particular set has one particular sticker that is JUST for labor nurses, but the rest would be appropriate for any healthcare staff member. You could also repurpose them for teacher gifts, etc. Most of the stickers are for use in any "thank you" situation.
What Type of Candy Bars Should I Use?
The stickers are specifically made for Hershey's miniatures. However, I used them on several different types. The Mars minis were a bit weird (but still work). Personally I liked the Hershey's miniatures, fun-size bars, Starburst and Granola bars best. You can see a variety here: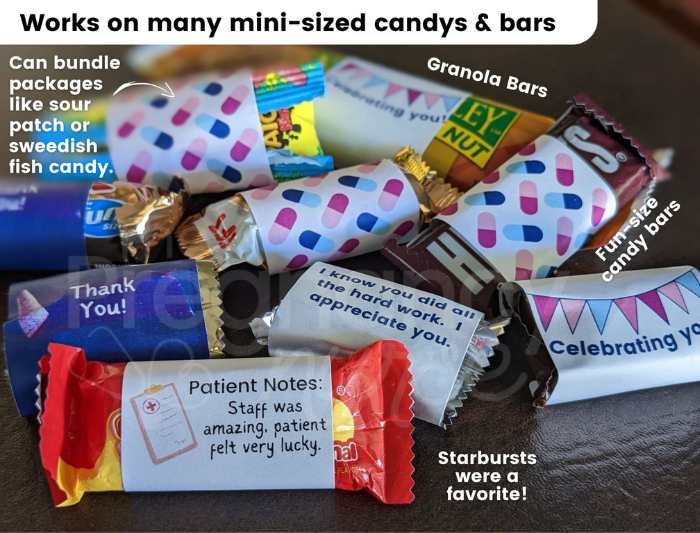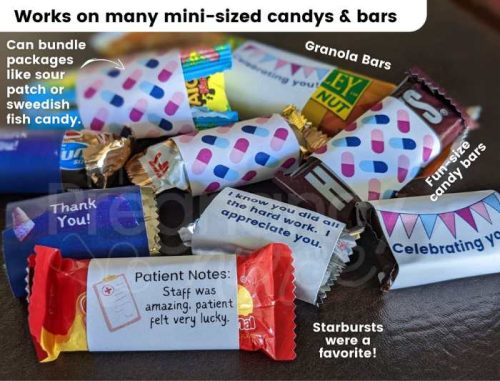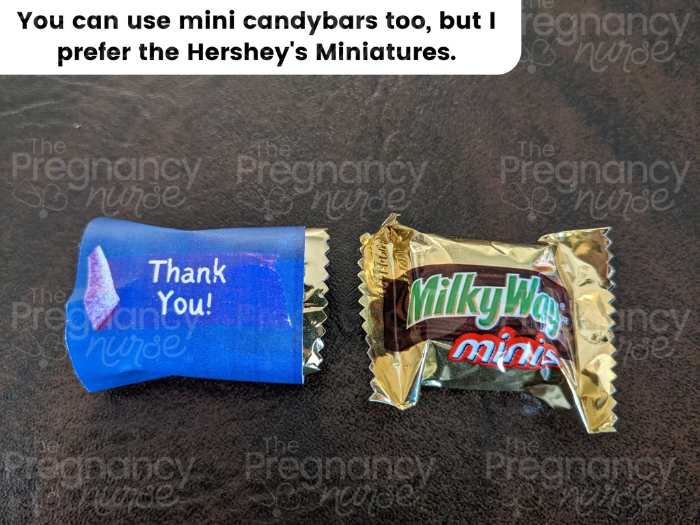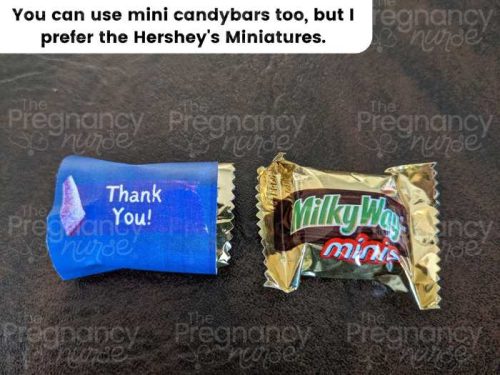 Printing Tips:
I printed mine with our Laser printer, mostly because it is less likely to get clogged print heads than my other printer. But those labels work with either one.
When you go to print make SURE you say print to page rather than just printing it. If you just print the PDF it will not fit the stickers right.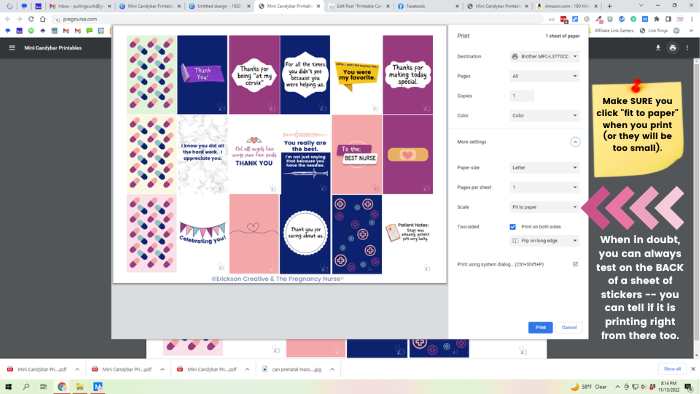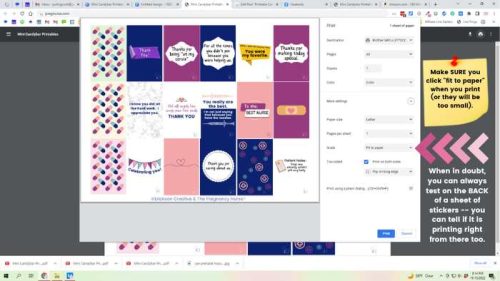 Media to Print On
These wrappers were designed to be used with these stickers. I created them with their template and it will be super simple to apply them to the candy bar.
That being said — I didn't find it to be the EASIEST way to use them….
Easiest Way To Make Candy Bar Wrappers
I think the easiest way was actually with tape. Printers are finicky as to where they print, and if they're off by just a bit it can leave a white stripe.
You can print them on paper and then cut them out (I'd use a rotary cutter) and then use a glue stick, glue dots or just tape to apply them to the candy bar.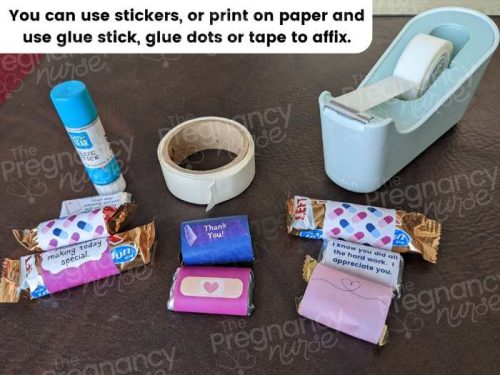 All 3 methods work. Just make you apply a good amount of glue stick on the ends, and then place that side down as it dries.
Glue dots are great, but can be hard to find or expensive. They probably give the most professional, and easily-removed wrapper.
Tape was my favorite way to do it — it's easiest to just put a strip on the back.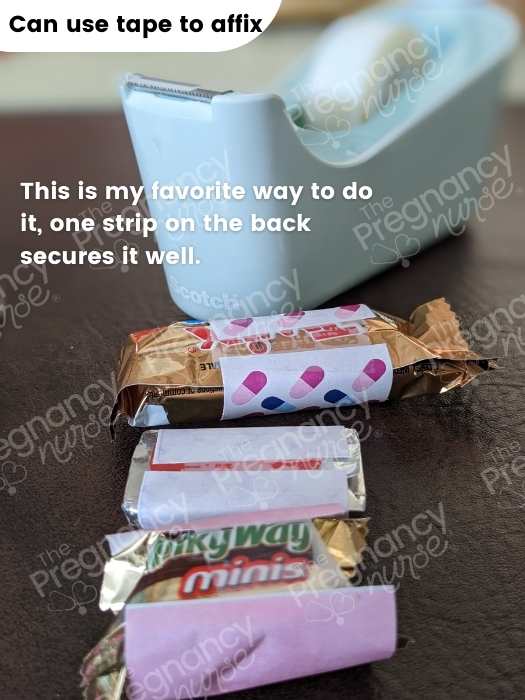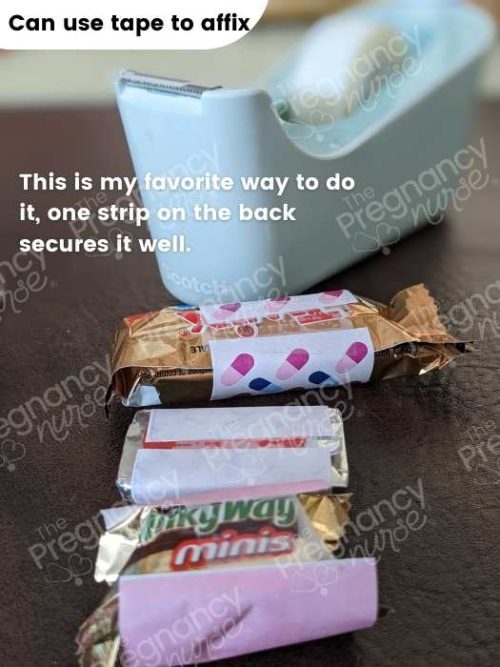 Some size candy bars will have a spot in the back that is left open. True Hersey's miniature candy bars will be covered by this (the wrappers in the picture above were printed a bit small so you could see how I secured them with tape).
Hope you find these wrappers helpful. I can tell you that while gifts are entirely not necessary, every thank you is appreciated in the hospital, and most especially on the labor and delivery unit.
I also have a pregnancy planner that will help you remember things and stay on track this pregnancy!