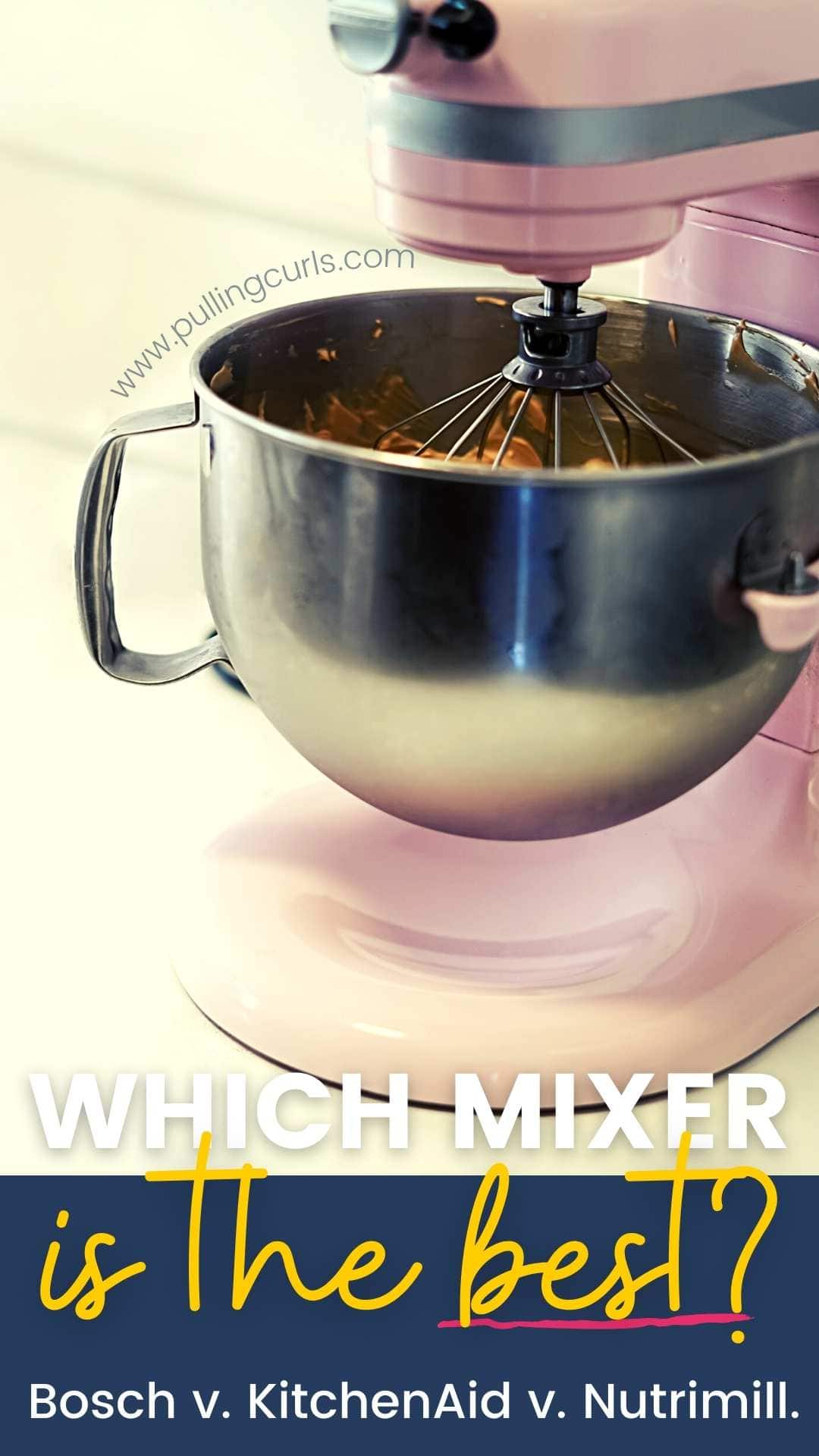 Nutrimill Artiste Mixer vs KitchenAid vs Bosch Universal — which stand mixer will reign supreme in this in-home review and testing of the more popular stand mixers?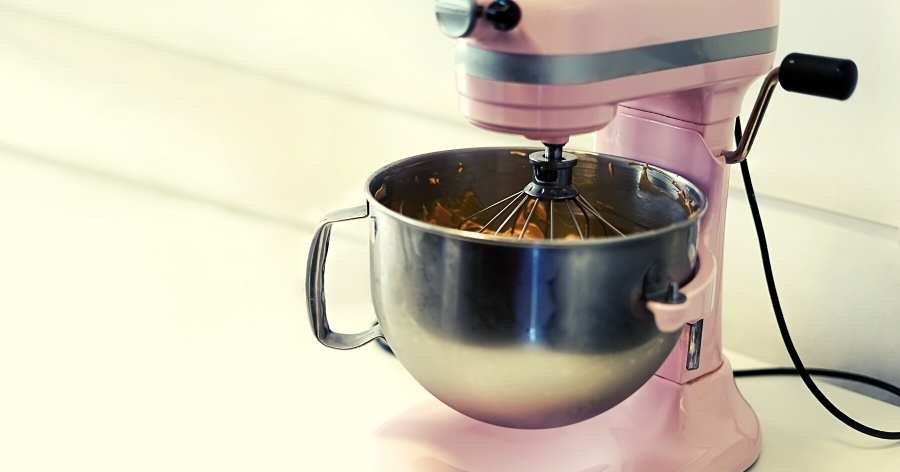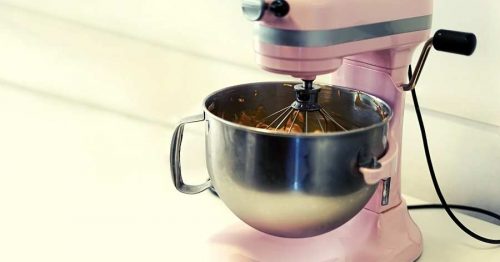 KitchenAid vs Bosch Universal vs Nutrimill Artiste
Today, we're going to review three heavy duty mixers (click on the name of the mixer to skip to that review):
Nutrimill Artiste: Basically the baby sister of the Bosch Universal. It mixes in a smilar way, motor isn't quite as robust, but can use a lot of the same accessories.
KitchenAid Pro Stand Mixer: For most people the gold standard. It is what most TV shows use and is likely the most popular of the three.
Bosch Universal Mixer: I believe this to be the powerhouse of the three. But, not as well known unless you talk to homemakers who love to make bread.
** Looking for a Bosch Universal Mixer? — I have a great deal to save you a ton (and get you some awesome accessories)**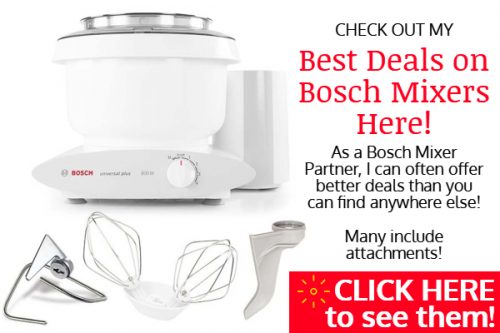 I have been making bread at home like a pro since 2009. I initially bought a KitchenAid Professional 4.5 qt mixer (later upgraded to the 6 qt) due to a small kitchen space, but have recently tried the Nutrimill Artiste and the Bosch Universal and wanted to give you a side-by-side of the three.
FYI, I always thought the problem was the "tilt head" of my first mixer (rather than the lifting bar that the 6.5 qt had) but both lasted about the same period of time.
Full Disclosure: I was sent both the Bosch Universal and the Nutrimill Artiste for my full reviews with no requirements that they be positive. They were aware I would give my full, valued opinion. Just so you know. 🙂
**I've included a photo of each of them in the same spot on my counter to help you get an idea of sizing.**
The Bosch Universal Mixer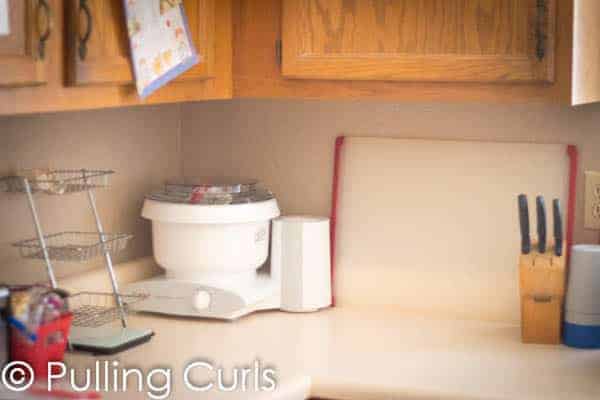 The Bosch Universal has an 800 w motor and can mix up to about 15 pounds of bread dough!
Bosch mixes the bread in a very different way than the KitchenAid or other stand mixers.
It is clearly the workhorse out of these three. The Bosch can handle almost double the amount of flour that my KitchenAid could.
It is a bit bulkier than the Artiste, although not as tall so if the height is an issue that might be a plus for it.
It has 2 drives — a high-speed drive (for use with the optional blender and other attachments) and the high torque drive for the mixing bowl — that's the thing jutting up to the right.
Here is the Artiste and the Universal side by side: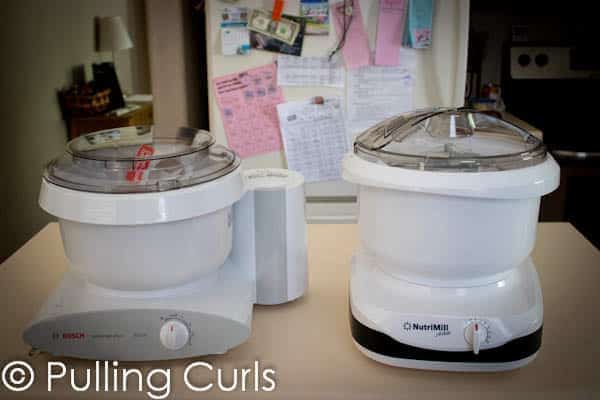 Keep in mind that both the Bosch AND the NutriMill have LOTS of attachments you can use them.
Bread Kneading Bosch Vs KitchenAid Mixer:
I always knew that the Bosch did a great job on bread — and it does! There will be no motor burn-out with this one. No weird burning smell or noticing that I am absolutely KILLING the motor.
I am still having a hard time watching it knead bread, as it does it VERY different than the KitchenAid (that I am used to). I have just held true to the timing I'd used with the KitchenAid and while I don't think the dough looks as smooth — it turns out great.
If you're familiar with the KitchenAid — bread making (the kneading) just looks different. However, the motor WORKS — and it will work for a lot of bread. That's really where the Bosch shines for most bakers (due to the vast quantities). The KitchenAid just has spiral mixers, where the Bosch is doing more circular — if I can describe it. I think they call it more of a planetary mixer — because the whips are rotating in the bowl as the whips are also rotated.
The KitchenAid has a spiral dough hook. The Bosch has a metal bar that bends to push the dough around the bowl. They look VERY different.
BUT, I am in LOVE with creating batters with it. Because of the angle of the blades, it incorporates air and everything seems to taste better than it did with my KitchenAid.
I was really surprised by how much I liked it.
Bosch vs KitchenAid Attachments
The KitchenAid is always touted because it has all the cool attachments (although I've had friends who haven't had luck with some of them due to the lack of motor on the KitchenAid).
The Bosch has tons of attachments. I have the blender, the slicer/shredder, and the ice cream maker.
The ice cream maker, I can't rave enough about it. I tried it and it was AMAZING (it made ice cream in about 15 minutes, which was AMAZING!!!).
I also love the slicer/shredder and the blender. MOSTLY it's nice to have such a GREAT motor that works so well with each of the attachments (which will save you space in the kitchen vs having each one and their own motor separate).
They also have a meat grinder, large slicer shredder, pasta roller, berry de-seeder etc. It seems to have all the attachments the KitchenAid touts. Super handy!
The BEST part of the Bosch is its WORKHORSE of a motor. It really is the high point. Keep that in mind as you compare the mixers I'm sharing.
Looking for Bosch Mixer Tips << that post is all about it!
Bosch Universal Mixer Sale & Coupon Code
For so long I had looked for the Bosch mixer at Costco and was so sad when it was never there. But, no more, I have an awesome deal that's just as good!
I can give you the Bosch Universal with ALL of my favorite attachments (including a bonus) for just over $400. You can find it all at this link. Compare it's price with the Amazon basic package (without all the bells & whistles) for just under $350. Often, the packages I can offer you (and you can only get them here, not in stores) — include….
Bosch Universal Plus Stand Mixer (that's the big one — that handles a LOT of dough)
Paddles for batters/cookie dough
Wire whips for whipping
Bowl scraper that fits over all of the above to keep the ingredients in the mixing area (this is a favorite of mine, makes batters easy)
Dough hook and dough hook extender for large and small batches of dough (use that extender for small batches like pizza dough).
Sometimes a special bonus is included, depending on the time of the year.
If that's still out of your price range a bit — read on for the Artiste. I think it's great too!
FAQ's about the Bosch Universal Mixer:
What's the Bosch Universal Warranty?
Depending on which mixer package you get (sometimes they throw in an extra year with their warranty) it is 3 years for the motor and transmission, and 1 year on the parts & plastic.
BUT, I have heard that if the mixer poops out of its own accord — and frankly, I think that's pretty-well unheard of — then I would certainly call them. They really do stand behind their products!
Honestly, I've never had someone have something go wrong with the actual mixer. I have heard of beaters breaking when you use too cold of butter (I talk about that in this Bosch tips post), but other than that they really are just workhorses!
They also have great customer service — if you have an issue, no matter how old your mixer is, I would contact them.
Also, if you purchase through any links here they will have a record of your purchase — I would always try to purchase through Bosch themselves when possible because if anything were to go wrong they are more likely to work with you!
What are the Bosch Attachments
At this time attachments include:
Slicer Shredder
Meat Grinder
Noodle attachment (goes on the meat grinder)
Berry Press (juices berries, apples, etc)
Blender
Flour Sifter (I just saw this — this sounds HANDY)
Citrus Juicer
Food Processor (this is next on my list)
You can also use attachments for the Artiste mixer, as their bowls are the same (they are sister companies)
All of those attachments either go in the bowl, on the other attachment area, OR some of them use the mixer placed on its side. It's pretty cool!
What Paddles/Mixing Tools are available for the Bosch Universal?
There are a lot of different hooks/blades/paddles available for the Bosch — some may come with your mixer bundle, and some may not.
Cake Paddles
Dough Hook
Dough Hook Extender
Wire whips
Batter Whisks
Cookie paddles (these do break, so make sure your butter is softened!)
And, don't forget the bowl scraper. It's AWESOME! A huge favorite of mine, really does its job.
Do you just like the Bosch better because they gave you one?
No, not at all.
In fact, if you watch my videos I mention that I don't like the kneading of the Bosch as well as I liked the KitchenAid's. I think it spins the dough a lot more than it kneads it.
BUT, because it has a freaking WORKHORSE of a motor, it makes up for it. I'm a huge fan.
If I had to buy a mixer again in my super small kitchen, I may have bought the KitchenAid again. The footprint is just a lot smaller (there is a Bosch compact mixer, but I haven't tried it, nor have they mentioned it to me, which makes me think it's not that awesome). I'd just know I'd need to either 1) Not mix 100% whole wheat bread dough with it or 2) Buy a new one every 5 years or so.
The key is really that motor. It's AMAZING!!!!!
---
Ok — back to the comparison of the Bosh vs the KitchenAid Mixer
KitchenAid Professional Stand Mixer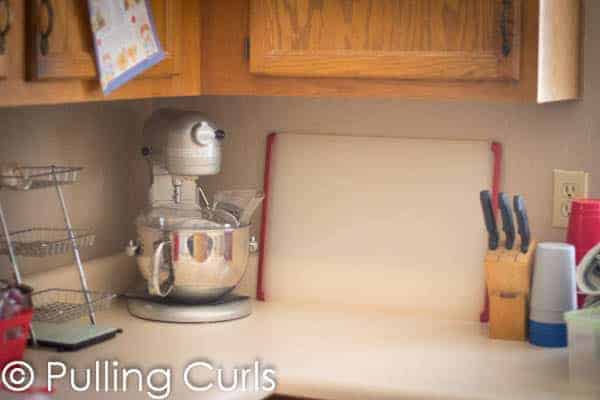 The KitchenAid that I had was the 6 qt that says it can do up to 14 cups of flour — but the manual recommends not to use more than 8 cups of whole wheat flour. I can do two or three loaves of bread in it, and I have to do about 50% white flour in order to get it to finish the load.
When I bought the Kitchenaid I knew that it wasn't as powerful of a machine, but — at the time — our kitchen was a VERY small galley kitchen with maybe 1 yard of counter space total? I was looking for the smallest footprint and went with the KitchenAid.
It has served me well and I like it a lot, but it is dying (this one is the 2nd one after my last mixer died). It's frustrating to spend so much on something only to have it die — but that's how the cookie crumbles. Get it, cookies. Yum. 🙂
It can't even finish the 3 loaf recipe before it starts to smell and then dies. #sadface
I like the KitchenAid. It worked well for quite a while. It comes in many colors and it seems to be the standard on cooking shows. But, I just don't know why people keep rating it above the Bosch.
Really. My KitchenAid (because I actually have all 3 of these mixers) sits in a closet downstairs — and I haven't looked back.
BUT, the main benefit of the KitchenAid mixer is:
The price. A lot of the time, you can get it cheaper than the Bosch (keep in mind the Bosch will last you 3 or 4 times longer, so the KitchenAid price is actually a lot more, but I get wanting to stay in budget).
The footprint is still smaller. For smaller kitchens, it's nice. If I had to re-do my purchase from 2009, I still don't know that I'd pick the Bosch vs the KitchenAid mixers, just because it's still a lot bigger (and I had a very small kitchen at that point in time).
As a New Mixer it's a winner — it's really quite powerful out of the box, just know that with time that powerful-ness will decrease. Your first time mix will be strong and awesome. 🙂
**I know you're thinking this is just an ad for the Bosch, but I searched OUT a deal on the Bosch because I love it THAT much more. I tell ALL of my friends how much more I love the Bosch vs the KitchenAid.
FAQ's about the Kitchenaid Mixer
What is the warranty for the Kitchenaid Mixer?
Depending on how you buy it, it's usually 1-2 years, but as they have more retailers, it can vary quite a bit.
What happens when the KitchenAid motor starts to go?
For me, I start to notice a hot electronics smell Then, more of a burning, and then it stops. Many have mentioned the plastic gears get stressed and are really problematic.
If I let it rest for 30-40 minutes and plug it in again, it will start back up….
But, by then my dough needs to be done, so I usually just do it by hand.
NutriMill Artiste Mixer Review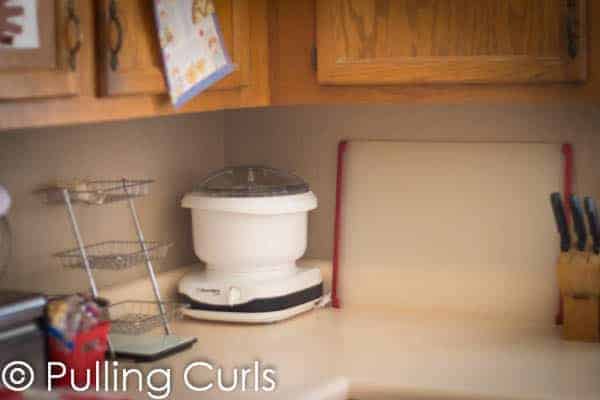 The NutriMill Artiste is actually a newer addition to the stand mixer scene. I initially got a demo model, (which was problematic) but they've done a couple of updates lately that have really increased it's power and ability!
NutriMill is the sister company to Bosch in the US. They are the distribution arm for Bosch in the US — so the fact that they work together is super cool!
The idea behind it seems to be that it's a little smaller (it doesn't have the 2nd drive shaft with the blender area). It also will only be 650 w but the bowl and attachments fit both the Artiste and the regular Bosch — which is AWESOME! I love using the Ice Cream Maker attachment on my Bosch.
I did test the Artiste. I will say that the motor isn't quite as strong still. Truly a story of "you get what you pay for". BUT, it IS good. Probably as good/better than the the KitchenAid. I love the price point and I think it's a great option for someone who wants a mixer but isn't ready to invest in the Universal.
They just made an update to the Artiste where they made the motor more powerful, upgraded the drivetrain, improved the center column, better bowls and circuits. It can now handle up to 6 lbs of dough (the Unviersal can handle 14).
If you're just looking to do cookies (be sure to soften your butter first either way), and matters, the Artiste would be fine. However, if you're looking to do large amounts of bread dough (especially with whole wheat) I'd recommend the Universal.
BTW, it's bowl is interchangeable with the Universal (as are all the attachments) — that makes it SUPER handy if you have both!
Bosch Universal vs KitchenAid Mixer
The Bosch Universal powered through my bread dough recipe like a boss. In fact, I think I'm going to do the math to make 2 more loaves (for a total of 6) the next time I try it in this.
The "kneading" does look very different with the Bosch. If you're looking at the two, just keep that in mind.
Yes, the Bosch and the KitchenAid have similar bowl sizes per capacity (6qt vs 6.5 qt in the Bosch) but because the Bosh's dough hook is much more compact, coming from the bottom — it works better.
Keep in mind the Bosch just holds more because that lid can enclose it, whereas the KitchenAid can still fling dough around your kitchen.
The Bosch is also completely contained with its lid, vs the KitchenAid that just gives you a funnel to add flour to, and that splash ring type apparatus.
Also, I constantly had dough "climbing" my KitchenAid dough hook. That won't be a problem in the Bosch.
My bread recipe has an initial sponging period after adding the flour, gluten, water and yeast.
The KitchenAid took about a full minute to combine those ingredients, and the Bosch took about 20 seconds. The Bosch does seem to combine things faster. I love that.
Whipped cream happens in seconds, not minutes.
The Bosch also combined the full ingredients much quicker than my KitchenAid.
The Bosch does have a different pattern to kneading. In total it probably kneaded for a similar amount of time for double the amount of dough. The bread turned out great — all four loaves (my KitchenAid would've only done 2-3 loaves).
It did a great job, I'm thrilled — just like ALL my friends said I would be. 😉
The other thing I like is Bosch's integrated cord storage (although you could set-up command hooks to wrap the cord on the kitchenaid). It's nice not have cords all over the counter (I'm looking at you Mr Toaster).
Mixing Batters – Bosch Universal vs Kitchenaid Pro
As far as mixing other items I had always heard the Bosch Universal wasn't great at making things like cookies/batters etc.
They were wrong. With the new bowl scraper attachment, it is AMAZING!
I actually think the Bosch mixes cookies, cake batter, etc BETTER. Also, because the beaters are close to the bottom of the bowl — even when I'm just doing 2 egg whites it does a great job (the KitchenAid would barely even touch 2 egg whites, so I was really happy with that).
It's hard to envision it (or video it — because it goes so fast) but the mixer blades go around the bowl, plus they spin on their own, and they're also spinning at an angle, so gravity plays into it.
I think of it as to how the moon spins around the earth and the earth is spinning around the sun. Just sped up a lot to beat your egg whites in an insanely short period of time.
I'm sure that's why it goes so much faster. I made cream one night and it made it just in a few minutes.
Also, I found that the KitchnAid 6qt was hard with smaller batches of cream or egg whites. The Bosch does fine with small or large quantities, again — because of how the blades work.
Comparing Bosch Universal Mixer Vs KitchenAid Clean-Up
All metal parts do have to be hand washed. On all mixers — except stainless steel bowls can be put in the dishwasher (both the Bosch and the KitchenAid can have a stainless steel bowl).
The KitchenAid dough hook seems to be a little easier to clean than the Bosch, but not a whole lot easier (just more surfaces to clean on the Bosch).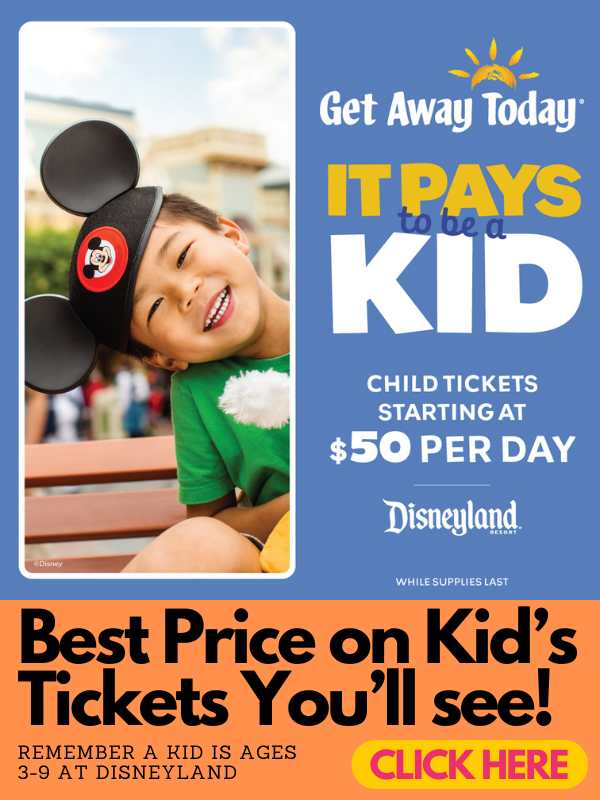 The bowl seems a bit easier to clean on the Bosh/Nutrimill. I find that the stainless easily gets stuff built-up on it, vs the white bowl it came off a bit easier.
Clean-up on both isn't bad at all.
Final Review: Bosch Stand Mixer vs KitchenAid
All in all I think they're all great mixers. I don't think the KitchenAid is a poor purchase, but I DO think that if you have the right space and the cash, the Bosch Universal is 100% the right way to go.
After having both, I still think KitchenAid has a nicer footprint for smaller kitchens, and it is cheaper.
If money is an issue — check out the Nutrimill Artiste! I don't think the motor is quite as good, but it's still a great little workhorse. Also, if you were ever wanting to upgrade to the Bosch Universal, all of your stuff can be used with that as well….
See the Nutrimill Artiste here
And, be sure to sign up for my favorite bread recipe below — it's unique in some of its processes and I think you'll really like it!
I hope you enjoyed this post with a Bosch kitchen machine review. I shared where to buy a Bosch mixer and how to get the Bosch Universal Mixer Manual. We've compared the Nutrimill vs Kitchenaid. And hopefully answered if the KitchenAid pro 600 is too big.
Originally written in Sept 2017, but has been updated since then.