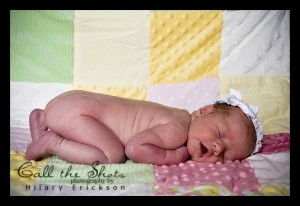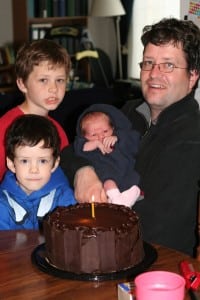 Guess who's a week old today. Well, this evening to be more precise… on Monday night we had a little birthday party for her (hard to say if we had the party just entirely for us to buy a Costco cake… but you can judge that for yourselves). We all made a wish for her and then blew-out her candle. We all then wrote down our wishes for her on a little scrapbook page. It was pretty sweet. I've done a photo shoot almost every day with the little darling. Sure makes me love my camera again.
What's a day like around here? Well, she eats every 2.5 to 3 hours — we wake her up almost every time to eat during the day. Last night she did 4 hour stints at night, but prior to this it's been 3. She's still pretty dang awake at night. Last night she was awake for at least an hour after her 2:30 feeding, but she only cried a few times. She's eating somewhere between 2 and 3 ounces at each feeding… life's starting to get some semblance of routine. I have some pretty snazzy routines that I take her through to try and keep her awake during the day. I find old high school cheerleading cheers are quite amusing — the kids love it when I do it with her. All in an effort for better sleep at night. Anyone on here remember the old THS "Raise your hands, stomp your feet" cheer? Huge hit around here.
Drew even went to school for a bit today and I have on regular pants. Check us out. I gave myself a week to eat totally whatever I wanted, but that is over now. I still have 1/2 of that cake staring at me… but it's eating consciously. Oh, and no more heavy pain pills for me. I hope my pelvis doesn't get too outraged.