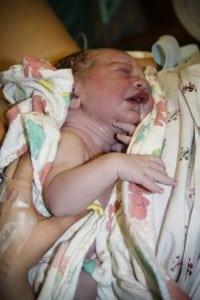 I've been wanting to write a blog about this since the moment it happened — but it slipped my mind and it's such an amazing moment, I wanted to do it justice.
A baby is born. When a baby is born at work I immediately jump into gear, get the time down, start pitocin, grab sutures, grab the cord blood check on mom, check on dad — quick congratulations, check gender make sure the baby's doing well, apgars — the list is never-ending once that baby is out.
A baby is born. It is my baby. Time stops. Check between the legs, check the color, check the lips/palate, overall body check, OMG check out my jiggly tummy. Time resumes.
I cried this time.
Not like I did on Sunday but there were tears, happy tears. It was a girl, she was here safe and I felt amazingly blessed. In that moment, the 3 years it took to conceive, the fact that I worry about parenting 3, the fact that I felt like my pregnancy was less than fun, the fact that the swine flu was swirling around us ready to attack, the fact that I'd never felt such pain as I was feeling nano-seconds before. It was all suddenly worth it. That little face staring up at me. I knew there was a reason we put all this effort forth for her. I knew she would be someone very special to me.
I also knew I was out of pain. There is something amazingly fantastic about how much pain you're in and how when they come out it's GONE. SO great. WAY better than morphine.
Anyway, I can't imagine people who deny God after seeing a birth that way. I'm not talking about just seeing a birth — because I don't get this way with all deliveries at my hospital. Sometimes when I really bond with a patient I'll take a second to see this moment through their eyes and I get how amazing a moment it is for their family. The rest of the time is business as usual. There are SO many things that can go wrong, and yet they don't. God loves us, and he wants us to have children. He protects us so that we can.
I wonder how God sends those spirits. I personally, have very strong viewpoints about fetuses and spirits and I don't think this blog is the forum to share them on, but I do often wonder how God sends them. I bet they are scared, I bet they hurt to be out of His presence, I bet they worry about how their parents will treat them and how they'll make good decisions on their own. However, they have made a bold decision to come to earth already. I for one, am exceedingly grateful that P chose our family to come to, even with the swine flu and the forces of evil almost everywhere we turn. Anyway, it's a moment I'll never forget — and I'm glad I am always the one to say "Drew, get the camera, we need pictures!" I'm so glad he listens.
In that moment I feel blessed. I know God lives and that He loves me — and what better feeling can there be? Now it is my turn to show P the same.