This week I changed out our bin toys. Call me anal, but it works for us and the kids — it's like Christmas when I do it. Also, I get some quality relaxation in front of the Biggest Loser. Well, maybe not so much of that, but a girl can dream, right?
So, I'm trying to weed out the toys each time I do it. I want to make sure that we're sticking with quality toys that our kids are really going to play with and get something out of. And I came across this little beaut.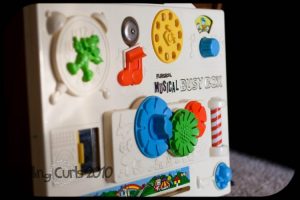 I remember going to Savers and finding it. I remember how excited I was to put it in Conner's crib and how much all of our kids have adored it, but its time is far spent, and onto a new house it will go. Somehow it makes me feel better that our old stuff is all headed over to a special house. It's like these toys have loved my children, just like they have loved them. It's like I live in toy story.
And then there's this: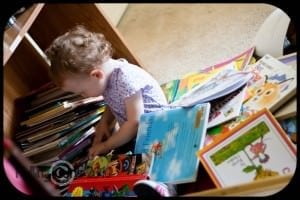 I see this particular photo lived out at least 2 times a day, maybe 3. If you look closely (and had x-ray vision) you'd notice she's lost a shoe under her pile of books. She noticed it a few minutes after I took this photo and went on the hunt for it (did I mention someone can say shoe — so far we're up to Dad, Shoe, peekaboo and bye-bye). Anyway, it's not to say that she reads each book she pulls out (that would take hours) but she does glance at it, most of the time a few pages. It takes probably 4 minutes to clean it all up after (but that isn't to say that it doesn't drive me INSANE each time that I do)… I'm hoping this instills a love of reading like it did in her older brothers… because it's gotta be worth something, right?
And finally a little gem from my new phone camera.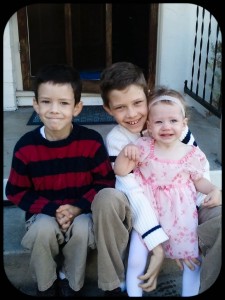 Pretty good for a phone camera. Besides an inability to zoom in I really like it. I also really like my kids dressed up for church. Especially when someone is leaving her headband on. Her orny look is probably that she'd like to take it off. Don't worry, she did so about 2 nano seconds after I shot this. Thanks to Grandma E. for the great dress. She sure looked adorable! She also really liked rubbing her arms against the fabric… who knew? A dress, and a toy. Perfect.
Anyway, happy Friday. I hope you have a nice weekend. I've pretty much just been living for mine. I hope to feel rejuvenated by Monday!