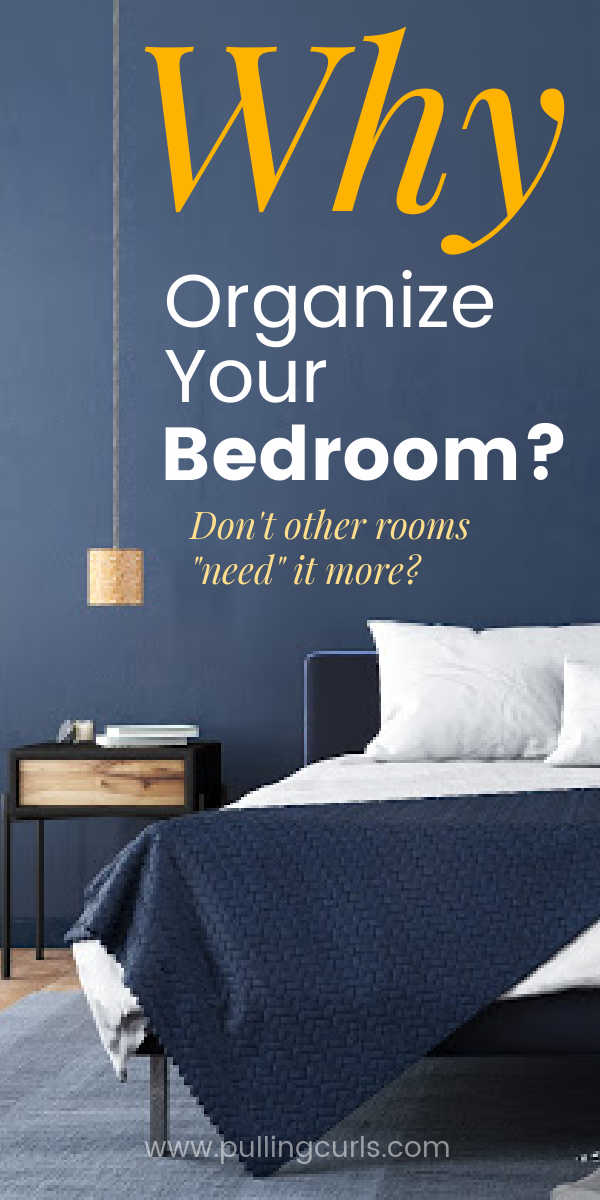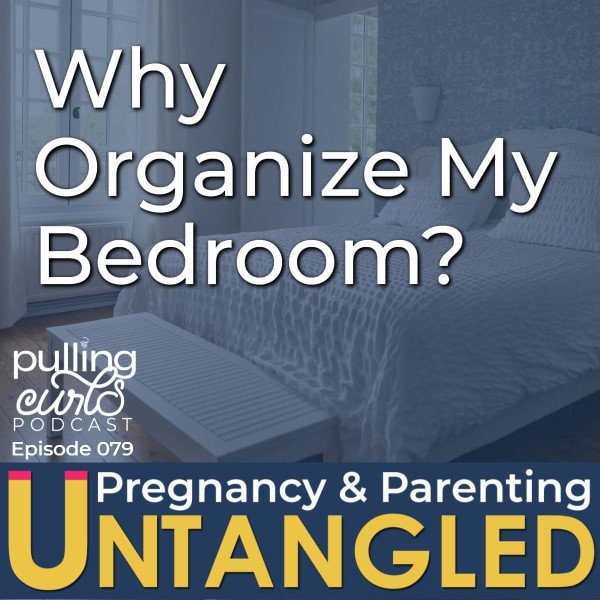 Bedroom organization can be a huge investment in YOURSELF that a lot of busy moms don't make because they think organizing other spots in the home will be more worth their time. Time, to make an investment that STICKS in YOUR room. Lets' do it!
This episode was inspired by my Bedroom Organization post — lots of good ideas in there!
Big thanks to our sponsor The Organized Home with a BRAND NEW bedroom chapter with assignments and challenges to get you going in your own home. Guys, I can NOT wait for you to make the change! Be sure to use the coupon code mentioned in the episode.
Why Should You Organize Your Bedroom?
In this episode
Some of the benefits of organizing your room:
It's not easily undone (and set limits to make it that way)
Better sleep
It eliminates choices
How The Organized Home will support you in getting your bedroom organized (with it's BRAND NEW organization chapter!). It includes a video on systems that work at my house that you can apply to your own home.
Other things that might interest you
Don't know where to start organizing….
Producer: Drew Erickson
Check out my other household tips podcasts: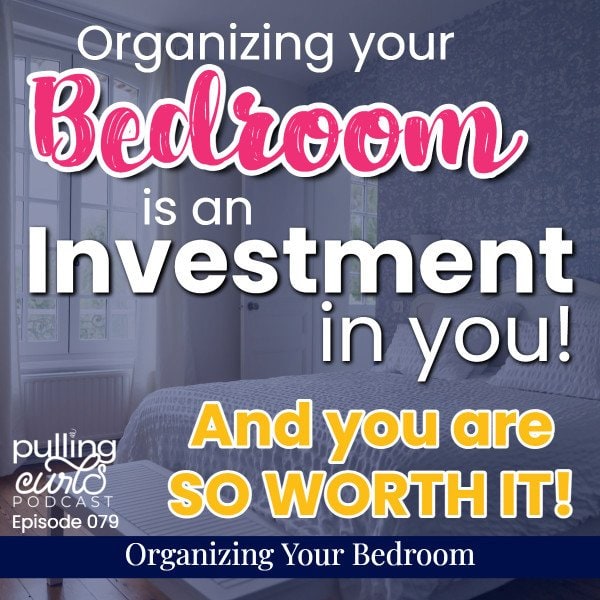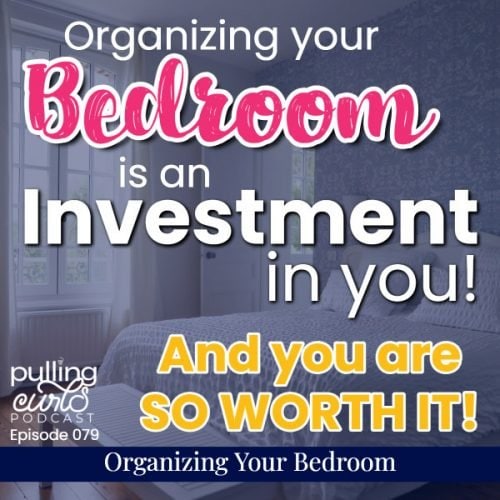 Check out all my podcasts:
Transcript
[00:00:00.175] – Hilary Erickson
Hey, guys, welcome back to the Pulling Curls Podcast today on Episode 79, we're talking about your sanctuary, your Shangri-La. Actually, I don't really know what shangri – La is, but let's untangle it.
[00:00:21.435] – Hilary Erickson
Welcome to the Pulling Curls Podcast, I'm Hilary, your curly headed host on the podcast, where we untangle everything from pregnancy, parenting and home routines. I want you to know that there are no right answers for every family. And I find that simplifying my priorities is almost always the answer. It's tangled just like my hair.
[00:00:46.885] – Hilary Erickson
'Kay guys, Gamji said, "This podcast has good information, it gets right to the point." And guys, that's exactly what I aim to do. So today's episode is no different. OK, so your bedroom, right? I feel like it often gets pushed to the back of my burner because I don't use it as much. I am like, oh, I don't need to spend that time organizing just for me, when in reality the bedroom is one of the best places to organize.
[00:01:11.395] – Hilary Erickson
There's so many benefits to it. One of the biggest benefits is that it is not undone very easily because people aren't going in there. Now, I will say that I do see a lot of friends who their bedroom is free range for their kids and our bedroom has not been free range for kids. I'm not saying that my kids can't come into my bedroom, but they shouldn't be going through my drawers. I don't let my kids get into my makeup.
[00:01:31.045] – Hilary Erickson
I don't know, am I horrible mom? I don't know what's in makeup. So I definitely I kind of like treat makeup kind of the same as chemicals, like it's just not an area to be in. So the good news is your bedroom is kind of your thing and if it gets messed up, it's all on you. So set those boundaries. I would just encourage you. Obviously, if you have a newborn, your baby's in there all the time, but they're not going to mess things up.
[00:01:49.015] – Hilary Erickson
But if your kid's walking, I would just say, nope, my bedroom is off limits to you for the most part. I mean, we bring kids in every once a while to watch a movie with us or whatever. But anyway, when you got it organized, I would just say off limits because it feels so good, because your bedroom can be your personal sanctuary. You've spent that time and you get to enjoy it all. Whereas like the kitchen?
[00:02:07.735] – Hilary Erickson
Like you've spent the time to organize your kitchen and then your family gets to enjoy ruining everything, like putting everything back in the wrong spot. Right. So enjoy that personal sanctuary that you created.
[00:02:18.865] – Hilary Erickson
Oh. Do you ever just feel like it's unfair that some people can have company over at a moment's notice? Their house is just super easy to clean up and they can relax on the couch with Netflix where you feel like you always have things to do around your house. That can totally be you. The organized home is all new in twenty twenty one. We're talking about de cluttering zones. Organization systems that actually work. We've got assignments and challenges. I hope you'll join us.
[00:02:44.335] – Hilary Erickson
You can use coupon code untangled. Look for the organized home link in the show notes.
[00:02:50.275] – Hilary Erickson
I think that organizing your bedroom also really helps you fall asleep easier. And what a huge benefit that is. Right. I think people think that it's because of anxiety or stuff like that. And I think that sometimes a messy bedroom can be a symptom maybe of that anxiety because you're so busy, you don't have time to really take care of your bedroom in the same way. But if you just took five minutes before bed to tidy things up with things in drawers, put things in the hamper because I'm like the worst when I go in for bed, I just like, sponge all my clothes, get it.
[00:03:20.035] – Hilary Erickson
But I don't take the time to put things away like I should for me, if the bedroom started out clean, just a pile of floor clothes on the floor isn't really a big deal. But if it starts off that my dresser has tons of stuff on it and my nightstand cluttered, then I do find that it's kind of difficult to fall asleep. The other thing that I was thinking of is how much easier mornings are because I do short filing in my bedroom, I just pick out the shirt that's in the front.
[00:03:41.455] – Hilary Erickson
I don't even have to think about it sometimes if I'm like, man, it's not really my color today I pick the next shirt, but I don't really have to think about it because I've organized I'm like eliminating the choices that I have to make and just having to focus on the important things so that I can get out quicker. I'm not one that likes to lounge around in the bed, take a lot of time for myself in the morning. I like to get up and get going.
[00:03:59.995] – Hilary Erickson
And by having my clothes and accessories and shoes all ready to go, then I'm just quicker out the door, which I absolutely love because I would prefer to sleep longer, frankly. So why am I talking about the bedroom? Big announcement, guys. The organized home has a brand new chapter about the bedroom in there. I'm talking about the zones you can organize in your bedroom. I have a video of some of the things that I think work well in my bedroom.
[00:04:24.265] – Hilary Erickson
And I have to tell you guys, I don't have acrylic bins. there are a lot of things that I bought at Goodwill that I've just made work. So there are systems that you guys can take from what's in my bedroom and make them work in yours. I promise you that my bedroom is not perfect. My closet door was so… Super cluttered and I take the time in the video to clutter and just kind of show you how things work in my mind. So lots of good tips in there, lots of ways to get going.
[00:04:47.245] – Hilary Erickson
And the other good news is that we have a private Facebook group where you can get ideas from other people. So if you're struggling with like, how do I organize shoes? This is my area. Other people can help give you ideas or show you what they've done in their house that you can do it in your so organize your bedroom. I think it's such a good way to invest in yourself. And I have to say, you deserve it.
[00:05:06.595] – Hilary Erickson
You are taking the time to improve your house and you deserve a more organized bedroom that's more peaceful and calm and enjoyable. It's just such a win. So jump on into the organization with me. I can't wait to see you inside. Thanks so much for joining us today. I hope we help smooth out a few of the snarls in your life. We drop an episode every Monday and we always appreciate it when you guys share and review until next time.
[00:05:26.965]
We hope you have a tangle every day.