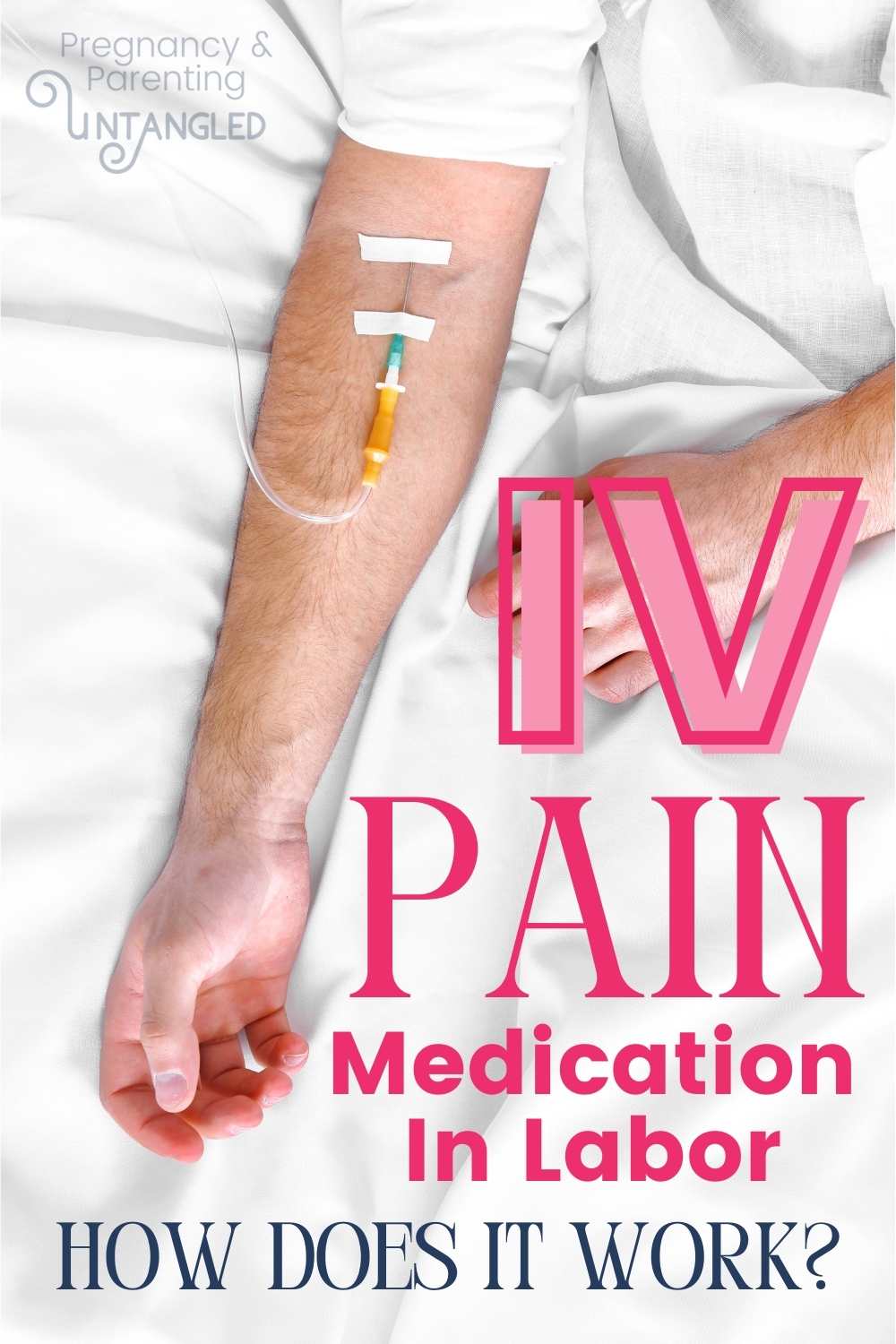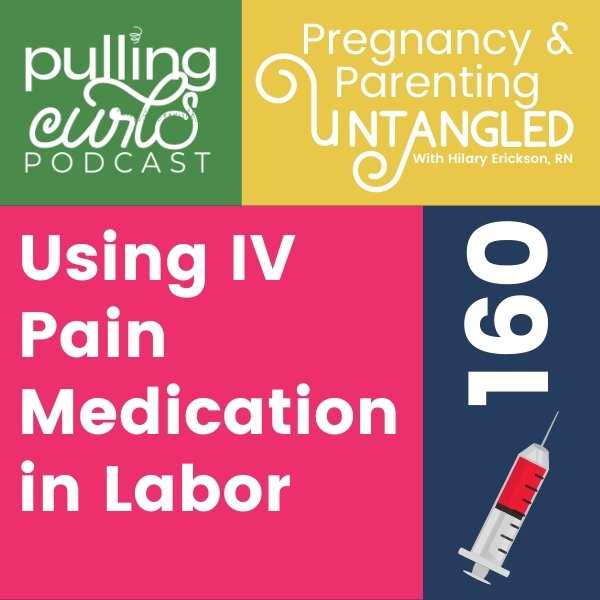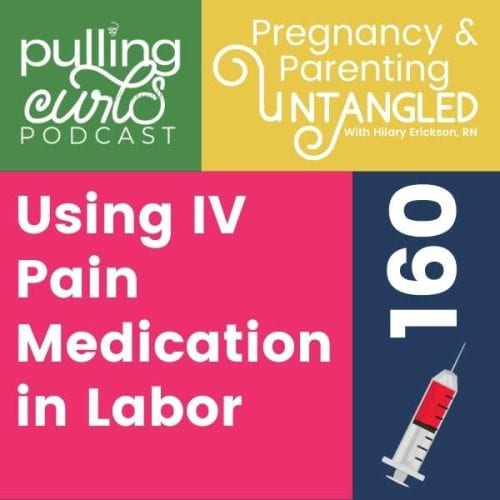 Today I am giving you six facts about using IV pain medication in labor.
Big thanks to our sponsor The Online Prenatal Class for Couples — if you're looking to get informed on things like this in labor and delivery — IT Is the class for you!
In this episode
The benefits to using IV pain medication
Some of the medicine DOES get to the baby
Works well 1-2 times
We don't tend to give it after 9 cm.
Try to get some rest in (and relax into it!)
Other things that might interest you
Hospital delivery without an epidural
Episode on pain management options in labor
Producer: Drew Erickson
Transcript
[00:00:00.130] – Hilary Erickson
Hey, guys. Welcome back to the Pulling Curls Podcast. Today on episode 160, we are talking about the unsung hero of labor and delivery, IV pain medications. Let's untangle it.
[00:00:21.270] – Hilary Erickson
Hi. I'm Hilary Erickson, the curly head behind the Pulling Curls Podcast: pregnancy and parenting untangled. There's no right answer for every family, but on this show, we hope to give you some ideas to make life simpler at your house. Life's tangled just like my hair.
[00:00:42.970] – Hilary Erickson
I don't know why I think this is the unsung hero. I just don't think a lot of people talk about it very much, and a lot of people don't even know that it's an option or why it's an option or when it's an option. Today, I want to give you six facts about IVP pain medication. First off, though, there are two IV pain medications that we will give you when you are in labor. They are fentanyl and stadol. Both are very strong drugs. You've heard the war on drugs is on fentanyl, but you're in labor. It's only given a short period of time, but they are strong medications.
[00:01:14.570] – Hilary Erickson
Do you feel prepared for your delivery? In just three short hours, you can be prepared for the competent, collaborative delivery you want. You'll know what to expect and how to talk with your health care team. And there are no boring lessons in this class. I'll use humor, stories from my 20 years in the delivery room to engage both of you. I love how Alyssa told me that she found herself laughing at things that used to sound scary. Most of all, you guys are going to be on the same page from bump to bassinet. Join the online prenatal class for couples today. You can save 15% with coupon code UNTANGLED. You can find the link in the show notes.
[00:01:49.530] – Hilary Erickson
Okay, first off, IV pain medication can be given very quickly. If you request an epidural, it takes a while for us to run an IV fluid bolus in, gather all the supplies, call anesthesia. We're not sure if anesthesia is in another room or if they're in a C section, all those different kinds of things. So there is a waiting period normally with an epidural, but there is not with IV pain medicine. It's just you requested we walk to the place where we get medicine, we come back, we dry it up, we give it.
[00:02:17.540] – Hilary Erickson
Of course, we have to scan everything 400 times, but it is much quicker than, like, an epidural. Okay. Number two, it can be given before an epidural. So if you're in early labor, let's say anesthesia is not available or something like that, you can actually have IV pain medication before you get an epidural. So it's not an either/or choice.
[00:02:35.200] – Hilary Erickson
You can have both. But I just feel like sometimes I have patients that are like, well, I think I'll try Ivpain medication first. But they know they're going to get an epidural if we're far enough along to get an epidural and kind of like, why don't we just get an epidural so you can have a real nap versus just doing the IV pain medication. Now, everybody makes their own choice, but that's just something to think about as well. Okay, third tip is that some of the medication does get to the baby.
[00:02:58.890] – Hilary Erickson
And I think this is why people don't talk about it. That's kind of like a dirty secret of IV pain medication. It does cross the placental barrier, which means that as a nurse, I can see on the monitor the baby looks a little bit sleepy. And that's going to come into play with some of the other facts that I'm going to talk about IV pain medication. But some does get to the baby, so that's just something to be aware of when you get it.
[00:03:19.500] – Hilary Erickson
Now, you might have taken medication at any point during your pregnancy, and some got to the baby if you drink alcohol, if you drink caffeine, all these things do get to the baby. So it's just part of being pregnant. Okay, fact number four is that it works very well the first one to two times, usually two times. The first time you absolutely love it. Second time you're like, this is the best.
[00:03:38.700] – Hilary Erickson
Third time you're like, Hilary, when are you going to put that in my IV? Because your body becomes tolerant, we're giving you a specific amount, and then your body is like, well, I need more than that to stop feeling these pains. So it's really important to know that if you're early in labor and you're expecting IV pain medication to take you the whole way, you're probably going to want to wait to get it until you're more inactive labor. So like six, 7 CM before well, five before you're taking the IV pain medication. A lot of people don't know that, and I think they expect it to work just as well every single time.
[00:04:08.750] – Hilary Erickson
Like antibiotics don't get less potent for our bodies. The third time we've gotten it, but it's just the way with narcotics. Okay, fifth fact is that most often we don't give it after about eight to 9 CM if it's your second baby or 9 CM if it's your first baby, because some of it gets to the baby and we don't want baby coming out sleepy. So we want baby to cry and get all that fluid out of their lungs, whereas if they come out and they're just kind of like, that's not good for them. We need to get that fluid out of their lungs.
[00:04:39.210] – Hilary Erickson
So it's important that we try not to give it too close to delivery. We try and not give it about an hour before you're going to deliver. Of course, none of us have a crystal ball, and I've definitely seen babies born in that hour. A lot of times it helps moms relax and they quickly have a baby. There is medicine that we can give the baby to reverse it if it ends up being a problem, but that's just something to be aware of.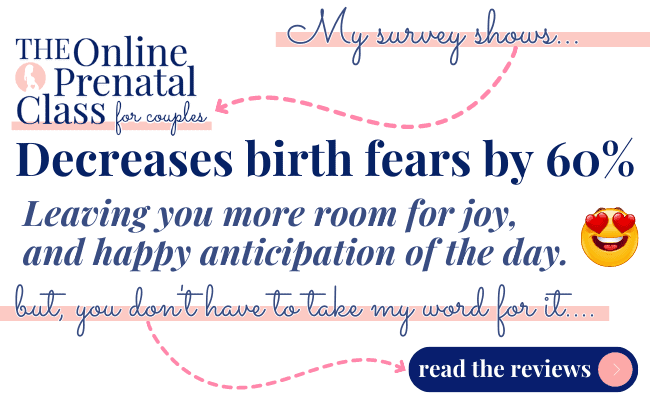 [00:04:59.810] – Hilary Erickson
A lot of people want something for their pain right before they're able to push. And IV pain medications, not really that for you. But the good news, if you're thinking about all that, is that pushing actually feels pretty good. If you're going natural, it just feels good to push against the pain, so you're not needing something for pushing pain so much. The final fact about IV pain medication is that it will make you sleepy.
[00:05:24.010] – Hilary Erickson
And a lot of people cannot relax into that. It makes them feel very out of control. They don't like that feeling, and so they're not able to relax into it and just sleep between contractions. So I always tell my patients, do not fight how this is making you feel. Just enjoy it.
[00:05:37.560] – Hilary Erickson
Try and get some rest between contractions. That is the main thing with pain medication, is to try and get that rest in so that you can cope with the rest of your labor. And a lot of people find IV pain medication very effective. Now include this in the fact that IV pain medication is just going to take the edge off. A lot of people say it's like taking you have a headache and you take a drink of alcohol, it's not going to numb you, it's not going to take away the pain.
[00:06:00.880] – Hilary Erickson
Your contractions may feel shorter. For me, I was given something else in the hospital for pain and then sent home with my first baby. And when I got to sleep that night, I felt like I was in a coma. Then I would wake up and be in serious contraction pain and then go back into my coma. So it just takes the edge off.
[00:06:18.260] – Hilary Erickson
You're still going to feel the contractions, but hopefully it lets you sleep. Have I said that enough. Hopefully it will let you sleep. My favorite thing about Iv pain medication is that when you get into that active labor where you're actively dilating, it does allow you to get some rest and to take the edge off of those contractions. Now something we're not talking about is nitrous oxide.
[00:06:36.250] – Hilary Erickson
It's pretty similar to the effects of this IV pain medication, except that it keeps working instead of the whole two doses, and that doesn't work very well. So it's available in some hospitals, but not all of them. But I do totally recommend that you guys take the online prenatal class for couples to learn about all of your different pain management options. I think it's really easy to think in advance, well, I'm just going to get an epidural. No, I'm just going to breathe through things.
[00:06:58.790] – Hilary Erickson
But you don't know what things are going to be like when you get into the labor room. So I think it's so important to learn lots about all the different kinds of pain management options that you have available to you in a hospital setting so that you can make the best choice for you once you're actually in it and making it through all those contractions. So that's how the pain medication hopefully you guys found this episode helpful. If you guys have any questions about it, go ahead and find us over on Instagram. There will be a post for this episode and I would love to answer your questions over there. If there's something else that you would love for me to do, a quick deep dive in, tell me over on Instagram, and I'd love to make an episode about that.
[00:07:32.360] – Hilary Erickson
Stay tuned for our upcoming episodes. Next week, we are talking about being an introverted parent. Even if you're pregnant. This is a good one to talk about what to do if you and your baby just don't need the same things at the same time. So it was a pretty interesting conversation. I think you'll like it. And then, my pregnant friends, we're having an episode talking about having the poops at the delivery. So I know you're going to want to listen to that episode as well. Stay tuned.
[00:07:55.730] – Hilary Erickson
Thanks so much for joining us on today's episode. The Pulling Curls Podcast grows when you share us on social media or leave a review. If you do, please tag us so that we can share. And a virtual hug, which frankly, is my favorite kind of hugging. Until next time, we hope you have a tangle free day.