Today we're going to compare the Eufy 30c the iLife A4 and the iRobot Roomba 980 Vacuums. Which is the best robotic vacuum cleaner for your house, and what will be worth the money? Which will pick up best on hard floors vs carpet? Let's see which one will be the best option and which one is the best robot vacuum cleaner.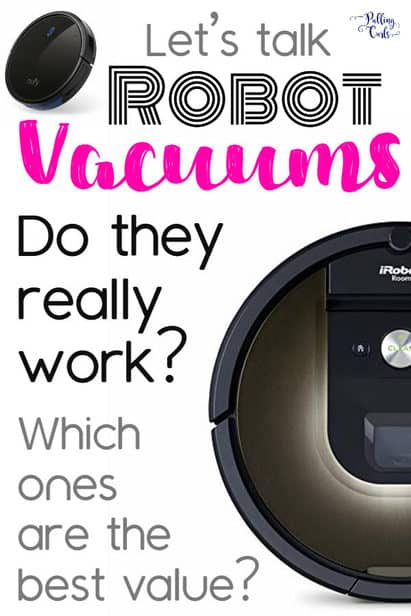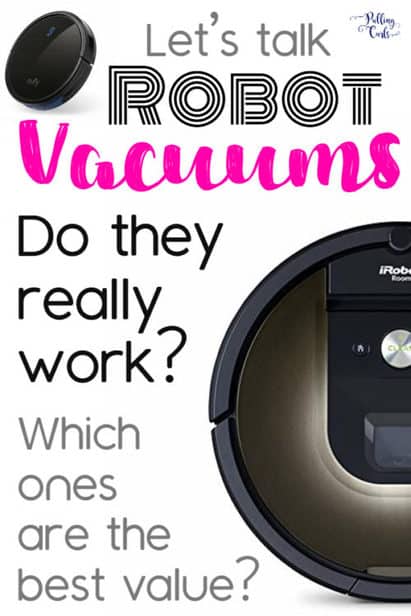 Best Robot Vacuum — Eufy vs iLife vs Roomba
There are a LOT of smart robot vacuums on the market anymore, how do you know which one of them is the best vacuum cleaners to buy? I wanted to share my experience with three of the most popular robot brands and what the main differences are.
Review of the Eufy 30C
Full disclosure, we were given an Eufy 30c after our iLife vacuum died — however, we had decided on purchasing the 30c before contacting the company to see if they were willing to work with us — this review wasn't required and the whole review is my honest opinion.
We briefly thought about getting the less-expensive 11 or 11s, but after realizing the suction was a lot more — and that's what PICKS UP STUFF — we really wanted more suction. I really like how you can see exactly what you're getting with the Eufy Vacs!
The Eufy 30C is our 2nd robot vacuum and out of the box I noticed a few things:
It's louder than the iLife (although, if you add in the iLife squeaky wheels, the iLife is louder), probably due to the suction
It's SO slim to the ground, it can get under things other vacuums couldn't
It is WAY easier to schedule, because of the app. Plus, I can ask Alexa to make it run. #winning
Their customer service is on TOP of things. Any complaints on Amazon are quickly addressed and fixed.
It was easy to set up and get going. It says that it needs many feet on either side, but we have it under a table and it does fine (as did the iLife).
It does a great job. Things aren't getting zoomed over and missed.
It does well at going in between the chairs at our kitchen table and it doesn't get stuck.
It does suck up wires/cords more than the iLife — so I need to be more careful with that (it comes with zip ties to help control that problem on your own).
Also, when it finds a lot of crumbs/dirt in an area it kicks up the suction to maximum so that it can get that area very clean. That's nice in a house like ours, where the kitchen is a LOT dirtier than the living area. 🙂
The Eufy is available on their site and also on Amazon (and I'd check prices because they vary — and each one has sales sometimes).

A note on the Alexa Skill:
It is, sadly, SUPER handy to be able to ask Alexa to get the Eufy to vacuum our house. You can also ask it to pause, and to go home (although, the go home feature doesn't seem to work as well — especially if it is in a complicated situation at the time you ask it to go home).
WE LIVE IN THE FUTURE PEOPLE!!!!
BTW, if you haven't heard of Eufy before, they are part of the Ankar — a battery company I LOVE (I love their charging and spare batteries for my phone!)
Cons of the Eufy 30c
I don't like that you can't pick what you want the vacuum to DO in the app — it just does the last function it did. So, that's sort of annoying.
The magnetic tape is sort of expensive, but I am grateful that we have a way to keep it out of spots. That is a big selling point at this price point!
---
Review of the iLife A4
This was our first robotic vacuum. We got it on a great price on an Amazon prime day, and I would call it an "entry level" robotic vacuum.
That low price point does show after a bit.
The first month was great. My husband did a good job cleaning the dirt cup out, and the filters, but with time it just stopped sucking up as much.
It got REALLY loud. Somehow the wheels seemed kind of off-kilter and it would squeak and sort of rumble a lot as it went along.
But, out of the box, it was the quietest of the three vacuums.
However, it still does a good job at getting into the corners (a HUGE plus of robot vacuums, since they have those side brushes that regular vacuums don't have). It does run automated, although sometimes gets off its schedule and it's hard to know how to fix it.
It also didn't suck up wires quite as ambitiously as the other two.
Cons of the iLife A4 Robotic Vacuum
Seems to have a short shelf life, most people say it doesn't last much more than a year (very true in our case, in fact –we stopped running it frequently because it just didn't do a great job)
There is no way to keep it out of certain areas — our Christmas tree skirt had a few skirmishes with it.
It got stuck a LOT. In fact, most times it was stuck somewhere. It was a happy day when it made it back home.
Review of the iRobot Roomba 980 Robot Vacuum
My mom has this vacuum.
This guy is crazy expensive. In fact, I'm not sure they sell it anymore, it seems like the 960 has taken its place?
** No, the 980 is still the powerhouse of the iRobot brands — it has a better motor, just harder to find.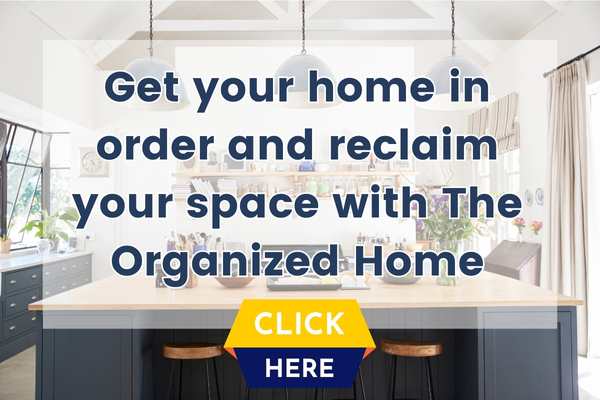 But it really is a luxury vacuum. It does SUCH A good job at vacuuming.
And so good, you'll think you have a maid doing the vacuuming for you because it is SO loud (seriously, like a regular vacuum loud).
I love the set of sensors to create virtual walls or virtual boundaries keep it out of certain spots. They are nice, much nicer than the magnetic tape.
This vacuum does clean in a back and forth, straight lines pattern… which can be nice, but I decided it was probably not necessary.
Cons of the Roomba 980
It's pretty tall at 4″ — so the other two (especially the 30c) has a low-profile design that can get under things that it can't — which is really nice when you have furniture you'd like it to sweep under
It's SO loud. I could never run it at night.
The cost. Yowzas, it's almost $300 more than the Eufy 30c.
I liked this video that compared the 3 brands (not the 3 exact vacuums I've mentioned though):
Ultimately, my choice boiled down to a few things:
I wanted to be able to keep the vacuum out of an area, without having to make a barricade of laundry baskets (which I could).
I wanted strong suction power.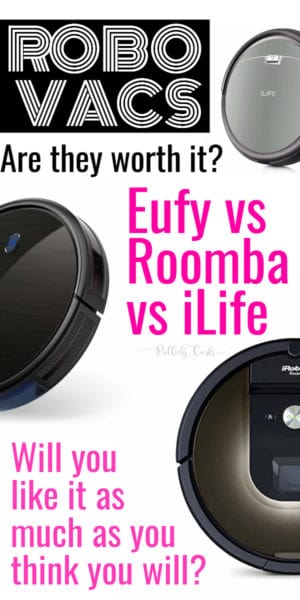 I love how up-front Eufy is about its suction! I can't seem to find the suction specs on any of the other vacuums. BUT, I was initially thinking of just getting the Eufy 11s — but after seeing how much MORE suction the 30c had, I was won over. Plus, you can often find the Euphy 30c on a great sale, that doesn't make it much more!
So, ultimately, I think I made the best choice in getting the Eufy 30c. Of course, that's the choice I made, and humans are like that — but I think you'll love it too. If you have any questions about it, ask me in the comments!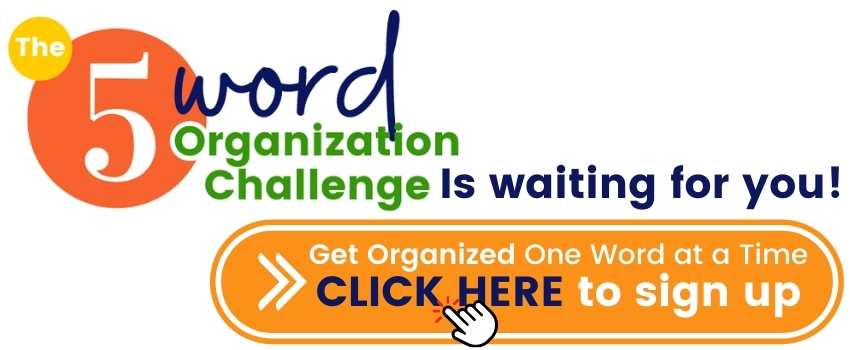 [pt_view id="93e22895b7″]