Each day of the week has a "room" that I tackle. That doesn't really mean that I don't clean in other rooms, but it helped me to think of it that way.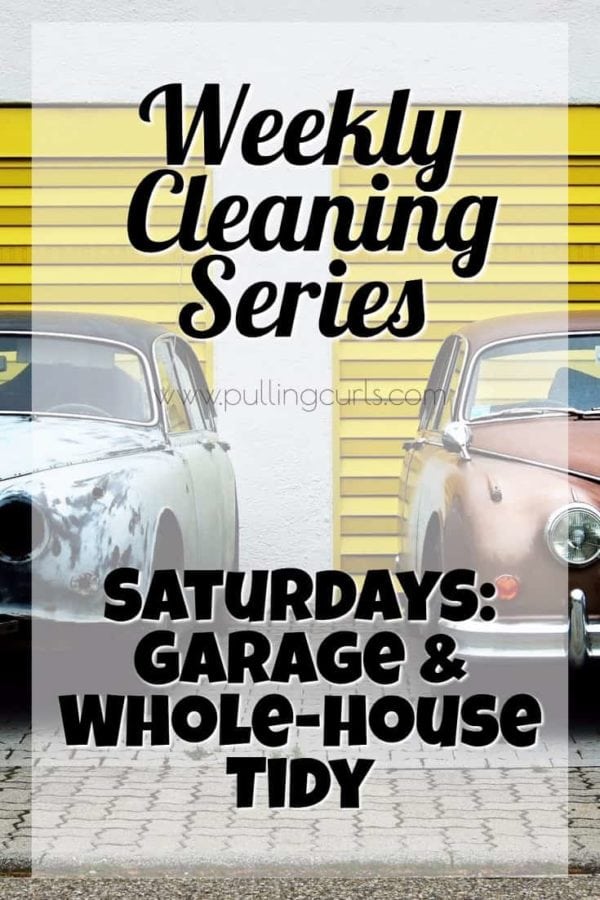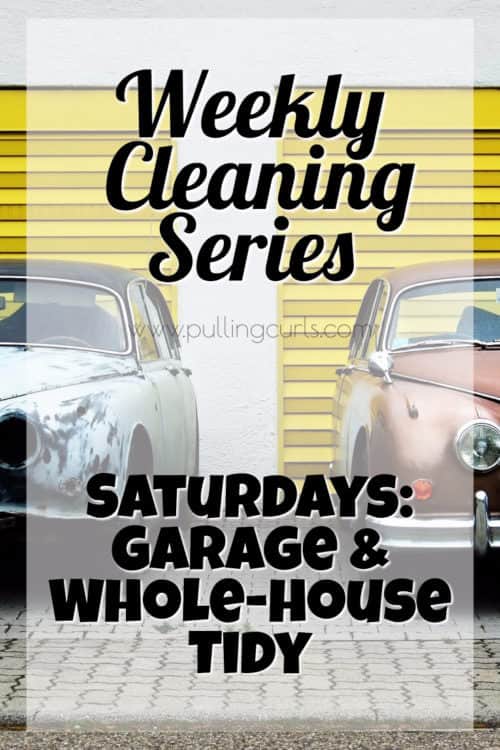 Our garage is a 3 car garage and I often throw things out there when I am done with them, so Saturdays is a good time to tidy those up. I also take this day to clean/ defrost the fridge and freezer that are out there. About once a year we clean it out. We are lucky enough to have cabinets out there (although, honestly, if we did it again I'm not sure I'd do that. I think I may have preferred the open shelving that costco has, but what's done is done. This only cost about 800 dollars so if I felt like I want to rip it out, I guess we can. 🙂
Note, this post was originally written in December 2013. I had smaller children, less "job" and more time on my hands. I think this type of approach can be used by anyone — but I will admit they don't all get done anymore. Make some goals of your own and see what you can make happen. 🙂
Anyway these are my Saturday jobs:
Clean the garage (depending on what else is going on that day, my "clean the garage" looks like me setting the timer for anywhere between 5-20 minutes and just putting stuff away or cleaning up). The garage tends to be a place I just throw things, so it REALLY needs some weekly attention.
Gunny Bag Vomit (the Gunny Bag eats the "leftover" toys each week — mostly for P — and it throws them up on Saturdays)
20 minute tidy (I lengthen the daily 10 minute tidy to 20 minutes on Saturday) — I actually have started using my high intensity trainer on my phone to ring every 5 minutes and I switch areas at that time — seriously. I am just this anal but timers REALLY work for me, and my house — at the end of these 20 (sometimes 30, if I have the time) minutes looks SPOTLESS. The end. I also tend to tackle things thare a little more time consuming to organize during these 20 minutes. Nothing big, but if the piano books have looked a wreck all week, I will stop to re-pile them during this.
Balance the Checkbook (because cleaning is about all areas of your life, not just your home)
Give out allowance (by incentives for your kids jobs, they might actually get done!)
Outside work — this doesn't always get done, weeding is actually on my phone for every other day and I mostly hope to get outside twice a week anymore (ticktick allows you to make "lists" within the "outside work" so when I think something needs doing — like right now I need to prune some of the things that died during the last freeze, I put that on the list under "weeding" and I know what needs to be done next time I'm out there).
Laundry: Wash sheets. I did this weekly for a long time, but I noticed our sheets weren't lasting as long/well as I'd hoped, so I changed to every other week. I'm not a fanatical clean sheet fan — don't tell my mom. My kids HATE changing their sheets, so we voted and this is what we came up with.
Kids: They get their room "mommy clean" (which includes their closet, under their desk and behind the door), they each have some areas for "touch-up" vacuuming, they weed specific spots, and clean out the car.
Estimated time for these items: I would probably say about 90 minutes. That would be an average, and if you didn't include balancing the checkbook it would be closer to an hour. Yard work is pretty variable, but low right now as it's cold and I'm just not in the mood. Anyway, I pretty well waste away the rest of my Saturday after this is done, and I will admit the house is no longer spotless about 5 minutes after I have done this, but I like knowing everything's in its place once a month!
There are a few jobs that get done every once and a while on Saturdays:
Food Storage Check — I go through my pantry and count all the cans that are in there. I am hoping to do a write-up on how do I do this soon too — but here was a quick one I wrote a while ago. I do this about every 5 weeks or so.
Long Term Food Storage Check (I only do this every 6 months, to take stock of the BIG items we have and what we need to look forward to buying at the church cannery)
Wash Car — monthly
Haircuts — slowly learning to cut hair better. I did a fairly decent job last time. If anyone has any great youtube videos to watch on this, let me know– Every 5 weeks.
Note from 2017 update: I still cling to the 20 minute tidy. It just helps me REALLY put stuff away that has been lingering. I am consistant on balancing the checkbook (and also doing our business finances on Saturday). I also REALLY want to get back to our garage. I also do a quick eye-perusal of the pantry. I don't use our spreadsheet anymore (as we're hoping to move sometime soon, so I just don't want as much on hand).
Figure out what from this post inspires you — and make plans to do it — that's my best advice.
The Mormons have a song called "Saturday is a Special Day" (it's the day we get ready for Sunday). I really feel like if I get my stuff done on Saturday I can spend Sunday a bit more relaxed. At least on the cleaning front, and maybe I can focus a little more on my family and what God wants me to do in the following week.
Looking for
organized home
tips — that page has tons of tips and tricks for keeping your whole home organized!
Don't miss my weekly cleaning schedule:
**This cleaning schedule won't work for anyone but me, I'm obviously aware of it — but I'm just trying to give you ideas of how I came up with mine so you can figure out how to come up with your own. You can read more about my weekly cleaning schedule either on the tab up top or right here! Or, check them all out below!
[pt_view id="41b314549f"]