Sous Vide cooking is all the rage. We'll talk about what IS sous vide cooking, how you could cook steak, chicken or eggs (and more). Plus instructions and I'll share some of the YouTube channels that helped us love our new Anova.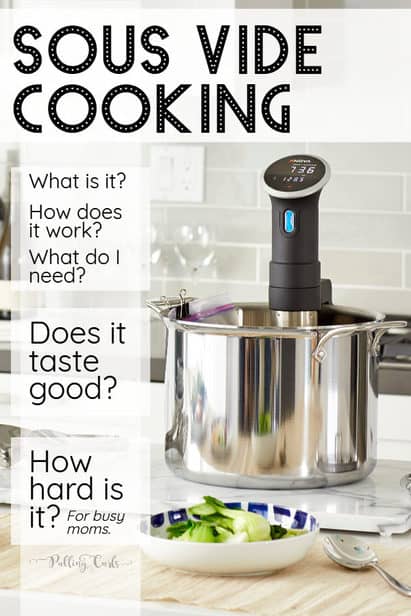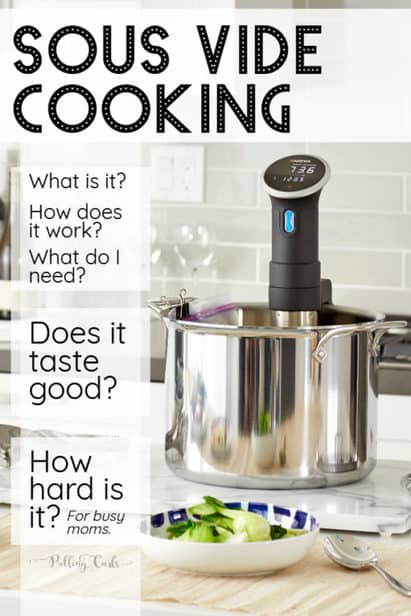 Sous Vide Cooking
What is Sous Vide?
Sous vide is basically cooking things in very warm water (but not boiling).
A Sous Vide machine is used to keep the water at a specific temperature. It circulates the water and makes sure it stays within the defined temperature range.
Sous Vide Brands
There are a lot of different sous cide Machines out there. We personally bought the Anova (not sponsored, we bought this one on Amazon Prime Day).
Another popular one is the Joule.
I watched a video comparing them. The Sous Vide Supreme came out on top. I was concerned about how much space that was going to take up (and the price tag) so I went with the Anova.
Sous Vide Bags
There are a lot of options for Sous Vide Bags
In general, we use the Stasher bags. Full disclosure: I got Stasher bags a few years ago free to share about using them with your school lunches, or home storage.
I just like the idea of NOT using plastic to cook my food in, BPA free or not. Also, I like how they're reuseable and we're not wasting anything.
BUT, they trap air and can be hard to make sink in the sous vide.
You can also use a FoodSaver (the link I link to is not actually a food saver brand, but seems to get great reviews on Amazon) and food saver bags. Part of me wishes I had these, especially for larger items, but so far we don't have one.
Finally, you can also use just plain ol' Ziplock bags.
I was concerned about the plastic, but I've watched a few videos and read a few articles that the water isn't getting hot enough to be concerned about your plastic leaching into the food. So they say.
I've used a Ziplock to cook corn and it certainly didn't taste plastic-y at all. So, in a pinch (when I'm out of Stasher bags) I would use a Ziplock.
Other Sous Vide Accessories
You can use any pot to put your sous vide in (so far we've just used our large pasta pot). But, you can also get a sous vide container.
I also have some Sous Vide balls that keep the water from evaporating. This can be a real problem as some of the cook times (on large roasts) can be 60 hours or so.
You can also buy clips to keep food sunk down in the water. But, you could also just use binder clips or other clips you have (you have to remember the top of the container will not heat up that much).
Sous Vide Steak
Making steak is one of the best ways to start with the Sous Vide Machine.
I have a video to share exactly how we do it (and this same cooking method will be used for most meats).
As you can see, the idea is to
Season the meat (but don't go crazy — Sous Vide really lets the MEAT shine)
Put it in the bag of choice (as noted above)
Cook it (the Anova makes that super easy)
Pull the cooked meat out (don't worry if it looks gross, that's normal)
Blot dry with a paper towels
I then put it in the freezer, as I saw a lot of people say that helps to get a better seer for 10-15 minutes.
Then sear, let rest and eat.
You can sear a few different ways:
Cast iron the stove
On the grill
Broil it in the oven.
You can also use a searing gun with the meat on a rack.
Just make sure it's HOT so that you can get a quick sear without cooking the meat inside too much.
Initially, we didn't buy the best steaks. I figured I wanted to mess up a few times with the Anova without wasting great meat. BUT, these poor-quality steaks, when cooked in the sous vide are the BEST steaks we've ever had.
The meat is so tender, and just how we like it. Plus, we get a great sear on the outside. I only need a few ounces of this steak because it is SO yummy.
I often cook the leftovers for steak bowls or steak tacos and it is WAY better reheated than our regular grilled steaks were.
Anova Sous Vide Steak
The Anova makes it SUPER easy to just pick the type of steak you want (by looking at the photo) and hitting start. Keep in mind their cooking time is the minimum. You can leave it in the water a few more minutes if you'd like. We have cooked the meat for as long as 4 hours. Since the machine is set to a certain temperature it's not going to let the meat go above that temperature.
Anova Sous Vide Instructions
Anova makes it SUPER easy with their app. Instructions on how to cook meat and even recipes are all in the app. You just hit start cooking (like a play button) and it makes it all work.

Sous Vide YouTube
I have learned a lot about Sous Vide cooking online. I first learned about it on Flo Lum's channel. After I got our machine I became an avid watcher of Sous Vide Everything — those guys are great (and really love their steak!).
Sous Vide Chicken Breast
You can sous vide all types of meat. I think it's important to understand what you plan to use the meat in.
I don't think I'd sous vide a boneless/skinless chicken breast. I just think the searing process might make it dry. BUT, if I wanted meat for a salad or to eat just on it's own I've seen people have great success.
I think marinated thighs would be yummy or chicken with skin on it would be yummy to sear.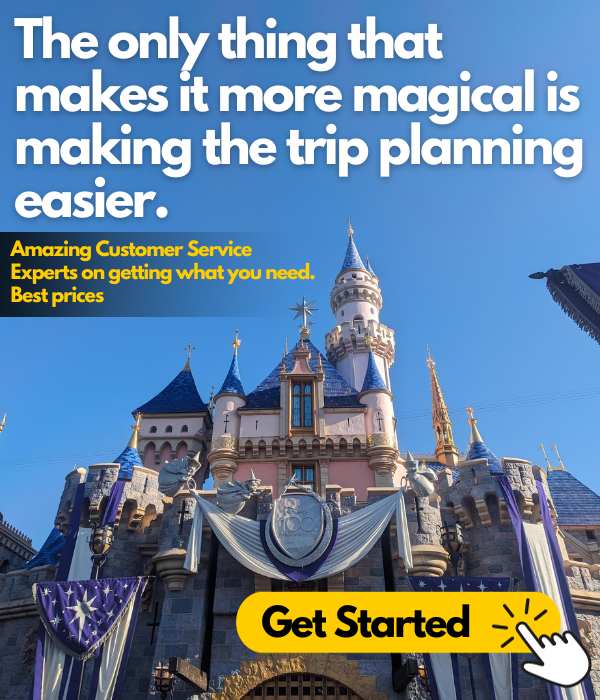 One of the best things is that you can easily marinate chicken in the bag, drain the marinade and then cook it. Makes for easy cooking!
Sous Vide Eggs
Cooking eggs in the sous vide machine is AWESOME. Yes, it's going to take a bit longer, but you can pick the temperature you want to get just the type of egg you want.
Sous Vide can also help you make great hollandaise or ice cream where it can pasteurize the egg without curdling it.
You can see all the variations on egg cooking in this great video.
Sous Vide Cooking Times
Sous vide cooking takes a lot longer than regular BBQ'ing or cooking. However, it really is set it and forget it until your phone beeps. You will want to find the cooking times from the app or online depending on what you're cooking.
Some roasts can take DAYS to cook. Fairly thin steaks take 45 minutes or so.
I hope I've answered any questions you have about Sous Vide cooking. The price of the machines has come down so much — I was happy to try this new method of cooking. Do you have a favorite that you cook with YOUR Sous Vide? Tell me in the comments.
Be sure to check out my meal planner, and my other cooking tips posts below that:
[pt_view id="739bc64k17″]