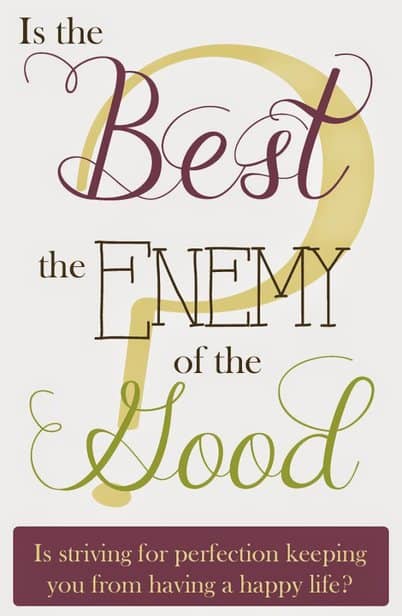 Last week in FHE Spencer spouted up with this goodie. I love how my father is indoctrinating our kids.
Anyone remember the conference talk on "Good, better, best"? I clung to this talk. Surely there is a best in everything I do, and then my dad came around with his own doctrine that the best is the enemy of the good.
And while I still strongly believe that I think we do need ask ourselves what our BEST options are, I — personally, may need to realize that the best option is often the enemy of the good option.
I strive for perfection in so many areas of my life. Will you be on the PTO board, SURE! And in reality there may not be a best option there. The school needs help and I am willing but then things fall by the wayside…
So, what are your thoughts on perfection? This isn't to say that I'm a downtrodden Mormon woman always striving for the absolute best or nothing. I don't get depressed by not being perfect. I find that obvious that I won't be, but maybe in the striving I'm losing some of the joy in the journey. Thoughts?
I'm going to explore this more this week, just wondering what your thoughts are on the best being the enemy of the good.
ETA: I think maybe I am not clear enough on this concept. The best is me keeping my house sparkling, when good is just having it clean and put away. I'll write a few more things on this coming up this week. Just with the thought that maybe striving for the BEST isn't doing you any favors. That "good" is good enough. I also don't think that the best being the enemy of the good is in contradiction to Dallin Oak's talk — I just think it's a new way to look at it.