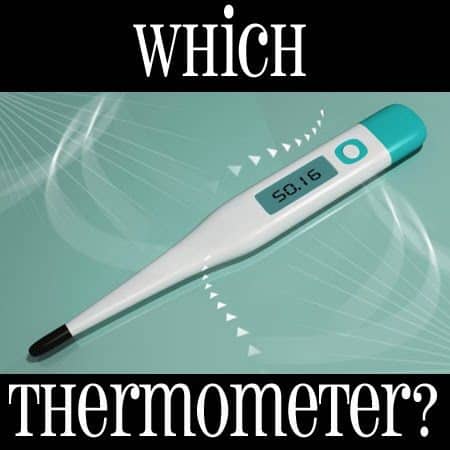 I get asked this question quite a lot, so I thought I would answer it here.
Hilary, what's the best thermometer out there?
Frankly, the gold standard in thermometers any more is the axillary (under the arm) temp. Way back in the day it was rectal, but it is possible to push that thing in too far/hard and tear something you need. So, axillary is just as good for moms at home.
I am hearing a lot of good things about forehead thermometers, but for us — I decided the cost wasn't worth it, that we would stick with axillary.
We use ear thermometers at work. I think it's just hard to know if you have it too deep, or in the right place. On infants it's pretty well useless as their ear canals are so small and you're unlikely to jam it in there like it would need to be to get an accurate reading.
One other thought. Unless the child is literally burning up, I don't always take it. There really isn't a reason to know the EXACT temperature of your child. If they feel like they're burning up, I will often take it, just for curiosity sake. Sometimes I take it to know if they're good to go to school. Things like that. But, kids temperatures can go awfully high before you really need to worry. Three things to think about with fevers:
1. Adults fevers are different — if you have a fever of 104, you need to be seen.
2. What are the child's other symptoms. Are they able to eat and drink (at least small amounts).
3. Does tylenol bring the fever down, even just a little?
4. Fevers are helpful. They're your body's way to fight the infection.
5. If kids under 2 months have a temp over 100 you should take them in to be looked at. Odds are they're fine, but wee ones don't have the immune system to fight big bugs.
But, it's not like thermometers are only used for children. I used one for about 3 months before we got pregnant with Miss P. The main thing there is to get one that reads fast, so you can get on with your day (you take your temp for a while and it helps to predict when you're ovulating so you can "aim" to make a baby — other questions, google temperature and ovulation, I printed out a handy spreadsheet to use).
So, that's that. I have a few blogs on fevers. If you need more, just use that handy search bar up above…
or here's a good recent one.
Hilary is an RN, BSN who has worked in various medical fields for the past 14 years, however, none of the information on this blog, should be substituted for the care of a physician. The information provided on this blog is informational only and shouldn't be taken as medical advice. If you have questions, please ask your doctor. If you think you have a medical or psychiatric emergency, please call 911. Also, please don't delay contacting a physician due to something you have read on here. Pulling Curls doesn't take responsibility for your health. That's your job. We're just a nice read.