First off, my thoughts on ultrasounds. NO ONE is more giddy than me when a couple doesn't know what they're having. I think it's SO exciting and thrilling, much more than usual. I love to announce it and see their reactions to the big news, and hear their calls to family. Oddly enough, I think I've had more lately who've wanted to make it a surprise. But we found-out today and the reasons are 2 fold.
1. I have access to an ultrasound machine 24/7 at any point I want it. That means my will has to last until the end of April, and what are the chances of that. Low, at best — fyi.
2. In a situation where you might have some inkling of disappointment when you find out, I think it's best to find out when your baby is just a peanut instead of when it's crying on your chest. Just my own personal opinion, but I have seen the disappointment, and it breaks my heart.
BUT, without further adieu….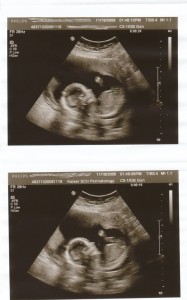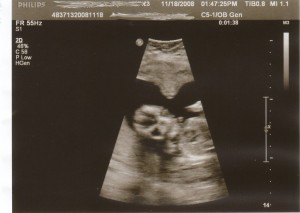 Hilary will be shabily dressed, because this baby's gonna need some new clothes. We'll be welcoming a baby girl into our home in the end of April (she put my due date on April 24th — which is what I have suspected, but Kaiser will keept it at April 17th — which is fine, because I will go on maternity leave earlier). I made her make SURE she was sure. We saw all the girl parts (both sides, I don't want some labia confused with a penis). Anyway, she was pretty sure, and she even made me pretty sure — and heavens knows I'm a skeptic. I will most likely have another one at work where we all gather round and see if we see anything. So, the wait is over, and I am happy to have that done with. Now bring on the isles of pink stuff. 🙂 Oh, and for all the rest of her body it seemed to check out. Of course, the ultrasound tech can't tell us anything but I didn't notice her being bothered by anything, and I didn't see anything (but let's say my ultrasound skills are limited, I thought I saw a penis at least 3 times — I'm guessing it was probably a foot or something upon further evaluation).