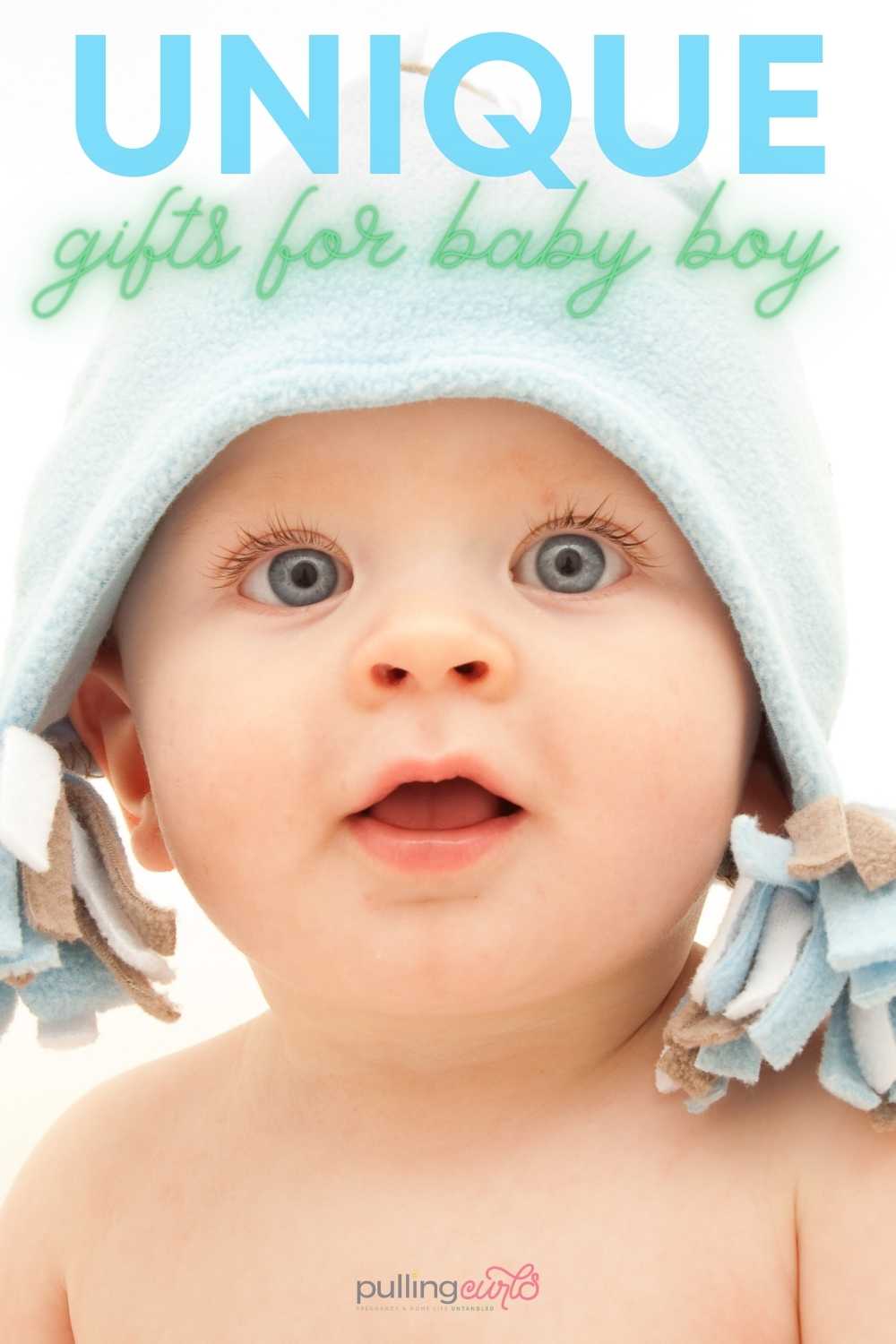 Finding unique baby boy gifts can be hard. I'm going to share some of the most useful & unique newborn baby boy gifts that new parents will love. These perfect baby boy gifts are some of the best gifts for any little boy.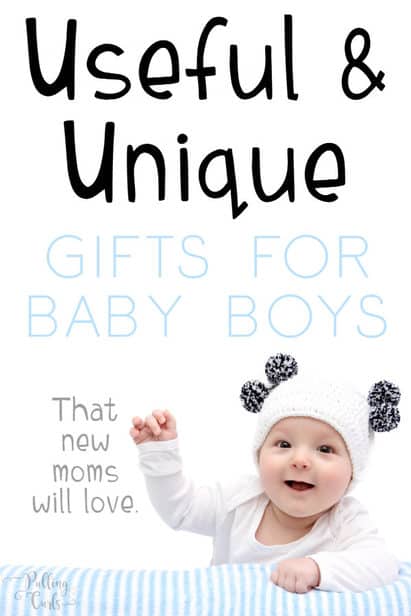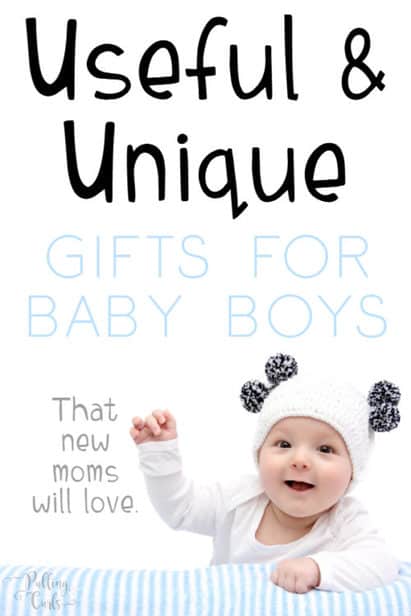 FYI, this is part of my Gift Ideas for Families Series << that post has TONS of gift ideas for everyone on your list! Don't miss my best valentines gifts for a pregnant woman.https://www.pullingcurls.com/valentine-pregnancy/
Useful & Unique Baby Boy Gifts
Here are a few items that parents will love to use, but are also unique gifts and different than your average baby gift of plush toys, gift cards, or baby toys that might be on the baby registry:

This owl will somehow magically get your baby to sleep (plus it's SO cute). Seriously, check out the reviews!
Drool bibs on boys that make them look like tiny cowboys are a favorite of mine. These even come with a teether. OR, just get the ones that make them look like they are in polos or tuxes. SO many bib options that are a practical item and a perfect gift a new baby (I love it — and kids need a lot of bibs, so they're always one of the best baby gifts!)
These milestone ties are a perfect baby gift and great way to mark how old your little man is. Awesome paired with a white onesie. They also come in a superhero theme for baby gift baskets.
Venturing out in the car with a little one is always a bit scary. Something like this might make those first journeys a bit easier.
Have you seen the Owlet Monitor — not sure your budget, but moms LOVE this thing, not sure your budget, but moms LOVE this thing. Good news, it's one of those baby shower gifts that family members can go in on together for expecting parents. I have a whole post about the Owlet Monitor.
Unique Baby Boy Stuff New Moms Will Love
Sure, some of you are saying that a gift should be for EITHER gender.
While this gift is funny for all babies, I think it's extra cute for boys.
Use Their Name
If you already know the baby's name, some art with their name in it is something they can grow up with.
Unique Clothing Gifts for Baby Boy
There are a lot of awesome T-shirts/outfits out there:
Unique hats for baby boys
Of course, a baby hat is totally adorable as well:
This one is for your tiny dino
Maybe they need a little fedora….
These animal hats look toasty for the winter (they're also SUPER soft) as a perfect present for a little guy or baby girls — use code CURLS333 to get it "free" (just pay shipping).
Low-Cost Unique Baby Boy Presents
While there are lot of things, like blankets or burp clothes, I also have a bunch of other freebies for new moms that make great, affordable gifts!
If you're a pregnant mamma, be sure to sign-up for my hospital packing list, and check out my other newborn posts below that:
[pt_view id="95f3dac357″]