And now for the group shot: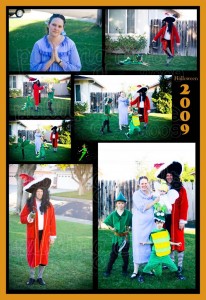 Ok, now for a run-dow of how everything was made:
Hat from a friend
shirt is a small adult shirt, I just jagged-ly cut the arms and the bottom seam (and then put fray check on it so it won't fray like crazy) then, I cut the collar (I thought I'd be able to turn the cut into a color, but that didn't work so I had to add felt "lapels", I put some eyelets in (hello scrapbooking) and laced some faux leather strips through it.
Pants were larger girl pants, but we liked the color and the general look, I hemmed them and also took them in on the bottoms (they were more of a flare leg) — also, I got the faux leather from the belt on this pants, so that saved me from having to buy something to work there.
Belt was an adult belt (albeit a small one) that I added a few extra holes in so it'd fit Conner.
Sword from Rite-Aid
Total cost probably about 15 dollars
Hat is an old hat we found at a garage sale, I covered it in felt, used styrafoam balls and googly eyes. The little "spikes" are 1/2 circles that I turned into cones and put a cotton ball inside and glued on. If you see this hat up close it has a LOT of hot glue on it. I'm talking 5 or 6 sticks. 🙂
Pants and shirt were found at Savers (as was pretty much all the basic supplies), soccer socks are old ones from Conner.
His "sandwich" top is just "tiles" of scales and strips of scales. I made the basic shape out of felt and then just glued everything else on.
I made the basic tail shape out of green fleece and then made spikes out of yellow fleece (stuffed with old grocery bags) and sewed those together. Then, before stuffing the tail we added an old coat hanger and stuffed it pretty full. Then, I sewed it onto a waist band of covered elastic (covered with green fleece).
Total cost: about 15 dollars
Took a nightgown I found at Savers and dyed it and then added a blue ribbon from Michael's.
Total cost: about 12 dollars
Hat is made from an old infant hat (which is slowly being out grown), covered in triangles of yellow fleece. Took a styrafoam ball, covered it with fleece, hot glued it on and added a bow. This was by far the largest part, but it really makes the costume, I think.
Onsie found at Savers
Tights we already had
Shoes were made from green felt from this pattern. Actually fairly easy, I think they only took 1/2 an hour but they just BARELY fit her. Added yellow bows to cover the elastic. These shoes are great though, I might enlarge the pattern and make her a couple other pair.
Wings from Joann's (with a coupon)
Tutu had a couple of steps. Cut elastic to fit, added some hook and loop closures at the ends, sewed on some green "leaves" then I tied some strips of lighter and darker green tule and finally some green ribbon I had lying around. Pretty dang cute.
total cost: about 14 dollars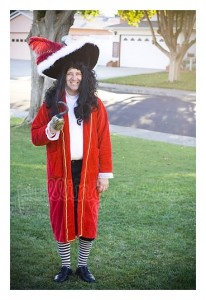 Hat borrowed from a friend (the hat makes it, I am so glad they let us borrow it)

Wig from Rite Aid (nasty wig too, btw)
Coat is a bathrobe from Savers, I added some gold braiding to it and sewed down the "lapel" so that it'd look more "coat-like", also sewed lace onto the bottoms of the sleeves
Shirt is a turtle-neck from Savers, I added a lace "triagle" to it
Pants are women's capris (from savers — Drew and I were talking about how most of his costume came from the women's section)
Socks are mine
Total Cost: about 35 dollars
Favorite part: I like that our family stands out, I like that our kids will have the memory that we did this with/for them.
Least Favorite part: The sewing. I'm always swearing at the machine, at the fabric, at myself for deciding to do it. But it's worth it. They've all had a lot of fun.
Oh, and big props to Andrea, Drew's cousin for taking the photos and watching my munchkins while I helped out at school. I am almost ready to claim her as a relative, and that's saying a lot. 🙂
So, whatcha think?