Did you know that good dental health is linked with good pregnancy health? Our teeth are a connection of our body to the world, and sometimes we're lax in their care! I know we all want a nice smile, but are we as vigilant about our own teeth health? Here are 5 tips for good family dental Hygeine with help from Colgate Total Repair!
*I was compensated as well as given product to write this post by Colgate Total and Mom it Forward
1. Switch to an adult toothpaste as early as you can.
Sure, bubble gum flavored toothpaste is a tasty treat, but I don't love smelling their breath afterwards, and I really want them to get into the habit of needing a "clean" mouth feeling. Switching to adult toothpaste early on helps make that all quite easy! Something like Colgate Total can even reverse decay from bad habits they've had up until the switch!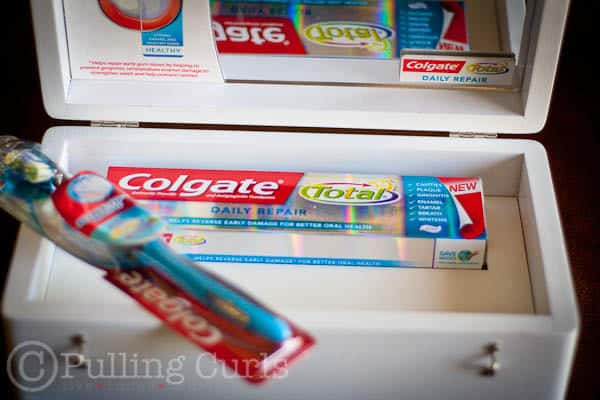 2. Give fluoride.
Check with your pediatrician about the fluoride levels in your water. Or, if you use bottled water, you may need to give a flouride supplement. Again, check with your pediatrician or dentist.
3. Brush with them.
Have a family brushing party. I know my kids think that brushing happens for about 3 seconds, but in reality it is much longer. If my daughter and I do some Irish dancing while she brushes, it's a lot of fun. Until someone gags themselves with their brush. 🙂 Also, it keeps me from eating late at night if I brush when she goes to bed!
4. Floss with them, get fun flossers
There are so many fun flossers out there, or show them how adults floss. Show them it's important.
5. New toothbrushes
Getting a new toothbrush makes teeth brushing 100% more exciting!
---
Keep those gums & teeth healthy with Colgate Total Repair. This new toothpaste contains a multi-active formula that helps repair early teeth and gum damage before you may know it even exists. Colgate Total® Daily Repair Toothpaste also helps remineralize weakened enamel to help prevent cavities and strengthen teeth, and help improve gum health by killing the bacteria that cause gingivitis.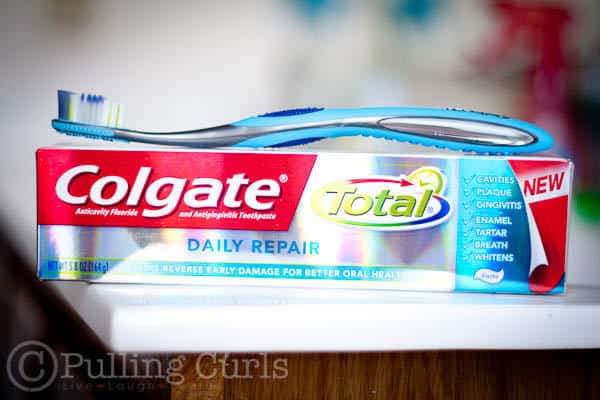 Check it out at your local drugstore, and your YOUR family's teeth on track soon! And check out Colgate Total on Facebook!
Big thanks to MomItForward as well as Colgate Total Daily Repair for sponsoring this post!