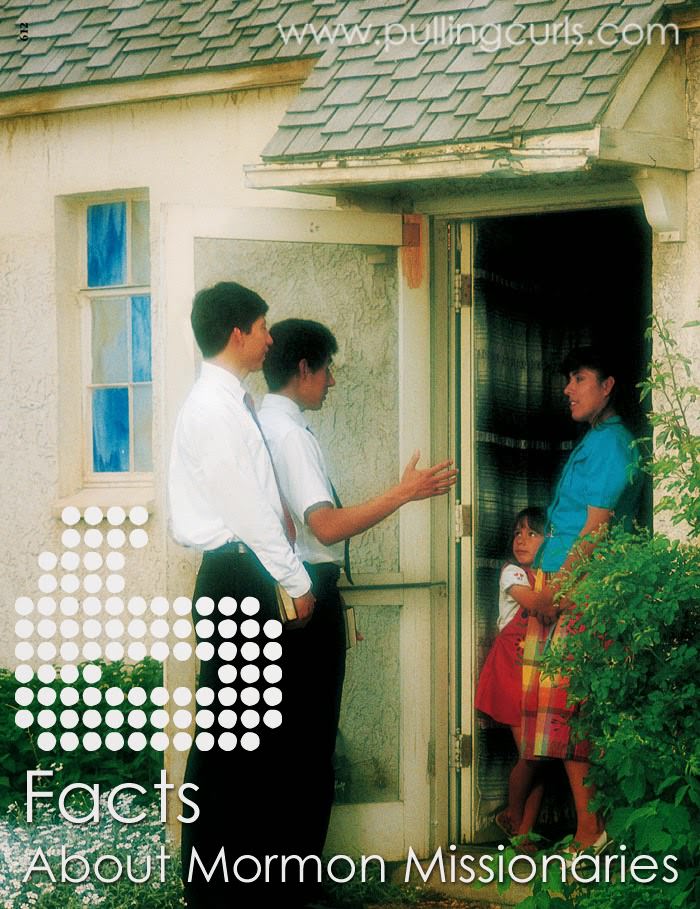 One of my very best friends is going on a mission, on Wednesday in fact. I was one of her youth leaders about 6 years ago and now she's all done growing up and ready to face the big scary world. 🙂 She will spend 3 weeks at the missionary training center in Provo, UT and then will be shipped to Guatamala.
I am so proud of her, she will do an amazing job, but it got me to thinking that many people are "bugged" but those Mormon missionaries, they go door to door and they're so young and peppy. Well, did you know what they leave behind?
1. Mormon Missionaries are only allowed letters. Only recently were they allowed to do email (and even then, that's only allowed in areas that have access to email — my friend is going to Guatemala, so we're not sure if she'll have email — I will be buying some stamps next time I'm at the grocery store). They are allowed to call home twice a year, on Mother's Day and on Christmas. It is a HUGE deal for those families and those moms wait for those holidays and needless to say, it's better than any gift they recieve.
2. Mormon Missionaries have to follow a strict dress code the entire term of their mission (boys usually serve for 2 years, and girls for 18 months). For her, she needed to have mid-calf lenght skirts and some dressier- blouses. She isn't allowed to wear jeans, shorts or capris for the entire length of her mission. That's right, in hot, hot guatamala.
3. Mormon Missionaires are expected to fund their entire mission, which is 400 dollars/month. They don't fundraise. Them and their families work hard to allow them to have this opportunity. Drew and I give a very small amount monthly to our "ward mission fund" which hopefully helps some of the families out. Since we're Mormon, some of those families can have two (possibly even 3) missionaries out and you can imagine how that adds up!
4. Mormon Missionaries have to stay with their companions 24/7. They aren't allowed to leave their sight (except in the restroom). Can you even imagine this? I mean, sure it's great if you love them. But what are the chances you'll love all the companions the whole 18-24 months? You might as well play the lottery. 🙂
5. Mormon Missionaries lives strict rules. They have a white handbook that pretty much tells them everything they can, and can not do. They can't hold babies/kids. They can't be on the internet, they can't watch TV, they can't listen to most popular music (exceptions for classical and some church music).
6. Missionaries are all about service. Each week they have to give some hours to service. They're good hard workers. We had ours help put in a sprinkler system, but they also find ways to help out in the community, ours recently helped a lot with the local "Mormon Helping Hands" day.
So, why on earth would you do it? I can testify that going on a mission changes you. Boys leave, men come home. They are working hard, they are dedicated to the service of their God and they are helping others. They come home with amazing skills, a new language (which is part of why the Salt Lake City Olympics were so successful), an ability to communicate better, and an ability to be on their own.
So, next time you see them riding their bikes, or walking by — give them a smile. They're working hard to bring people happiness, and their moms will thank you!
** I will add, that I didn't go on a mission. I was considering it when I had very strong feelings that I should get married instead. I don't look forward to the time my boys serve a mission (when they are 19) but I know it's a refining fire that will help them (even if it makes me miserable to think about).