🎉🎉🎉 Save 30% on Family Routines THIS WEEKEND ONLY with code FOOLMENOT (that's up to $35)
The last day of the year! I'm not sure how I feel about all of it. Conner will have the same teacher next year, who I love so that's a very happy thing. Spencer's teacher is being laid off and I feel both awful for her, and also awful for Spencer that he won't have a teacher to go visit next year when he's feeling new and shy.
Some of you might remember
when Conner graduated from kindergarten
. It was like a funeral for me. I missed his teacher, I just thought life woudln't go on… I was SO grateful for all that she'd done for us. Knowing how much work goes into teaching I just really appreciated it and then whamo — it was over. At our school we don't have Kindergarten "graduation" but we do have a clapping ceremony where we can all fawn over their achievements and how much we love them.
Here's
Conner's. I am hoping to not bawl like a spigot today. Spencer had his concert a couple of days ago and I surprised myself by not being super emotional about it. Maybe things do get easier.
Either way, I know this summer will go by SUPER fast and I'll be walking them all into their first days of their new grades in a blink of an eye.
BUT, with the end of school comes a giant amount of stuff that you feel compelled to keep every. single. little. thing… especially in Kindergarten. So, I created a little system, it's served me well. I will now share it (get excited).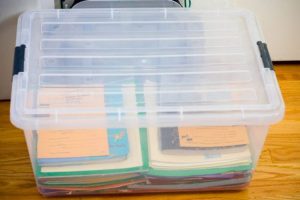 First off, each child gets a bin of their own. I got these at Costco and size really does matter. This one is perfect because in K our kids get this giant memory book and it needs to fit in the bottom, and can not be folded. I wish it weren't transparent, because I worry about UV damamge, but I digress…. These stay in the garage normally. I pull them out about a week before school ends and they stay out until I get through all the papers (which is hopefully within a week of when school gets out)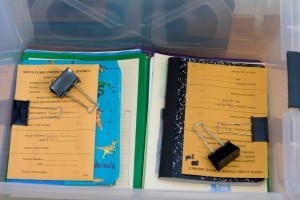 Inside the bin you'll see the stacks that I make. I will admit that Kindergarten takes up the entire bottom ( because of the memory book). BUT, each grade's papers have to fit inside the giant clip (and yes, two of those are stratigically positioned over Conner's name and school, thanks so much). I needed an "amount" so that I wasn't saving far too much. Also, I allow them to take stuff out during quiet time for the week after school gets out. They're only allowed to take out one clip and look at that year's stuff and then it needs to go back in that clip. And well, you're sensing how much fun it must be to be my child…. For the upper grades it mostly fits their folder that holds most of the papers I felt showed their best/most important work, their source book (daily writing book) and I keep their report cards in this pile as well.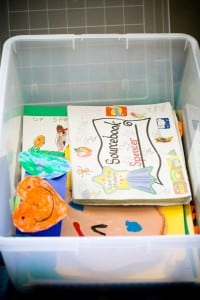 The thought process pretty well goes like this, go through all the paper work and save the things you think you'll love to see in 12 years. Put that in the bin. This is how Spencer's looks right now. You'll see that a lot of this is not going to fit. I don't think I include the memory book in the clip just because in K there are SO MANY fun things to save. I LOVE looking through the stuff my mom saved from K. It's so fun to see how the handwriting changes, etc. Anyway. From there, once all the papers are home, I go through and norrow it down to fit in a clip until it looks like this (below). Anyway, for me it works because it stays pretty organized and the kids can enjoy it too without it getting out of control.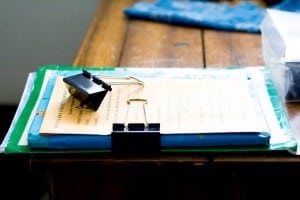 So congrats to all the graduates, be they of kidergarten or high school!!!