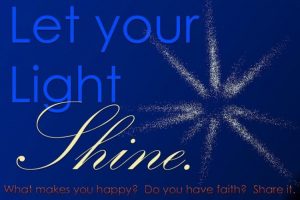 This morning I went to Walmart at 6 am, and exited about 6:45. It was still SO dark outside, and I wasn't expecting it.
I thought about in the days before Jesus was born and how there were days of darkness. I thought about how it has been foretold that there will be days of darkness before Jesus comes again. How there will be no light.
And I thought about light.
Light comes in many ways, your cell phone charging light, the kind you flip the switch to brighten a room. Light comes with people. People who brighten your day, or give you new ideas or share something that helps you cope a little better.
I sometimes wonder if there will be dwindling light within people also, at the day of Christ coming again. That light is fueled by hope and faith, and I see far too little of both of those anymore.
I can't imagine my light going out. I can't imagine how that would feel. I feel dark and sad just thinking about it. I always want to give hope and brighten others. I would probably rather die then let my light go out.
So, at this Christmas time I want to share with you the fact that MY Christmas is about Christ. I do believe the reason that people feel so giving this time of year, is because of the love of Christ. I believe that he brought bigger gifts to this world then we will ever give. I believe that HE is our true light and without him we would die. I believe that your light will be brighter if you believe in him. He will give you hope. He will increase your faith.
What is your light? What kind of hope and faith can you share with those around you? Have you done it? I'd encourage you to do it. Wish people at Merry Christmas or a Happy Hannukah, share with them where you have found joy this holiday season, and listen to where their joy is. Because life is too short to not let your light shine.