I love the idea of the "want-need-wear-read" rule for Christmas. But, is this a Christmas gift rule you want for YOUR family — and can it ALWAYS be the standard?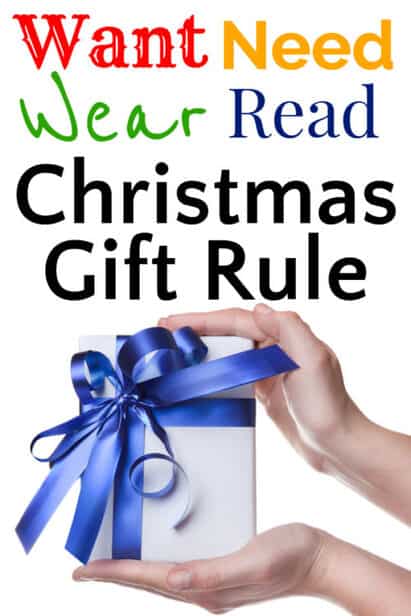 The Want, Need, Wear, Read Rule
It's pretty simple:
Want: Something your child wants. Pretty simple, right (until you get a teenage boy, but I digress). Don't miss my post on the best headphones for teens.
Need: Something your kids needs. Maybe a new backpack, or new cups to drink out of. There's lots that we buy kids that could be given as a gift.
**I think we need to make sure our kids understand that things we NEED can also be gifts. My kids didn't get this for a long time, probably because I thought Santa only brought fun things — but there is a lot that we need that can be AMAZINGLY useful (and frankly, awesome, in the long run
Wear: Clothes. Yup, clothes.
**If you wanted to cut this rule down, you could just go down to want, need, read — and their need could be something to wear.
Read: A book. Or a subscription to Scribd might be fun. Depends on your kid.
** I find this to be harder with my teenage boys. They just aren't into books, and I hate to get something that they won't use. Books aren't cheap…
Awesome things about the want, need, wear, read rule
This rule helps you limit spending. I tend to cray-cray at Christmas anymore.
It also helps you show kids that needs can be awesome gifts as well. That's an important factor (and they will actually ask for more needs as they get older and realize they don't want to pay for those things on their own)
Christmas is a time of giving gifts, not an all-out gift craze. The end.
Problems with the want, need, wear, read rule
Again, I love the IDEA…. but….
Buying just ONE want is kind of hard.
Especially because my teenagers want EXPENSIVE things. New phones, video games.
My daughter wants washi tape and paper…..
My mamma's heart has a hard time buying her $10 bucks and them $200…..
Anyway, that can be an issue.
Also, I already discussed how books get less and less fun/used… Something I have to consider with older kids.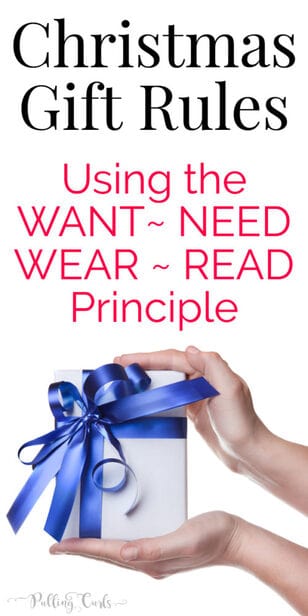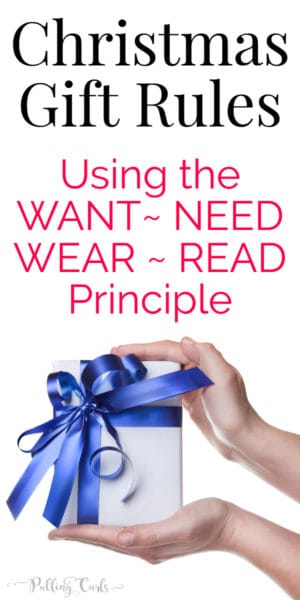 Examples of the Want Wear Need Read Rule in Action:
Toddler Want, Need, Wear, Read Example
A new (likely, loud) toy (like this)
A fun new toothbrush (these are cool)
A new piece of clothing they will think is fun
Books are easy with toddlers — a good board book or touchy feeling is awesome — I list TONS of awesome books in my quiet bag post.
Preschooler Want, Need, Wear, Read Example
Something on their list from Santa that you can tolerate
A new backpack for preschool, or a water bottle?
Fun new clothes (often with a character they love, as we don't often buy those items)
A book they will find amazing — often Costco has a wealth of awesome preschooler books (in sets)
Related Gift Guides:
Gift Guide for the 4-Year-Old Girl
That type of example works fairly well through elementary school
Teenager Want, Need Wear, Read Example
Possibly something on their list, or possibly a gift card to help them buy it?
Maybe a whiteboard for their room, or new bedding, etc
Shoes are often an issue this time of year. 🙂
A gift card to Scribd or an audible gift card so they can get an audiobook (or a real book if they still like to read for fun).
Related Posts:
Gift Guide for Your 18-Year-Old Boy
Where to Hide Gifts in Tiny Houses
Anyway, just like with anything, you have to adapt this rule to your own family.
What do you think? Do you like rules for gift giving and planning things out, or do you prefer a more loose-goose approach? Tell me in the comments!
[thrive_leads id='29916′]
[pt_view id="dd44a5ed3e"]