Guess who's subbing again in Primary! I'm tellin' you, if I could get a once a month gig in there, life would be pretty darn grand!
I was hopeful that Sugar Doodle would do the work for me. I wanted to do a back to school theme (our school starts tomorrow) because I love talking up school in primary. Plus, they're all going to be insane anyway tomorrow, might as well join the fun. I wanted a back to school primary singing time.
I wasn't coming up with any ideas until I came up with a little trivia game. If they get it right, they can pick a way to sing the song (which is listed on the download sheet) and if they get it wrong we just sing it normal. FYI, I got many of the questions from all over, but a majority of the Sr Primary ones were found here.
I've put the sheet available for download here (where you can edit it to your heart's delight — this is a TEMPLATE, you have to save it to your own account, I AM UNABLE TO SHARE IT WITH YOU as you'll edit the actual document — don't ask me to share it).
Or, I have it as a jpeg here if you just want to print and do it!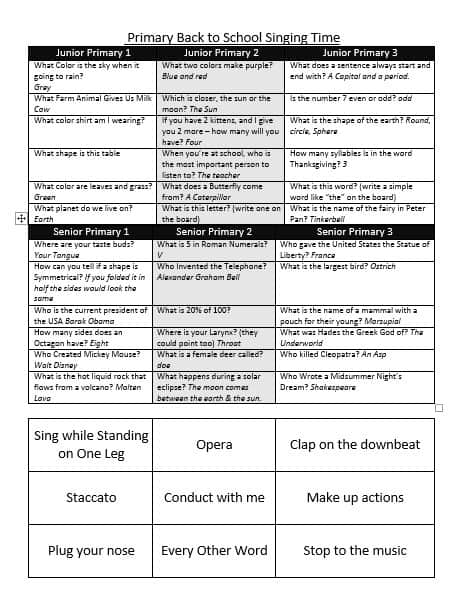 ** A thoughtful reader pointed out that the MOON is closer than the sun. I'm too lazy to fix it, but if you print it out make sure you don't confuse a bunch of primary kids. 🙂
A few thoughts:
I just made 3 "levels"for each age of primary. Our classes don't always mean what grade a child is in, so it's important you know the kids before you pick one that is WAY out of their league.
I think the "ways"to sing the song are pretty self explanatory, but I'm happy to answer questions in the comments if you have them!
Hope it's helpful!