My Blog Income Reports are made possible by my Blog Income Spreadsheet -- you can find out how to buy it here!


Here's my July 2015 Blogging Income Report. I mainly do these to show it's possible to make income off a blog. I didn't think that for many years, but with a LOT of effort you can! I also wanted to mention that I REALLY like writing. It's always been a love of mine, and I love graphic design. By combining those, blogging is something I really enjoy, and I think it shows in my blog and the fact that I enjoy it.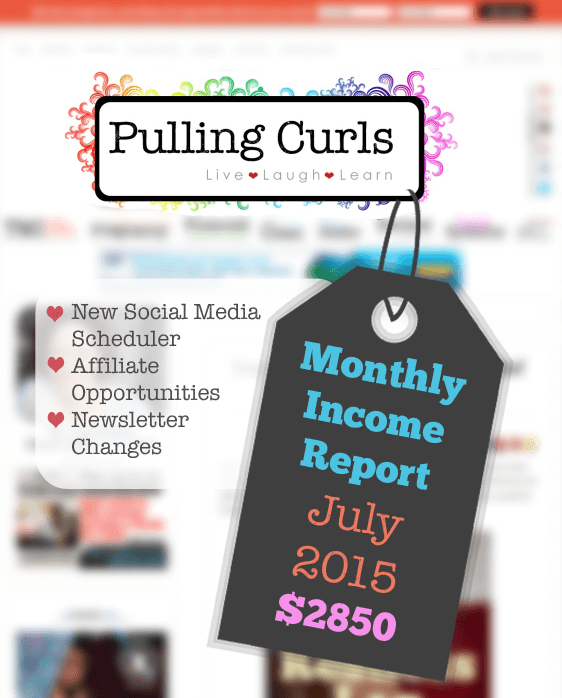 Visitors
Users: 141k (up3% — July has more days, so fairly equal)
Pageviews: 200,376 (up 4%) and I am THRILLED to have finally hit above 200k pageviews!
Sessions: 159k (up3%)
---
I would love a referral from you if you join one of the ad networks I talk about. I like my ad networks and I'd recommend any of them. I am open about my income because I want you to know it's possible and how I'm doing it.
Ads
Padsquad
Oh Padsquad you were super painful this month $546.89 Down, down, down (14%). And they were honest that it was going to be low all month. I feel like padsquad rides the highs AMAZING, but the lows are also really low — and this being the first month of the quarter, it's low. It's still low, but they said it should be picking up soon. I'm hopeful. I still like them. I think they do mobile ads the very best, I thought about switching to AdThrive, but I've decided to stay. I'm happy. I just wish I was richer. 🙂
The Blogger Network
The Blogger network fairly even with just under $350 (6% higher than last month — it's been up each month this year). They have added a couple of ad elements. Like the border on the bottom. I don't think it's too bad. What do you think? I sometimes get complaints that I have too many ads, and it IS always a balance. I think a lot of people think you should get good content for free, but it just can't happen that way.
BlogHer
Blogher was also pretty even with last month at 194.88 (up 3%). I think there is something to be said to diversify my ad networks like I have. I wish I got more sponsored posts through them, but if stars were wishes….. is that how it goes?
Google, etc.
I use Adsense and media.net as well. neither one makes a whole lot, but 10 bucks/month does add up.
Total Ad Sales: $1118.61 (a 22% decrease)
Me, crying. Seriously, SO sad. But the reality is I can't really do anything about it. AND over 1,000 for as many pageviews as I have is still pretty awesome. I should be happy. Should be… 😉
---
Sales
Amazon was a pretty poor month- $34.87 (down 55%). I was scheduling links through my FB page, but I don't think anyone clicks through and they look kinda spammy…. SO, I'm gonna stop doing that. I do have a book promotion coming up in august and that always helps. Fingers crossed! 🙂
Spreadsheet 3 bucks, 1 was bought. I have the spreadsheet for my own use. I sell it for the love of my people. It's not making a million bucks, and I'm OK with that. It's seriously INSANELY helpful! Go check out the video in the link. It calculates ALL these stats in my income report FOR me. Love it!
Kindle E-book Also a poor month for the book. I sold 5, which isn't going to pay many bills. I am going to do a promotion with it coming up for back to school time. I hope it does well. If you'd be willing to promote it (feel free to use your own Amazon link) comment below and I'll let you know! I am actually mulling over a new book or possibly an e-course. I see this as the future of my income, but at 12 bucks…. not quite yet. 😉
Dressing Your Truth. Even though I didn't write any new posts for them this month, I still did really well at $464. I still like their program, and it's nice to promote something you believe in. Someone told me I looked ugly in my new clothes on Pinterest, and I thanked them. Because that's how blogging goes. 🙂
Affiliates
Again, I get some random affiliate income $2.50 from E-junkie and 65 from Bluehost. Nothing huge, but pennies add up to dollars, right?
Sales total: $582 (down 5%)
I am hoping to keep this number around 500 (or more). I think it's a doable goal!
---
Sponsored Posts:
I have been really blessed to get a lot of great sponsored posts this month! I got some from Clever Girls, Izea, and Mom It Forward. This is an area that is REALLY blessing our family right now, and I'm still able to just choose things that I feel fit well. I am hopeful that all will continue.
Sponsored post total: $1150 (up just a little from last month)
---
Blog income total: $2850 (down 10%)
Even though it's down I really am happy with this income. I'm aiming for over $2500 right now. I beat that, even with PadSquad being low…
My entire blog CPM including all revenue streams was just about $14.23 per 1000 pageviews (down about 2 dollars from last month). If you just count ad revenue it's about $7.89 (also down about 2 bucks). That means, for every 1,000 pageviews on my site — JUST ad income, I make $7.41 (keep in mind my visitors split between desktop and mobile, and those two sets see an entirely different site and ads) In case you wondered (my spreadsheet calculates that all out for me!). For example, in July my post about what to pack in your hospital bag had 15k views.
SO, that post on just ads made $118 off JUST that one post, last month alone. Pretty swanky, right?
My year to year change was great. Views are up 51% more than last year, and income was up 124%. Good news! Comparing year to year really makes my heart happy to know that things ARE improving (even if it's small steps sometimes).
The spreadsheet also calculates my percentage of income, which you might be interested in:
Ads 39%
Affiliate 20%
Sponsored Posts 40%
Self (book) 1%
Life is still in flux…. still figuring out our life plans. But I can't really TELL you what a blessing this blog has been for us.
---
Blog costs:
RFE hosting (love them — 14 bucks) — if you're new, I recommend BlueHost for only $3.95/month They're GREAT for new blogs without much traffic. Check out their price, I don't know if it can be beat!
PO Box 6 bucks (need one to have a newsletter)
Boardbooster, 20 bucks/month. Love them. more below.
Post Planner for 48 Bucks
Total cost : $88
That puts me about $2400 for the month. I am not really sure how much time I've been spending on the blogs. The
---
If you look back, this is still a sizeable increase for me.  I know God is blessing us due to my husband's job situation.  I am REALLY thankful, to the point of tears quite often.  It is REALLY amazing.  Very lucky.
What I'm doing Right:
1. I did a guest post on Pregnant Chicken. I think it helps to get my "name" out there, and I've gotten some decent traffic from there. Also, those people are really interested in Pregnancy, which is something I focus on. 🙂 I also did a guest post on a HUGE blogging site. She was asking for people to cover while she was on vacation. She basically just threw it up, with no featured image. She didn't promote it. I had 7 visitors. I thought it was poor form by her and I actually ended-up asking her to take it down. So, it's a gamble.
2. I bought Post Planner (at 40% off using coupon 7LOVE21 — not sure how long that's good for). It's cheaper than Co-schedule, and I'm scheduling like crazy. I am now tweeting 12 times/day and my followers are increasing. I'm also automating some of the ways I post on Facebook, although I still do plenty by hand and I will also use their scheduler some as well. BUT, social media scheduling can be a KILLER. I hope this slays the dragon.
3. I am continuing to work on SEO, and promoting my best posts. The key seems to be finding my BEST posts. I always check my most popular posts for the week on Mondays and fill my "Most Popular" Pinterest board.
4. I eliminated my daily newsletter. For some reason I haven't had a good open rate there, and I am heading into the "paid" part of MailChimp, so I decided to eliminate it. I have set up a feedburner one, if people REALLY want to be alerted, but I don't think anyone does. I DID start "alerts" for the area of their choice. MomHacker, Pregnancy, Finances or Cleaning/Organization. Those have had REALLY great open rates and I hope that ends-up being successful.
4. I have been following Tabitha Philen on Periscope and she has been REALLY helping me! I have added a few things, including a special blurb on my weekly newsletter to engage my audience more. I have also started asking people to email me when they subscribe so we can make a connection, and I'm REALLY trying to answer all of those in a timely manner. 🙂 I even made a cool footer for my email at htmlsig.com — engagement is key. The beauty is I really LOVE engagement. So that's good.
5. My traffic is getting high enough that I am probably going to move to the next level of hosting with RFE or someone else. If you have a host that you love for larger traffic, please post it below! If you're looking to start a blue from scratch I think the pricing at BlueHost can't be beat.
LATE ADD: I just started using Grammarly. Now, my blog subtitle used to be "If there's not a typo, I didn't write it" — but that just doesn't scream professional. And Grammarly is fixing me. Super excited about it! Check it out! I just use the free version as a Chrome plugin. Feel the joy. 🙂

Let me know if you have specific questions below and I'll either answer there or next month!