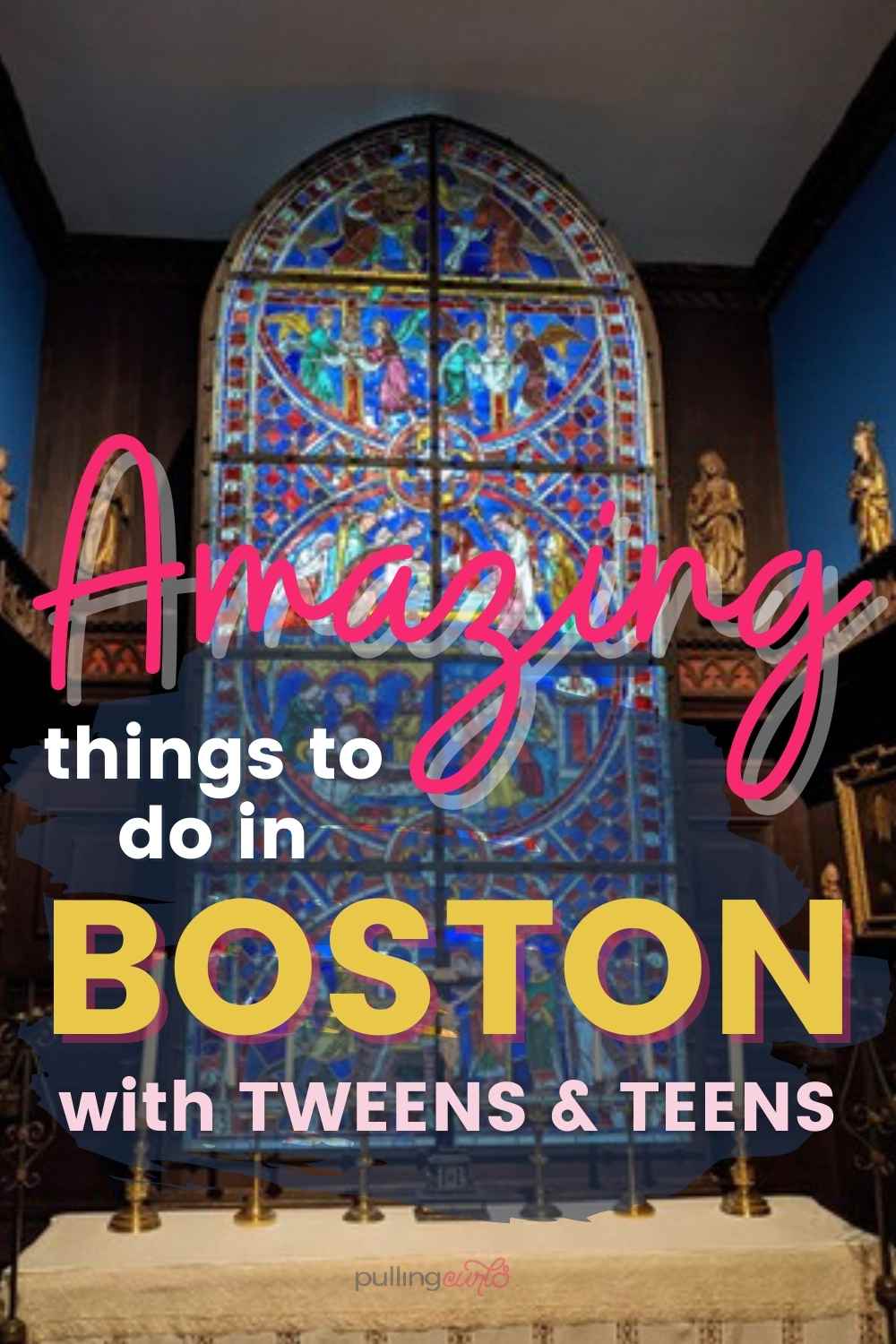 Going to Boston with Teenagers can be a SUPER fun trip. There are a lot of things to see and do, and my kids had a GREAT time! I'm also glad that we saved this trip til' our kids were a bit older and could understand more.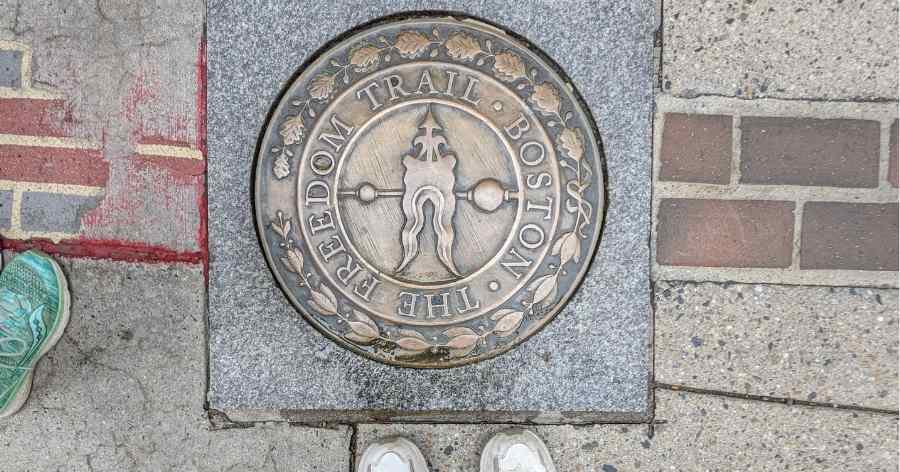 Hotel in Boston
I had a hard time finding larger rooms in downtown Boston in a price range that didn't seem insane. We opted for an airbnb that was a bit out of town for a much lower rate, and had three bedrooms and two bathrooms. It's just SO much easier, and everyone doesn't step all over each other and can have their own space when you're at home. For the $15 Uber fare that it cost us to get into downtown (or a T ride) it was WELL worth the price and the extra space for us.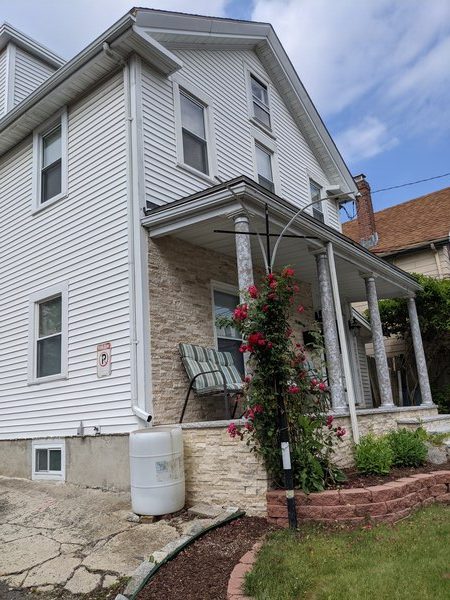 Transportation around Boston
Boston is a pretty walkable place. Depending on where you're staying, transportation an often be your feet.
The T passes are a GREAT deal at under $25 for 7 days per person. Just one day is around $12 — so it's a great deal for 7 days. Find out the current rates here.
That being said — I usually ended-up also using an Uber once/day. Keep in mind the Uber XL can be used for larger parties — and for short trips it is not that much more expensive (but for longer trips it definitely is). We had 3 kids, ages 12, 17 and 20 with us and using an XL worked really well for us.
The streets are REALLY small, and while we rented a car for a couple of days, driving would not be fun in Boston. Maybe save some cash and only rent a car for the days you'll need a car.
Go City Boston
You're going to see a LOT of attractions here. Unless noted, they were paid for by the Go City Boston. The price was really reasonable and we got it for 7 full days and REALLY got our money's worth. HUGE fan if you're planning to do a lot — especially with teens that you want to show a lot (but might not have the interest in spending hours at anything in particular).
I want to assure you that this post is NOT sponsored — they were researched and paid for by me
, but with SO many days in the city this pass made it super convenient — and honestly, if I had even just 1 day I might consider it (especially with older kids who might like more than one attraction/day).
**A lot of of these are CRAZY overpriced. Like, CRAZY OVERPRICED (I'll try to note them) — so the go pass makes the pricing more tolerable.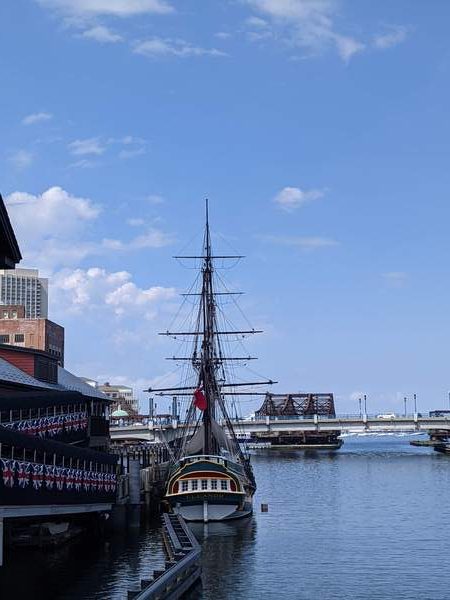 Boston Science Museum
This museum caters to kids of all ages. While many of the stuff was for younger kids, but older kids can enjoy a lot of those too (they had an exhibit about playground physics that my older kids loved).
Make SURE that you go on a day that they have the lightening show. It is a highlight, for everyone. Tons of useful fascinating info! Also on the Go City Boston
Time Commitment: 2 hours
Isabella Gardner Museum
We had just watched the Netflix film about the heist of the art in there.
There is SO much to see in here. This would not be a good one for little kids (lots to touch too) — but our teens found it interesting. There is a good number of very important artists showcased here and there's always something interesting to see. 🙂 Of all the art museums we saw, this was the favorite, and it was on the Go Pass.
Time commitment 1-2 hour (we did 1 hour and kids were very happy).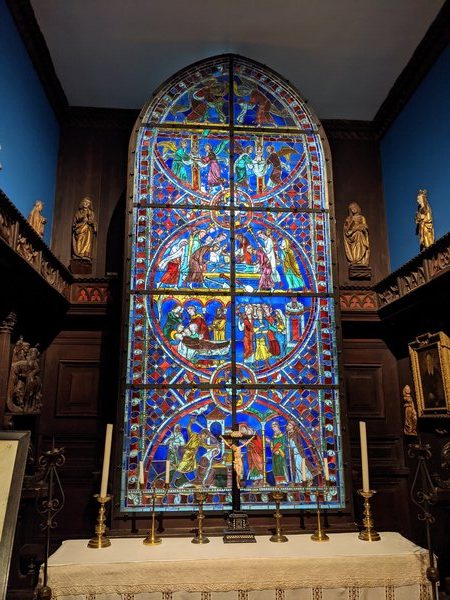 Freedom Trail
The freedom trail is completely free. It is literally red brick on the road/sidewalk that you can follow through the town to see some pieces of history.
There are some areas that require small payments but you can see quite a lot for totally free. I will say that SOME is interesting, and some (think burying grounds) my kids didn't have a whole lot of interest in.
Often there is street shows in front of Quincy Market that are really fun to watch. Teens LOVED those. The entire walk is 2.5 miles long. We did it almost all in one day, but splitting it into two would be nice. 🙂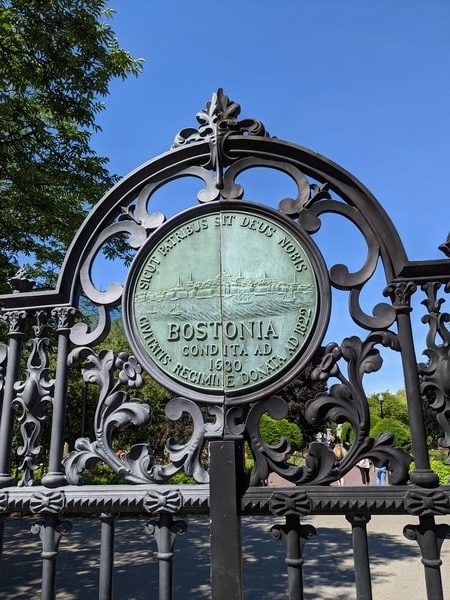 Eating & Pastries on the North End
The GOOD NEWS is that the North End is FULL of delicious food! Lots of Italian food and delicious pasteries.
We love the restaurant L'Osteria and we LOVE Bova's pasteries (the Florentine cannoli is my favorite!) — but I'd just check yelp and find a delicious spot.
Salem Witch Museum
Woah. Creepy. But in a way that kept my kid's attention, and it sparked some conversation about accusing people for random reasons. It's not a museum per se, it's got some dioramas with mannequins and lighting in the first section, and then a room with some recorded information and a few more mannequins.
This one is WAY over priced…. so, if you don't have the go pass I'd skip it, but with the Go City Boston, it was a fun memory now. 🙂
Time commitment: 30-45 minutes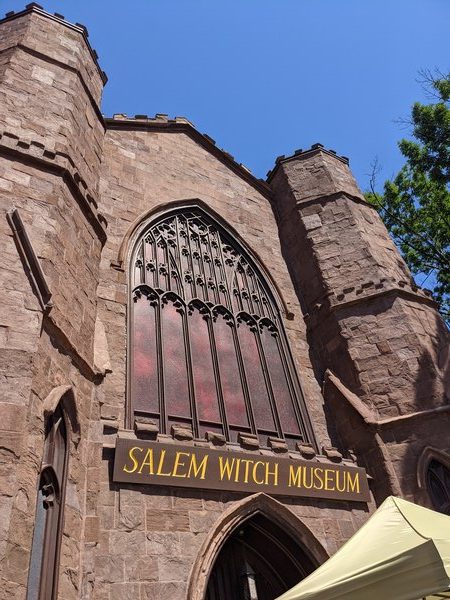 Other things to do in Salem
Pro Tip: We took the commuter train up to Salem (there is a weekend pass that made that just $10), you can also use a ferry which is around $40/person (not covered on the GO pass). I also checked — an Uber would've been close to $75 for the five of us — so, the train is probably your best option.
Peabody Essex Museum
This has a lot of different types of art. We quickly went through and they were able to see lots of different types of art. This is a much more quiet serious atmosphere compared to the Isabella Gardner Museum, but is on Go City Boston.
Time commitment: 1 hour
House of the 7 Gables Tour
This is the house that inspired Nathaniel Hawthorne novel. We were only able to do the garden tour. My kids were NOT interested at all (and this one is a bit out of the way in Salem). It does have a beautiful view of the harbor but it was a total rip off for $10 and about 10 minutes. I'd skip this one if we went again. Also, if you just want to see the house, you can go to the street next to it and see the house (which is lovely, but it's just a nice New England home),.
Time commitment for the garden tour: 15 minutes
Hop on/Hop off Trolleys
We did this on a rainy day. The tour guide was interesting, and had some good facts. The buses come every 20-30 minutes, which I don't think is frequent enough to make it any better than the T. It was a nice rainy day trip to give us some nice views of the city, but otherwise I'd skip it. It does come with the Go City Boston though.
If you DO use this, make sure you use it to get you out to the USS Constitution (LOVED that) — it saves a lot of walking (plus you then need to walk up the hill for the Bunker Hill memorial).
Time commitment: 1 hour for the full circle
New England Aquarium
The New Aquarium is nice, but it's not vey large. We've been to the Monterey Bay Aquarium in California many times, so this is much smaller. Highlights included the giant sea turtle, the penguins and the sea lions.
They had really nice exhibits, and it's not so large to be overwhelming. But, for the price it's a lot for a 1 hour aquarium visit — but don't miss it if you get The GO Pass.
Time commitment: 1 hour.
Historic Harbor Cruise
We took a historic harbor cruise. It was mildly interessting, but you get info as you set out, and then as you return the announcer goes silent. A good time to set down, enjoy some fresh air, and kids played on their phones without me bothering them, and a few of us fell asleep…. If you have teenagers, you know what I mean. Some interesting historical tidbits, and it's always fun to see it from another angle. And yes, it is on Go City Boston.
Time commitment: 90 minutes


Boston Duck Tours
We love, love, loved this. The announcer was really engaging, and funny (and clean). We learned a lot about the town and just enjoyed the cool breeze through the Duck. Initally, I thought this was INSANELY high-priced, but I'd do it hands down over the harbor cruise or the hop on/hop off tour (or do both if you purchase Go City Boston). Good times.
As a note, this looks at the Charles River more than the bay — so there isn't a reason to avoid this one, even if you do the harbor cruise (or vice versa) they show very different things.
Time Commitment: 90 minutes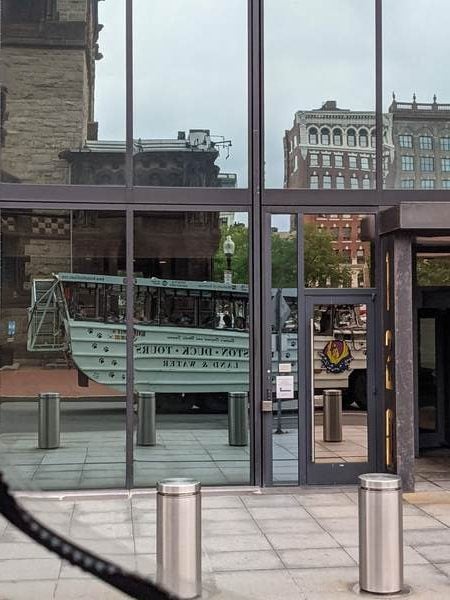 Swan Boats
These are fun, and a decent price at $4.50/person, but the older teen was a bit bored. A lovely slow cruise around Boston Commons (and it's on Go City Boston too)
Time commitment; 12 minutes.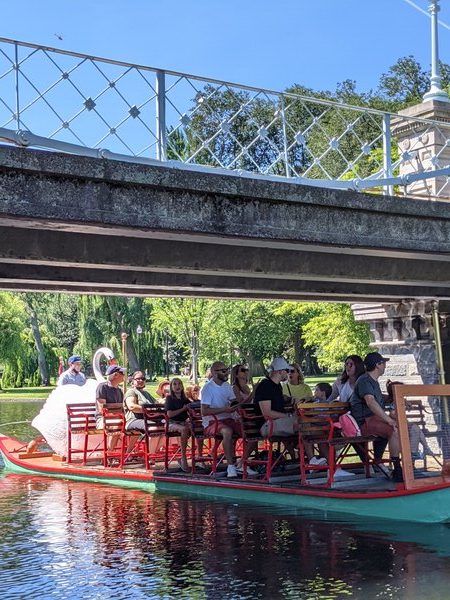 Institute of Contemporary Art
Oh. MY. GOSH, a complete fail. There were maybe 10 pieces of art. This museum is likely VERY out of your way, and even if it's free I'm not sure I recommend it. There was a weird music piece called the Visitors while we were there. One of the guys was in the bathtub playing the guitar. It was done via video, and we later learned it was over 50 minutes long.
Nope, don't do it. Probably don't even do it if you DO have the Go Pass, unless you're over there already.
Time Commitment: 10 minutes?
Things Outside Boston
Plimoth Puxtet
This was interesting, but I was really hoping to see some craftsman — dipping candles, etc. None of that. They did have some period settlers there in period costumes and acting as though they were settlers. Again, we learned quite a lot and were forced to really realize what a sacrifice these early pilgrims made…. I just wish it was a bit more engaging.
They also have a section where the Native Americans would have lived. Those people are not in costume, but are well versed and were able to answer all of our questions.
The price is a lot, and it is also about an hour of town. I Loooooved Plymouth (the town) though, so that was a real win for me. I think I need a craftsman home. 🙂 This is on Go Pass.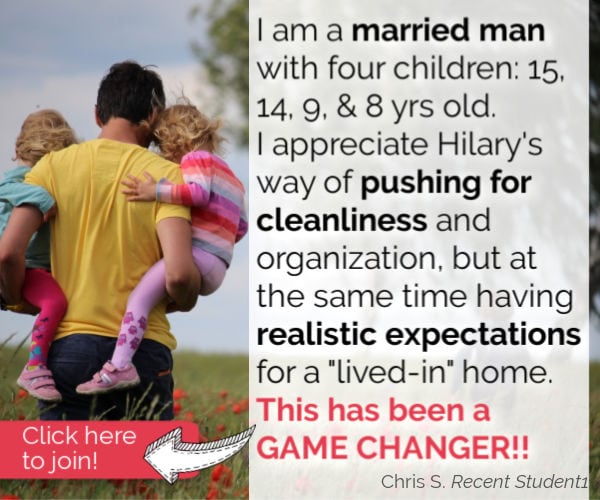 You'll need a car for this one (we rented a car for a couple of days — and our AirBNB had free parking, so that was a huge win).
Time Commitment: 2 hours plus travel Time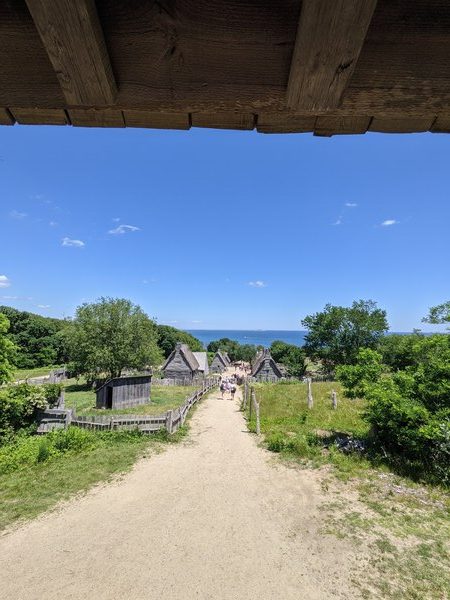 Mayflower II
This was pretty interesting! It's a replica of the original ship (which was sold for scraps). Again, a REAL realization about what these people went through for religious freedom….
Plymouth Rock is also nearby (but you can't get anywhere close to it, it's enclosed by railings).
Time Commitment: 30 minutes (parking can be tricky and a bit far — but the town is so cute, who cares!).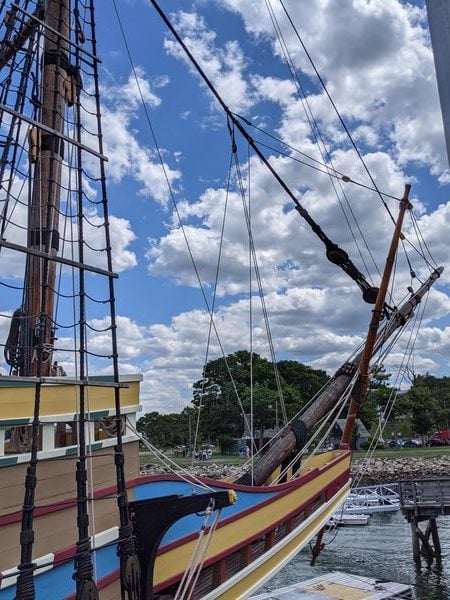 Newport Rhode Island Mansions
I actually went here as a teen and it really hit home about income inequality and how everyone spends their money in different ways. These mansions are just insane, and Rhode Island is SO pretty. It was a lovely day drip, but you definitely need a car for this one. Ample parking. The trip takes the majority of the day (we went from about 9 am til' around 5 pm). This is NOT on the Go Pass. 🙂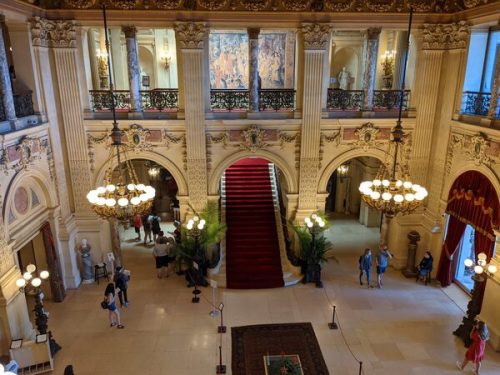 Ultimately I am sure we each saw about $300 of attractions for the $180 Go Pass (I found a coupon that made them closer to $150 for an adult). It was a really great value. Either way, there is a LOT to see and do in Boston. If you only have a few days/hours — here's what we would prioritize
The Freedom Trail — make sure you hit Faneuil hall, and the USS constituion)
Eating in the North End (Bova's pasteries)
Science Museum
Aquarium
Duck Tour
I think those were our favorites overall — although the Isabella Gardner was also a close contender to that list. So, something to consider.
Thanks for following along with me!