Kids are everywhere. You thought you only have 3, but you swear there are 8 running around this house all needing you at the same time. All expecting the meal fairy to magically make a meal appear when you haven't had time to pee all day.
In comes a desperate dinner.
Is anyone going to bowled over by your creativity and your subtle nuances of truffle oil?
No. they won't.
But it's dinner, let's get it done.
In comes the mashed potato bowl. My sister in law inspired me to make this after she told me about re-creating KFC mashed potato bowls at her house.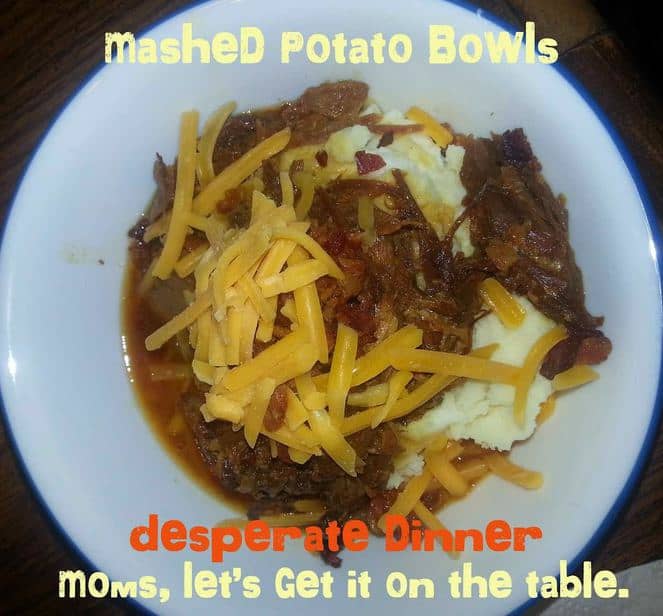 So, you start with instant mashed potatoes (you could easily bake a potato for this, but in truly desperate times, the idea of getting potatoes washed, microwaved, and prepared and then opening and cutting P's is just overwhelming — so I do instant mashed potatoes). I use the potato pearls from the ol' LDS cannery.
Then, I most often have a little meat from some dish left over in my fridge. If I don't, I used canned chicken. I chop that up small, add some BBQ sauce and a little water, and bring it to a boil in a pot to get it hot.
Meanwhile, I get some bacon crumbles heated (also from Costco) and pull out the cheese. These items might be optional, but they'll make you so much happier.
After your potatoes are prepared (and I usually ad some sour cream to them, because I love me some sour cream, I may also add butter, depending on how my day has gone). Scoop them each into dishes, top with the meat, bacon and cheese.
AND WHAMO. It's dinner.
Sit down and eat, and go to bed.
The end.