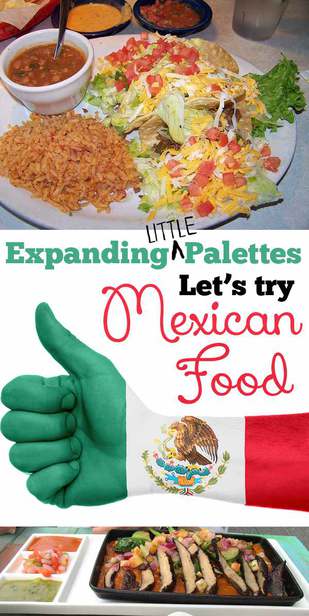 Mom, that looks gross.
And by gross, your kids mean that looks different than what we usually eat. Where are my chicken nuggets and pizza?
Kids can have a palette that they get stuck in.
Sometimes, as a parent, it's hard to get them out of that rut.
I am especially looking at restaurants who continue to serve chicken nuggets and a quesadilla as their child fare, even when they serve tons of awesome delicacies like gyros, pad thai or sweet and sour chicken. Why can they NOT serve child portions of their most popular dishes?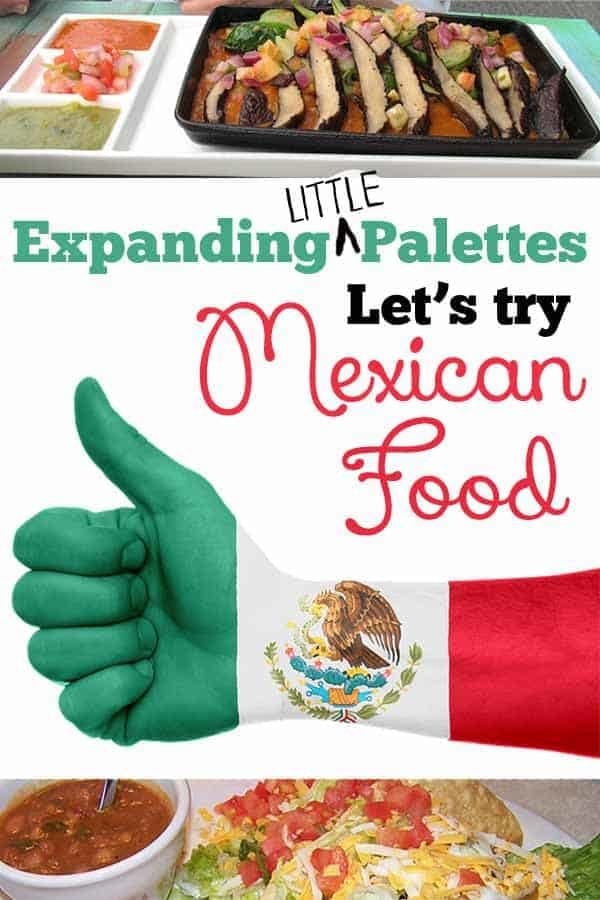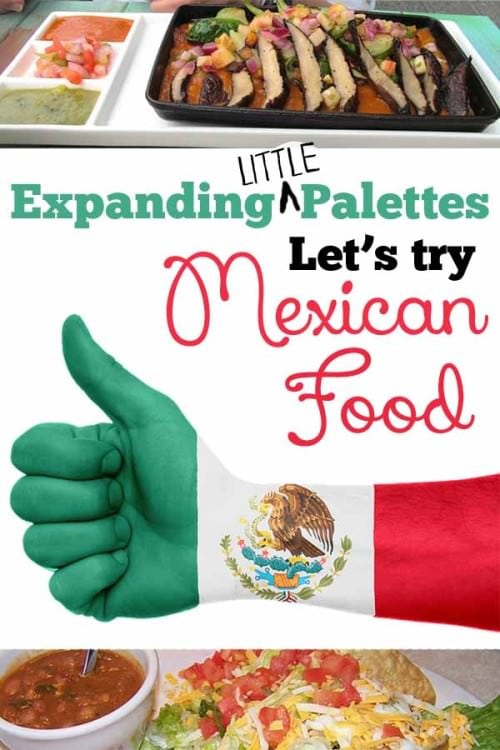 We've gotten in the habit of ordering a few main dishes and each sharing when we're at a new restaurant, instead of the kids ordering off the poor kid's menu. It saves money, I am apt to eat less and our kids get to experience new things.
This month I wanted to expand on Mexican food and getting your kids to try that.
And I'm not talking about the microwaved quesadilla.
Mexican food is a great bridge to other culture's food. If you're wanting to start expanding your kid's palette, Mexican food can be a great start.
They are likely already familiar with the cheese quesadilla (and don't get me wrong, I've made my kids plenty of quesadillas in my time, there is not problem in that – but this is working to get them to taste new things), so you can expand that.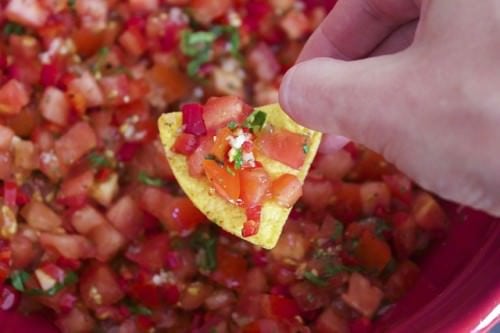 Get some guacamole and salsa to go with it. Make sure that the salsa is to their tastes. The salsa bar seems to have come into vogue lately. I have a favorite restaurant in Utah that had a delicious pineapple mango salsa and several different varieties for kids to try and pick their favorite. Put a little in each cup, and have your kids try that! A little salsa buffet (add buffet to anything and I get the attention of my kids).
Now that we're taking tiptoes out of our usual fare let's expand. Try something different in our quesadilla. I've had some yummy mushroom, potato or obviously chicken or steak with some tasty peppers and other combinations inside.
Torta
It's basically a Mexican sandwich. If your kids like regular sandwiches, it's likely they'll like this version with some tasty meats, maybe an egg or guacamole. Plus, this is super easy to share between a couple of kids (because, hey — it's a sandwich).
**I will say that my kids have an issue with tomatoes. Even the ones who really liked them to start with, slowly stopped. I don't know why. I try not to stop them from picking them off a new food, but I do encourage them to try at least one. I know a lot of kids don't like tomatoes, but they grow on them as they get older. I think I mainly need to grow some tomatoes for us to enjoy!
Meats
Encourage kids to try a taco or enchilada with a meat that they aren't as familiar with. We try to get the to try steak or pork, just to see what flavors they like the most. I have one kid who LOVES carne asada. Turns out he gets that from his mom. 🙂
This is an easy one to expand on at home, as a lot of Mexican meats are done in the slow cooker. I love this recipe for pork (I need to make that ASAP!). You can use it in so many ways. Salad, tacos, put it on bread for open face sandwiches with your favorite toppings. Yum!
Tacos
The street taco is so awesome. So many cool flavors. I love it when they add some different types of slaw and cook meats in new ways. Encourage kids to try a street taco. They are often small and easy for little hands to enjoy! There's also a lot of cool food trucks that you could even grab a picnic at!
Fajitas
This is a great dish to order a few kids. They can pick the toppings that they enjoy and hopefully try a few different meats with this experience. Plus, when it comes out all smoking and flaming it's super exciting, right? It adds to the experience of it all (and hopefully doesn't scare them).
Horchata and other drinks
Don't forget the drinks from other cultures. Often Mexican restaurants will have beverages usually only available south of the boarder. Try one of those
Don't forget things like Burritos, flautas, chimichangas! I am getting hungry writing this post. 🙂
Frankly, Mexican food (as Americans prepare it) isn't the healthiest, but I think it's one of the easiest ways to expand a kid's palette beyond the usual. A great way to try something a little more spicy, while still holding onto the comfort of a tortilla and cheese. We'll explore eating other culture's foods in the coming months!
[clickToTweet tweet="Get your kids to try something spicy, while holding onto the comfort of a tortilla and cheese." quote="Get your kids to try something spicy, while holding onto the comfort of a tortilla and cheese." theme="style2″]
Be sure to check out my Menu Plans that offer family-friendly, easy to prepare food from many different countries!