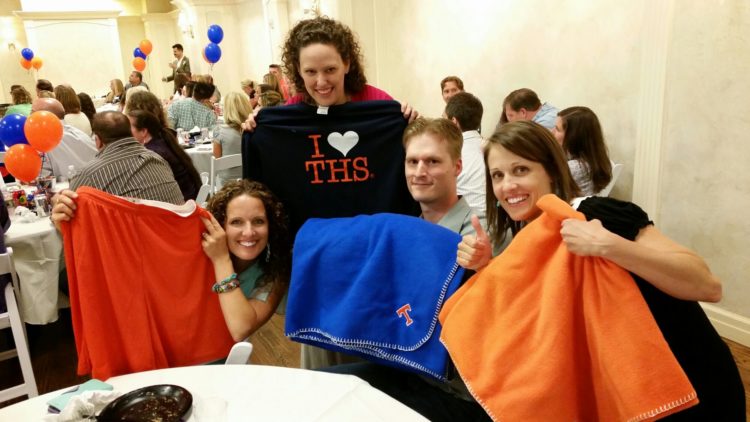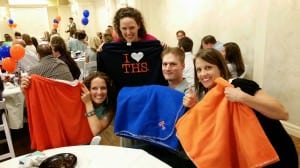 I made it through my reunion, but just by the skin of my teeth.
In my head, I feel like if 2 key people hadn't been there it wouldn't have been worth going — but it sure was fun to people watch!
Who looked older, who looked exactly the same, try to remember people's names. See who was blatantly NOT Mormon, who was pregnant… all that jazz. 🙂
I also won that awesome t-shirt.
A few thoughts: Still click-y — but honestly, that's just who you know. When people complain about their ward or neighborhood being clicky, I just think it's women who aren't willing to step out of their comfort zone to meet new people — like they did at high school. It's not like you're going to make NEW friends at a reunion. You're there to see the people you used to be friends with.
Holy intermarriage! SO many people from my high school married each other. As I mulled it over (because I think Drew has YET to have a couple make it past graduation) I realized people are just focused on marrying as soon as they start dating there. Which they aren't other places. Do you know people who married their high school sweetheart (or, a lot of them didn't date in high school and then later married)?
I was sad that there weren't many band kids. Those were the kids I hung out most with — but I bet they're past high school now. I certainly wouldn't have made a special trip just for this reunion and they didn't either.
I really did go to high school with so many wonderful, and generous people. Utah is a WONDERFUL place to grow up. I was surrounded by good kids making good choices. I'm not sure you could ask for anything more than that. I feel lucky to have had a safe place to grow.
I am so glad I wasn't a class president! They did a wonderful job running it and it's sad that you think something will be fun when you're in high school and you get to pay for it 20 years later. BUT, such is life!
In the end I'm glad I went and I'm glad I left. I ended-up seeing California friends on my way home and laughed til' I cried. So many wonderful friends during my life. This trip has been FILLED with friend hook-ups, and I feel SO lucky to have re-connected with people. I love reunions. Just, maybe not high school ones. So, are you going to your reunion? Tell me about it!