Funny you should ask… things are getting exciting around here.
We're (translated, me) are really trying to get P on a schedule. However, sometimes she is really, really sleepy (shown here) and sometimes she's fully awake (which you could see in the office right now if you were here. It's frustrating. Drew took the boys camping this weekend and I had the full night shift. Of course, she slept less than usual but I don't know why I would expect anything less. Good times.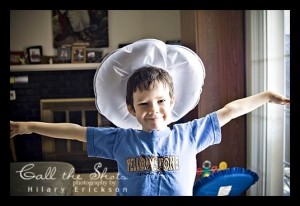 Spencer has had a fair amount of quality time with us lately — and I was able to get the hemorrhoid pillow shot of my little angel (his arms are his wings… fyi). He has had a great time with Drew being home and my mom is coming today. It's practically as exciting as the circus around here for him. In reality, he's doing pretty darn great with the baby. I've been careful to essentially try and keep his little schedule intact, we're still doing lessons and I'm trying to give him some activities to do when I'm busy doing something else. I've also tried to play a few games with him in my spare time. Yesterday he sat next to P for 1/2 an hour playing grab my finger. It was pretty cute.
People have been really sweet to us. My work sent this cute bouquet over, it's nice to have flowers on the table — it makes it look like you have it more together than perhaps you actually do. One of the band moms made the kids these ADORABLE cupcakes — and since they've been camping they're just sitting there in front of me. They are lucky I shot them rather than ate them. I did, however, have chocolate cake for breakfast. Yum, yum.
Oh, and last night I returned the "pumpkin". My friend also made me dinner and we played Rockband. And P, who never spits up did a nice number on Becky's outfit. Sorry Becky (or am I?). I'm really glad I went because it would've been a long afternoon/night with just me and P. Speaking of which, she is still awake and it's time for our next feeding. So until next time adieu. 🙂