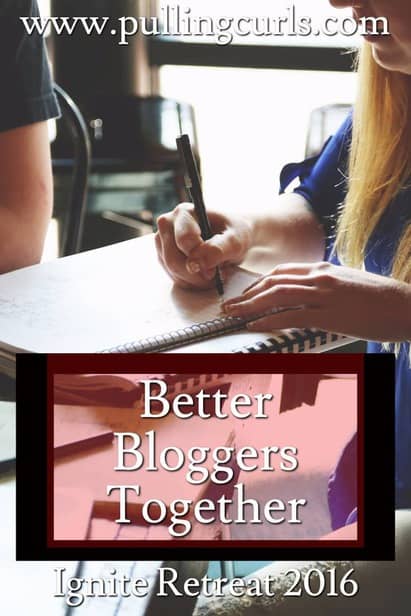 **Be sure to check out the giveaway at the bottom of this post to win a sweet getaway! **
I attended a conference early in 2016. The final class was one about creating your own business as an extension of your blog. I sat next to my friend Katie, in the back row.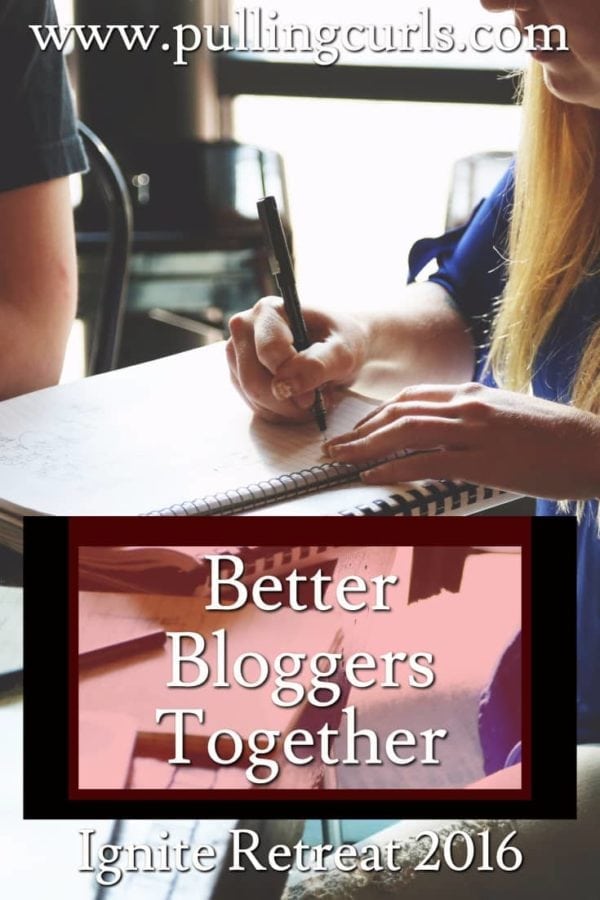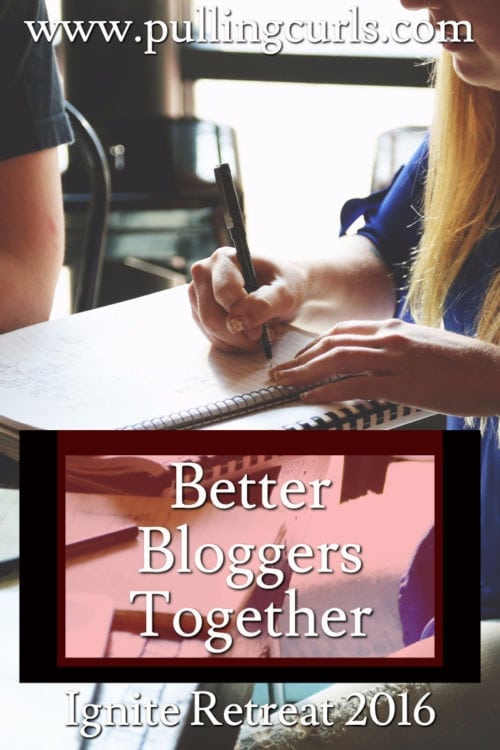 I realized that in the 60 minutes that I chatted on and off with Katie I got way more out of those minutes than I had gotten in many of the classes (even though I loved a lot of the classes).
Being able to take tips for each of us that were specific to our own blogs was wonderful. A ton of "aha" moments. I was filling my to do list.
After that, I just felt like we really needed to get together with other similar women who were open to sharing tips and building each other.
Ignite was born.
We knew sometime in the fall we'd want to get together again.
A few tips for planning your own blog retreat — to grow together.
Pick Good People
We didn't want people that felt like they couldn't share because we were their "competition". We wanted people who were drama-free, friendly, and giving. We were VERY thoughtful on this step. You do need to decide how large you want to be. For us, we wanted less than 15 (which is why we would term it a "retreat" instead of a conference). In retrospect, this was a great number. Brands got a good amount of face time and each of us got to talk to everyone and get to know each other well.
Find a spot
We were thrilled that Home2 Suites wanted to be our title sponsor.
I can't tell you how amazing their rooms are. They are huge, with tons of kitchen space and a nice desk area with tons of plugs. We actually met in my room on both nights that we were there and there was plenty of room for the 12 of us. Anway, I plan to stay there soon. I think it would be AMAZING for family travel! One of the bloggers has kids with many allergies and was THRILLED to see such a large fridge, microwave, etc. I could see why that would be super important for her
I actually went on vacation the week after this retreat and I was truly spoiled by Home2Suites. The rooms are great, the breakfast was great. It may well have been one of the best hotels I've ever stayed in. I'm basically now ruined to visit anywhere else.
This hotel chain has an awesome weekender travel club where you can get the best rates and it's totally free to sign up!
Approach Brands
We wanted to work with amazing brands (and also lessen any out of pocket expenses). We had a lot of great sponsors including:
Dressing your Truth: "the" Carol Tuttle came to talk to us. It was actually a surprise that she was able to come. We got a lot of good advice about raising kids and running a business. This also reminded me that things take time. We can't all be overnight successes! You can see all my Dressing Your Truth posts and if you're a blogger they are a wonderful company to work with (I liked them before I blogged about them, which is always the best kind of partnership).
Country Financial: I have worked with them on a number of occasions. They have new chore app for parents that looks really cool. A great idea to help you keep track of allowance or privileges, etc. Be sure to check it out!
Get Away Today: Jen from Get Away Today (she helped me write this awesome pregnant at Disneyland article) did an amazing game night for us. We all had a good time. Again, I bought from Get Away Today long before I started blogging about them. They're just a great company to buy Disney tickets & trips from as well as work with (you can also save $10 using coupon code CURLS10)
Texas De Brazil: We ate here in Salt Lake. It was SO Tasty. I really like these Brazillian steakhouse type restaurants, and I think this one is likely the best one I have eaten at (I liked it better than Tucanos). They have locations all over the US. I really want to try the one in Scottsdale next!
Owlet: It was fun to put a face to the company. They hosted us at lunch. We even got an inside look at what's to come at Owlet. They're also a great company to work with. Wondering what owlet is — I have a whole post about owlet monitors and a coupon code.
Home 2 Suites: Can't say enough about these people. Their weekend getaway program is awesome. You can save just when your family wants to travel. The rooms are a great size and have all the accommodations a family needs. Excited to stay with them again.
Bonneville Communications: They hosted us for a dinner. SO excited about the church's Christmas campaign. It's all about bringing light into the world. I love working with them and showing all the goodness that is around us. #thereisplenty
We also had a few brands come and speak with us. In retrospect, some of them were too long (in fact one spoke for almost an hour even though we asked them to stick to 15 minutes). We had zero ideas if we should charge them or whatever. That is certainly an area we need to work on. This is one area I would certainly change next time.
One that I REALLY liked were the Finders Key Purse company. Just promoting conscious safety as a woman. Excited to share that one with my readers soon!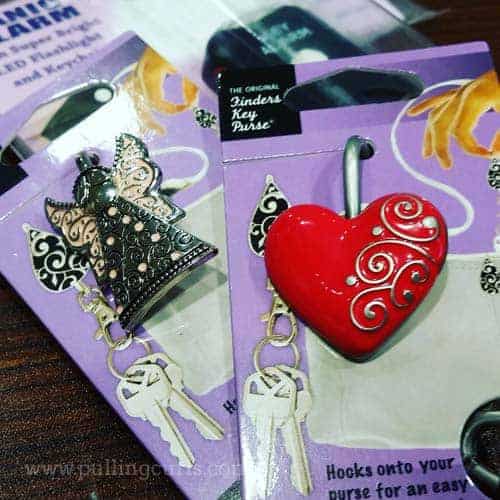 The majority of us are LDS. A few of us were offered to speak at BYU At a blogging panel (super fun).
We were also hosted at a church outreach event and the general women's conference. All very fun!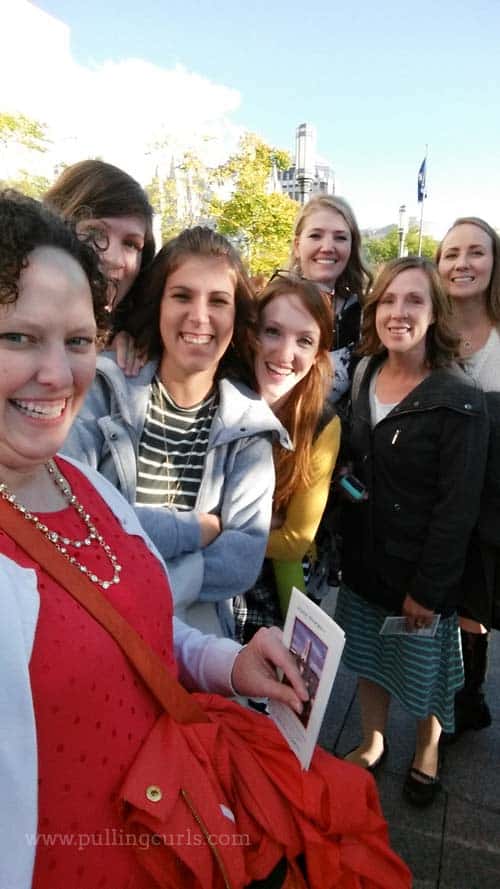 Keep in mind that your time is REALLY valuable. Now that we are done we hear of brands paying THOUSANDS of dollars to be in front of bloggers. I would want to provide a lot of value out of that, so I'm not sure that's worth it. But I think I would require some larger buy-in besides product.

Then we also got some swag. Just companies who wanted their product in front of bloggers. There is no requirement for us to do anything with the product, but you'll see my favorites on my favorites page or in upcoming gift guides. I like companies that work with bloggers.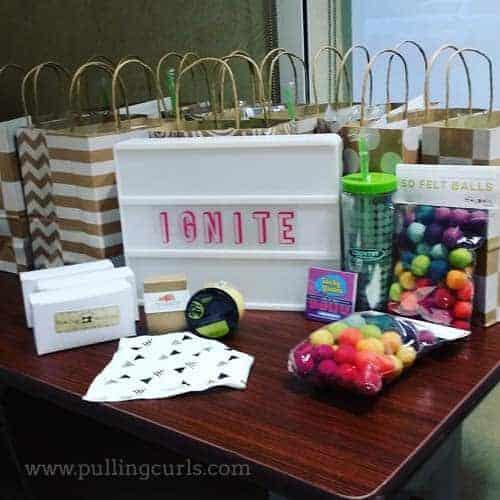 Love this bracelet that Charmed Collections gave us. Totally encompasses what we were all about. If you are planning a group event, I would totally check into them. The prices are super reasonable!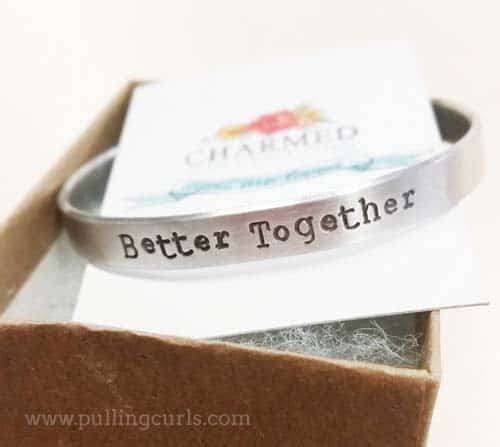 Obviously, there are things we would change. I think our best session was just going around the room offering our best tip. It was really interesting to hear what was working for other people and roll the ideas in your mind to see how it might work for you. I wanted more of that. If it happens again, we'll have more of that.
We also really liked our dessert session sponsored by Dressing Your Truth. Ideas flow more freely when smoothed by Cheesecake: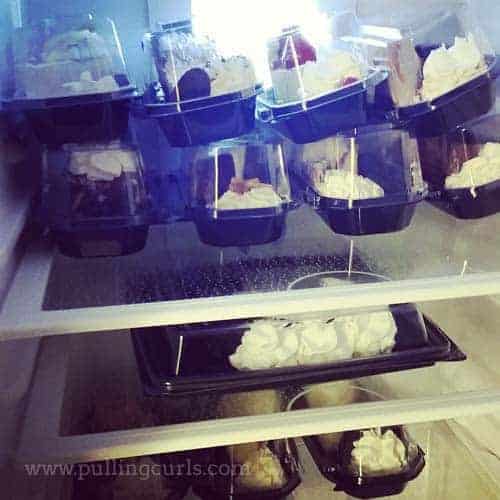 After the conference I'm upping my game in a few areas:
I started using Mass Planner to up my Instagram and Twitter game (some Pinterest too).
I'm using groups more, trying to increase engagement on Facebook.
I'm mulling over using TV (although I think I'd rather die)
I got TONS of awesome ideas for posts and content
Basically, this retreat is going to make my blog even more amazing.
So grateful for the companies who helped sponsor us, and believe in bloggers. Until next year Ignite!
Excited to share this getaway for the chance to win your own: I love the idea behind the Staycation club and you can get their very best rates, just by signing up for FREE!
WEEKEND GETAWAY/STAYCATION

If you liked this post, be sure to sign up for my newsletter: