I've been blogging for over 10 years, and a fair amount of that has been about every day life (not so much anymore, but I still slip in what's going on around here every now and then). However, since I was about 12 I have journaled almost weekly. There were stints that I took a break, but I have always felt it was so important to get my feelings out of my body and onto paper. I know a lot of people feel like journal writing is outdated, what with Instagram and social media. BUT, I don't tend to put my FEELINGS on any of those channels, and I often have REALLY ugly feelings that need to come out.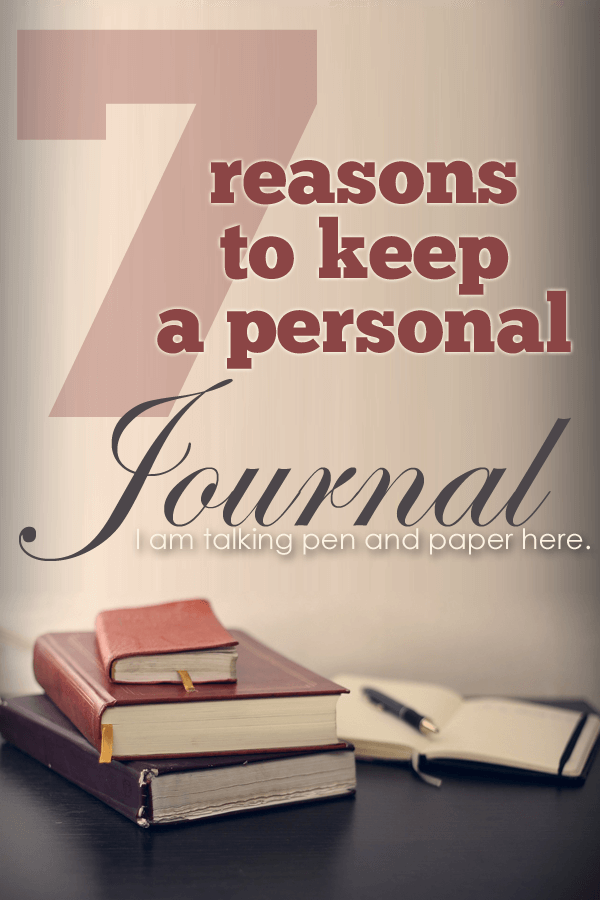 So, here are the lucky 7 reasons why I still journal, the old fashioned way — pen to paper.
1. I sometimes really hate my husband.
Now, I would daresay there are times you're not so fond of yours. I tend to run hot and cold. And I've had some seriously hot times. And instead of telling him every single minutea that drive me insane about him I tend to put that on paper. I remember wondering why I was the only one who had those feelings, but I know a lot of people go insane with their husband. It's normal, and this keeps us married. 🙂 Also, having my actual handwriting helps show those raw emotions. I mean, my journal would be caps lock about 1/2 of the time, who would that help?
2. I sometimes really hate being a mom.
I haven't hidden the fact that becoming a mother didn't come naturally to me. I wanted to keep part of my "self" that my kids just kept pulling and pulling off. I felt raw and sad. I have a lot of those feelings in my journal.
3. I can always start a fresh page.
One page I am hating one child, and then, flip the page and I'm insane about something else. It reminds me that I do run hot or cold and there's always something nit-picking in my brain.
4. I can share my deepest darkest me.
When I started to hate going to church earlier this year, my journal gets kind of dark. That wasn't the first time where I went through an extended period of darkness. I am slowly realizing what was happening at the time. There is a broader picture to the darkness. The thing is, I'm just not really a dark person. I don't tend to share those feelings. I don't really hide them. I just think they're better left inside. Until I journal. That's my time to do the life math to figure out why things are happening.
Life math, I like that.
5. I can see the happy times.
It is rare, but sometimes my journal is sunshine and roses. Things are just going well, we have enough money and times are good. The reality is that if we didn't have this nasty job situation in the background right now, this would be a unicorn and rainbow part of my life. Things are so very good. I'm grateful. I mention that in my journal, that's so important.
6. Gratitude is everything.
Sometimes I reflect on other times in my journal. I notice how things happened for a reason and I do, that's right — LIFE math. I get the whole panoramic view of my life.
7. Sometimes I put my deepest desires.
I was reading about our move from CA to AZ about what I wanted in a home. I got EVERY. SINGLE. ONE. And I think sometimes putting it out there: "I want a house in a cul-de-sac, in a good school district, with more than 4 bedrooms (we got 5!), north/south exposure" — and the wish was granted. It makes me emotional to read through stuff like that. God is so mindful of even our tiny needs. He listens! Sometimes I wonder if he listens harder when we write it down.
---
Some day I will have a daughter who is having a hard time adjusting to life with a baby and I will let her borrow my year 2000 journal, or perhaps she'll hate her husband and I can go through my journals and remember how hard marriage can be. But I can also remember how wonderful it can be. Journal writing helps me have empathy for others, because I while I haven't been in their shoes, I have likely felt those emotions and know what a drain this journey can be.
Journal! Do some life math. 🙂
Check out how I also keep journals for my kids!