I just revised my kids job chart. I have 3 children (ages 14, 10 and 5) and it is HARD to figure out jobs that everyone can feel like they're competent to do, as well as actually help me out. Here's my top 5 tips for kids jobs, as well as my own job chart posted below: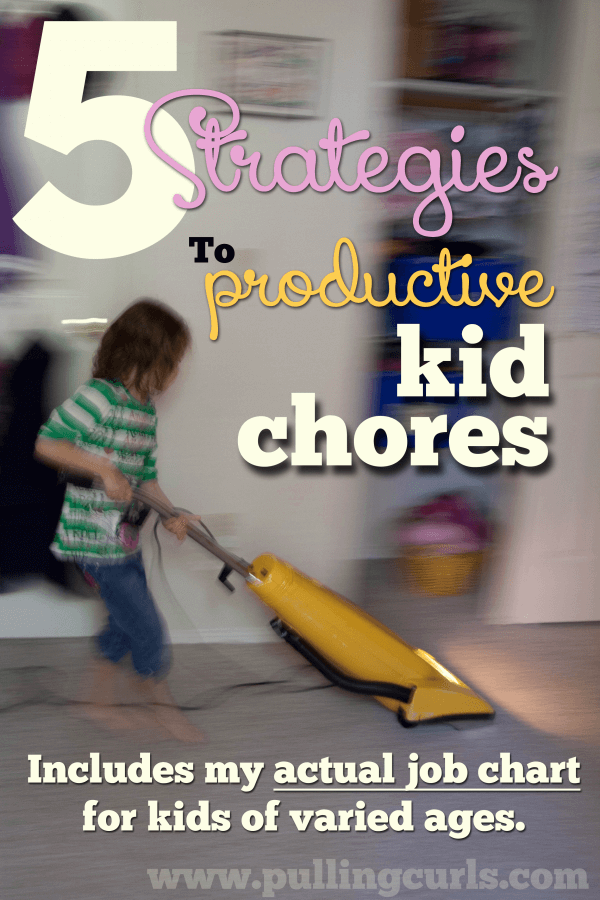 If you really struggle with getting your kids to do chores around the house, I have a WHOLE chapter on it in my course Family Routines. I'll go through the best ways to involve kids and make sure they follow through! I think you'll love it — in fact, I guarantee it. Join for a month, or a year — you can cancel at any time — you can even save 10% with code PC10.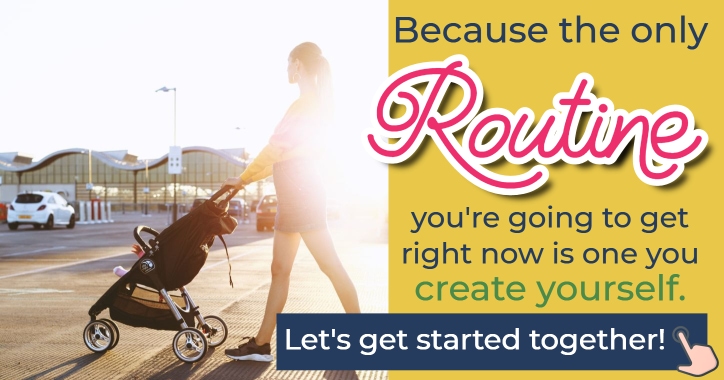 Ok, back to helping kids do chores at home:
1. Give them jobs they can feel good about doing. I tend to do jobs in areas they are in. They clean their own bathroom, they vacuum their own room. That way, they get to enjoy their job well done.
2. Give them age appropriate jobs to get done. There are a TON of kids job charts on Pinterest anymore, but make sure you're giving them things they can actually get done.
3. Teach them how to do it. I like how Shawni of 71 Toes makes them pass it off before they're competant to do it on their own. I have done that with larger jobs with my kids. One day, because no one seemed to "get" how vacuuming worked — I made them color in a mock-up that I made of their room with a wide-tipped marker to mock their vacuum strokes. It may have helped. Either way, I told them we'd do it again if it ever was done so shoddy. They improved after that.
4. Think about what YOU want done. I wanted help with bathrooms after we moved here, so I gave them those jobs. I still clean mine, but I gave up on cleaning all 3. They now help out. As they should!
5. Inspect. You've gotta go back and make sure it's done how you want it. My kids will do the LEAST amount of work possible, if given that option. I just don't give them the option anymore. Sorry kids. My way or the highway (or, if you read my allowance post, you know they'll lose out on funds if they don't do it how I want it).
Ok, here's our current job chart. I do include meal responsibilities on here. Decide what works for you. Honestly, if you're REALLY particular about anything, I wouldn't relegate that to the kids. I just made it in word and was easy peasy. If anyone wants the download I can include that, but it is pretty well self-explanatory (and needs to be adjusted to your family).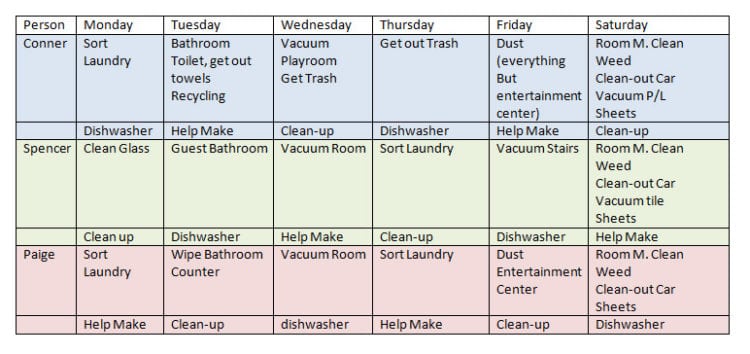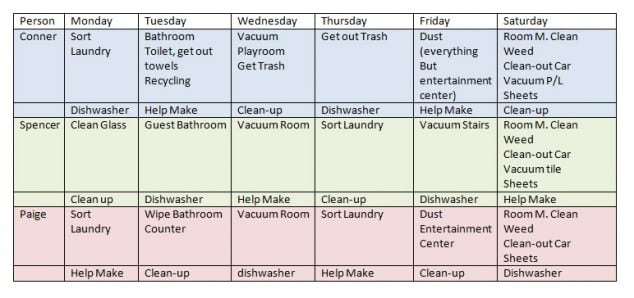 a few notes:
C is 14, S is 10 and P is 5.
M clean means "Mommy clean" (which means the entire room needs to be cleaned up)
Any other questions?
Be sure to check out my post on The Trip Clip
to make these types of lists even easier!