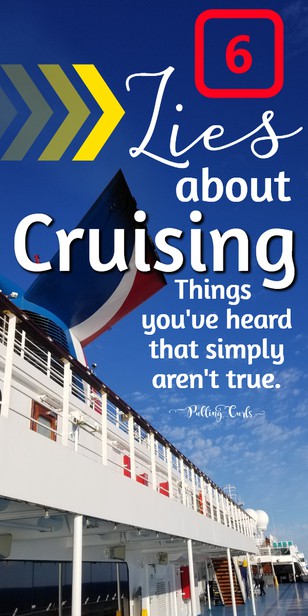 We just got back from a cruise with my husband and two of our children. I read and listened to a lot of tips. Today, I wanted to share 6 lies I heard about cruising that I hope will help you on your next trip!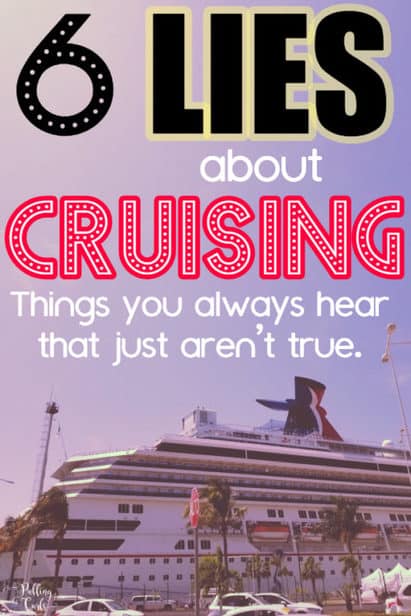 By way of information — we sailed on a 7 day Carnival Cruise Line to the Mexican Riviera out of Long Beach, which we booked with Get Away Today because not only do they price match, they have the best rooms available of anywhere I saw.
We absolutely LOVED the cruise, but there were a few things I'd heard several times that I felt just weren't true. Hopefully these help you set realistic expectations for your upcoming cruise!
[thrive_leads id='45797′]
Cruise Lie #1: You won't feel the ship swaying in the ocean.
Honestly, I am not sure what these people are thinking.
From the minute we pulled out from the doc I could feel the ship moving in the water.
Now, FYI — we sailed on the Carnival Splendor that holds over 5,000 people (3,100 passengers) — so, I am sure this depends some on your ship size.
We chose a cabin on level seven, near the middle where I was told we would feel it the least.
I still felt it.
Now, I wasn't bothered by it until we turned back towards home (on sea day 3 we turned around towards home). I was grateful for these patches I bought. I tried both sea bands and some ginger candy (the ginger chews from Trader Joe's) and neither of those helped much.
The patches worked within about 30 minutes for each of us.
I mean, I never wanted to throw-up — but my stomach just felt sour.
Other things that helped:
Sitting on our deck and getting some fresh air, as well as focusing on the horizon.
Drinking more water, as I always think hydration fixes everything.
As an FYI, I am NOT prone to car sickness. I can normally do anything in the car without feeling sick. The one other time I felt ill like this was at Universal Studios. So, even if you think you have a pretty strong motion stomach, you might be wrong. Bring the patches. 🙂
Cruise Lie #2: Disembarkation is easy
This is a total lie. Ours was a total mess. I guess maybe people didn't listen. There was a huge line in the lobby. We finally asked one of the nice Fun Squad girls and said we had faster to the fun and we thought we got to get off easier. She finally found us a way out.
Also, I think if you get a porter after you get bags, you wait less (and they take your bags to the car).
And… a little tip for people who are as dumb as we were
What happens if you leave a bag at the Carnival Cruise terminal?
Yes, we did that.
And they actually called us about it before we figured it out ourselves (which is probably a big blessing). I just had to call customer service, and they shipped the bag to our house for the price of shipping ($37). Yes, it's not cheap — but better than leaving that stuff in CA.
The process was really smooth — AND I am glad that my bag had a couple of tags on it so they knew who to call. 🙂
If we had been more local, we could have picked it up. Phew. And yes, I am dumb — and yes , at least I didn't leave a kid. 🙂
Cruise Lie #3: All the food is great!
This is a lie.
The buffet is just about as good as your basic Vegas buffet. Probably a more high end one, but not a Caesars/Bellagio buffet. It's fine.
The desserts, however, I felt sick every time I ate them. Which is sad, because they look super tasty. Just something about it…
We always tried to eat at the restaurant whenever we could.
The restaurant serves breakfast (or sea day brunch when you're not stopping at the port), and dinner.
Dinners have many different options, and you can order as much or whatever you like (portions are small, so I got a couple o appetizers many times at meals). I loved the desserts at the restaurant. They didn't have the after effects of the ones at the buffet.
A note on meals on Carnival Cruise Line:
We chose anytime dining, and I wish we'd chosen the early dinner time. I never felt like our service at dinner was consistent. Sometimes we had people who were great, and often we had people that were… not.
We always ate early — so it would have been nice to have things more consistent and not get asked about coffee and wine every 10 minutes. 🙂
Breakfasts and brunch are always open seating.
Cruise Lie #4: You don't need to get a balcony room on a Carnival Cruise
Oh man, maybe you don't if it's just two of you — but our tiny room with 4 of us. Two of whom were kids who like to be silly and loud quite a bit.
That balcony saved my life.
It was just so nice to GET AWAY FROM THEM.
Also, it allowed some fresh air into our room.
Even though we used PooPouri habitually our room just kind of seemed "stale" — if that makes sense.
The balcony allowed for some fresh air (although you have to stand with the door open — it closes automatically).
Cruise Lie #5: There is always something happening on a Carnival Cruise
I felt like there was a TON happening at night. So much, that I had to choose between my favorites, but during the day things were pretty light.
A LOT of trivia… and a sprinkling of things here and there. It sort of seemed like they expected us to all be drunk and asleep during the day, and then party til midnight.
If you know me, I'm an early to bed early to rise kind of gal. SO, that was kind of sad for me. I do like action, just get tired easily, even with a nap.
I did watch a lot of HGTV though, and I do love that.
BTW, there are only like 5 real channels on the TV — so hopefully you like HGTV, the Discovery Channel or Food Network. Oh, or CBS news. That's your options. 🙂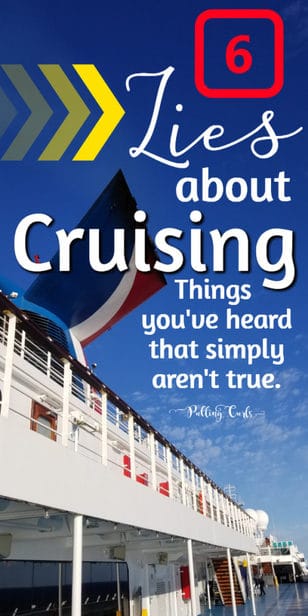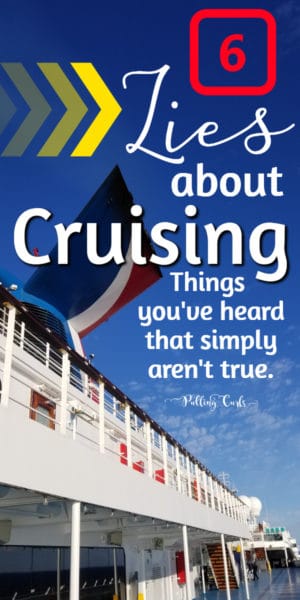 And finally, tip #6
Cruise Lie #6: You don't need Faster to the Fun
Yes, we could've done it with just myself and my husband, but faster to the fun gives you SO many perks for under $100:
You can check in for the cruise faster.
Your room is ready when you get on board — which means you don't have to carry your luggage around the ship til' 1:30 when other rooms are ready
You get your checked luggage faster (honestly, not sure on that one, I saw plenty of luggage delivered before ours)
You can use tenders without getting a ticket for it (tickets are free, it just allows you more flexibility).
You get off easier (as I mentioned, that didn't quite work as well as we'd planned though).
Anyway — I was a big fan. Since we paid per ROOM vs per PERSON it was a great deal for the 4 of us.
A few other quick lies:
Bingo is SO fun. I'd never played it. It was $40 for some cards and there were only 3 winners in the whole game. Sad… the girls running it WERE fun, the game itself wasn't really. I actually want to take my own cards next time and just play on our own for no big prize!
You don't have to pay for anything on board — there are constant upgrades and extra things put in your face. Soda, excursions, bingo — all that costs money!
All cruise dealers are the same — yes, pricing might be similar, but they each have their own pricing structures, and many charge their own fee on top of the cruise pricing. Plus, customer service varies a lot — which is why I picked Get Away Today. Best customer service I have found, they answered ALL of my 500 questions, without even sounding annoyed.