These best gifts for knitters and crocheters are awesome. You'll find some unique gifts for knitters who have everything!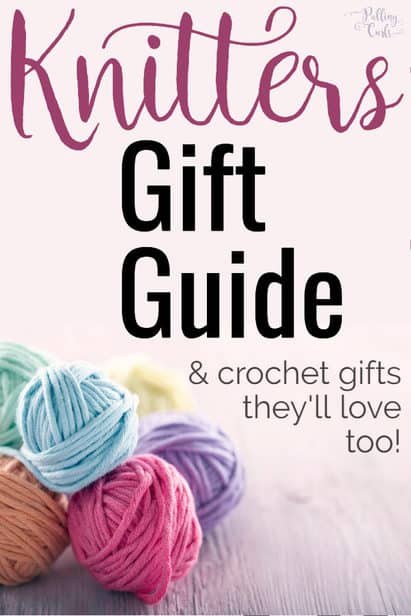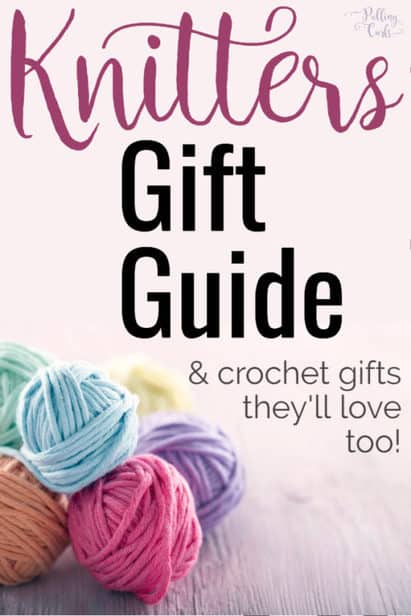 This is part of my Gift Ideas for Families Series << that post has TONS of gift ideas for everyone on your list!
The best place to buy gifts for knitters in 2019
There are a few options:
If possible, it might be nice to go into a local yarn/knitting store. That way, you can see the items in the store and pick out something really personal.
Etsy has a lot of really fun knitting gift options.
BUT, if you'd rather go a bit easier, there are a lot of great options on Amazon.
Gifts for knitters on Amazon
Knitting Needle Gifts
Needles are important, clearly. There's lots of different options.
These interchangeable needles will leave your knitter prepared for whatever project they'd like to tackle, the cool storage case makes them really handy too!
Or, this one already has the line on the needles and also is super organized!
Want to keep your tips protected — I think these are so cute!
Gifts for knitters and crocheters
Knitting or Crocheting Organization Gifts
Although this one is meant to go in your purse, it can also be super handy to have all your knitting stuff. A spot for needles, yarn and more!
This one gives you storage options, and even keeps it closed to keep out prying hands and dust. 🙂
This pattern holder is pretty cool to keep your pattern handy, but also to keep it from getting wrinkled or damaged.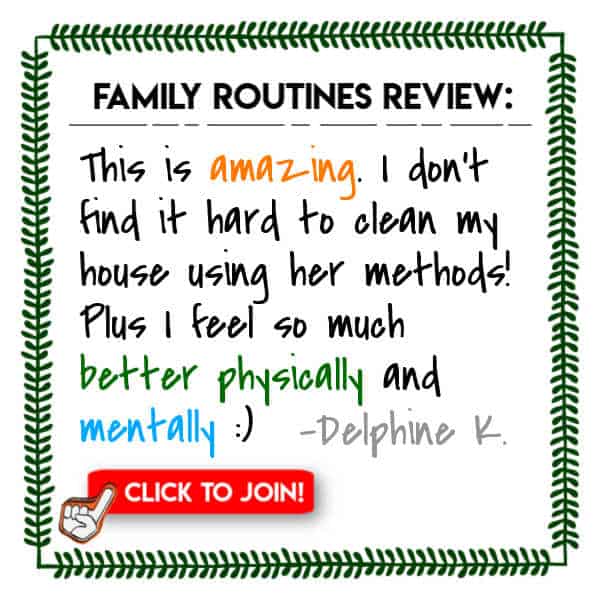 Gifts for Knitters Who Have Everything
I HAAAATE it when my ball rolls away — so this one prevents this — pretty great idea, right? But, this one makes me laugh really hard.
If you need to wind up your yarn into a ball — something this one can be super handy!
These stitch markers are awesome for when they're working on patterns. A nice variety in a few colors so they can stay organized. Or there's these that are super handy as well! I love how pretty these ones are from Etsy.
Got someone who wants to LEARN how to knit — my mom recommends this book to teach you how and give you some starter project.
I love these labels — what a nice thing to put on a gift for others.
Perhaps your knitter likes working with yarn and wants to try something new — check out the zoom loom for something different.
FAQ's about Gifts for Knitters
Not sure about where to even START when gifting a knitter. Some things to consider:
A gift card to a local knitting store (you likely have one, but you just haven't noticed it)
An Amazon Gift Card can never go wrong. Encourage them to get a knitting book they've had their eye on!
If you're looking for a gift for someone — one of these other gift guides might help out as well, and check out my other gift guides below that:
[pt_view id="8d8937f4da"]