Looking for mom gifts for Christmas. You want something unique, maybe homemade and definitely useful (even if your mom has everything!) — because your mom is amazing. 🙂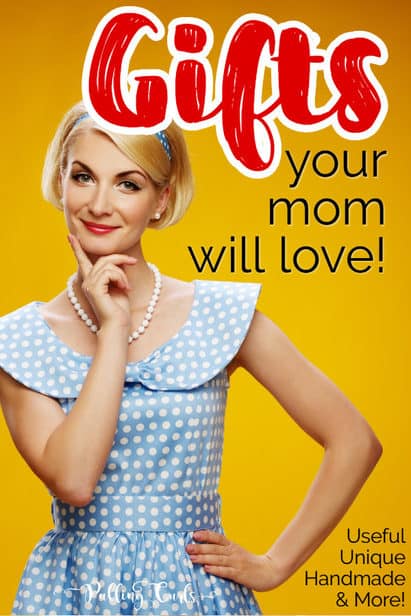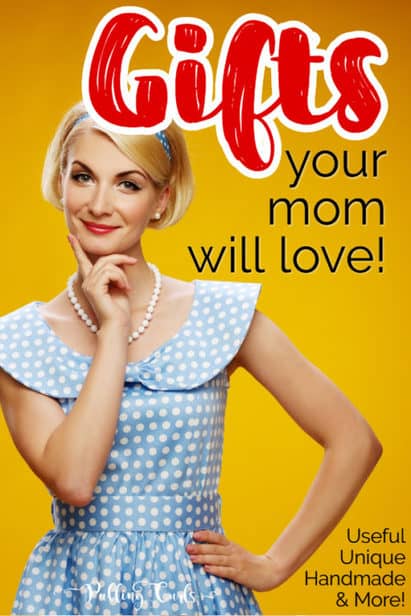 Mom Gifts for Christmas or Birthdays
This is part of my Gift Ideas for Families Series << that post has TONS of gift ideas for everyone on your list!
Useful gifts for mom
Moms have SO many tasks to get done. These useful gifts will be awesome for her.
A lot of these are similar to my Best Christmas Gifts for Wife — that most might have some other awesome ideas!
Now, this first one is pretty coveted, and she might THINK she doesn't need it. I know my mom was reticent for a long time, but once she got it — it was AMAZING.
Ready to be all Judy Jetson?
A robot vacuum for mom
No, vacuums come in may models, and you may want to consider chipping in with your siblings for this one. We have a lower grade model — this one (actually we got the V7 but I can't find it anymore).
However, the market has expanded since we bought. These RoboVacs from Eufy have gotten GREAT Reviews on Amazon.
Of course, there's the gold standard — the Roomba. The thing I love about those is you can created boundaries electronically so that your vacuum doesn't take down your Christmas tree — this is a true story. 🙂
If your mom loves to bake — she might love a
Stand Mixer for your mom
Now, I have a whole post that compares the KitchenAid vs the Bosch & Nutrimill — but, I love my Bosch mixer.
I actually convinced my mom to get one, and she loves it too! Her Kitchenaid had seen better days, and she loves her Bosch.
Alternative to Tupperware
I REALLY like the Zip Top options for leftovers at our house. They would make an awesome gift. No more having to find a lid that matches the bottom. I was super skeptical (the price does seem like a lot) but I was really happy to see how well they work! Use code PULLINGCURLS to get 15% off your purchase!
Snorer In the Family?
If mom sleeps next to someone who snores and getting noise cancelling earbuds is to much for her, these from Quieton might be the ticket. They're extremely low tech (although, she will have to charge them). You just open the case, insert them and they turn on. They don't pair to things, the just emit compensating noise.
I tried them, did they eliminate all snoring? No? But they did help.
Unique Gifts for Mom
Whenever I think unique I think pictures.
There are a few options.
I love the unique items that PhotoBarn has for pictures. I also love that they have stuff in many sizes, so depending on what room she has, you can still find something unique for her.
Don't have kids — give her a photo of something you loved in that last year. Moms love to know what we're doing — which brings me to Chatbooks.
An EASY way to make books of your year. You can take images from lots of places, quickly put them in a book form and WHAM it's a book!
Plus, with this link, you can get $10 off your first order, which makes it REALLY cheap gift as Chatbooks are very affordably priced.
Tech Gifts For Mom
If someone in your house has a switch, Mom might like to switch up her workouts. I've really liked Ring Fit Adventure. It sounds kind of crazy, but it might be worth a shot! They sent it to me and I REALLY liked it!
Christmas gifts for mom from daughter
For me, the gifts that have worked best is something that I have found that I love. It doesn't need to be big — because my mom has pretty-much everything she wants. 🙂
One year I got her a pan scraper, I think I might get her a brown sugar bear this year.
Other gifts she loved are anything to do with the grandkids. I've had my kids make her necklaces before. She was a big fan of those.
You can also get necklaces on Amazon for Grandmas or Moms — I like this one or this one.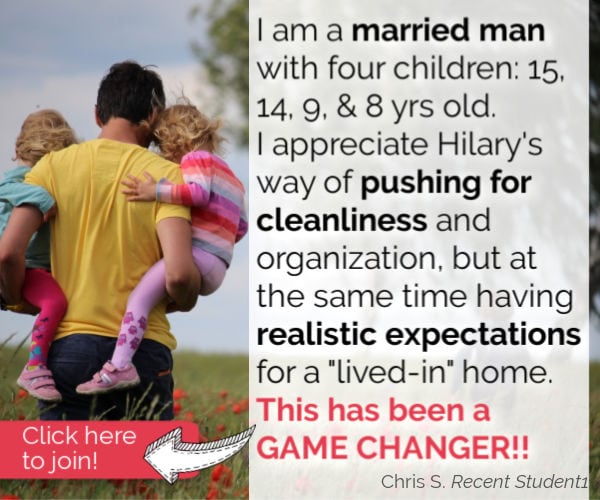 Gift for a mom who has everything
I think we all feel that way. Moms, when they get to a certain age, just buy the things they want. They aren't looking for us to supply it. I'd go with something homemade, or something that involves a photo of you or your family/kids.
I also have a whole post on gift ideas for women who have everything you might find helpful. 🙂
Homemade/handmade gift ideas for mom
As I talked about above — my mom has loved the jewelry that I made from ImpressArt.
Other fun options are making a plate or a cup — my mom loves stuff like that, and kids love to see it when it's at grandma's house. We've also gone to a ceramics place where kids can paint and fire a piece and send it off.
What your mom really wants for a gift
Your mom really wants to know you love her. A hand-written card is the best gift, and she will absolutely love it.
FAQ's about Mom Gifts for Christmas
Where to find mom gifts for Christmas on Pinterest?
I have a great board with tons of family gift ideas!
Mom Gifts for Christmas from Son?
She really wants something from the heart. So, be sure YOU pick it out, to show you how much you care about her!
If you liked this post — be sure to check out my other gift guides:
[pt_view id="8d8937f4da"]