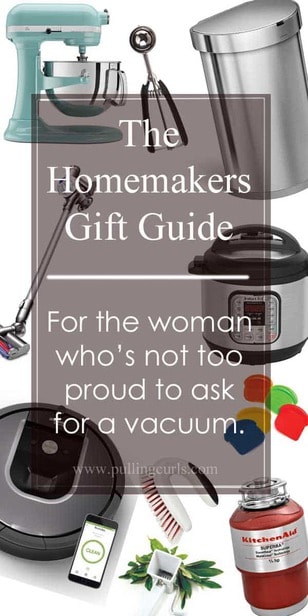 I am the first to say that a woman should be showered with beautiful things when she is presented with a gift. I am the first to oogle over pretty washi tape and a great shirt. But, I also go all a twitter when my husband buys me a Kitchen Aid Mixer, and my true desire lies at the bottom of this wish list. Yup, I am not too proud to ask for things that would make my home life easier. Things like a mixer, a wheat grinder, have all been welcome gifts in my heart. Today I share some of the top gifts to make your life a little easier!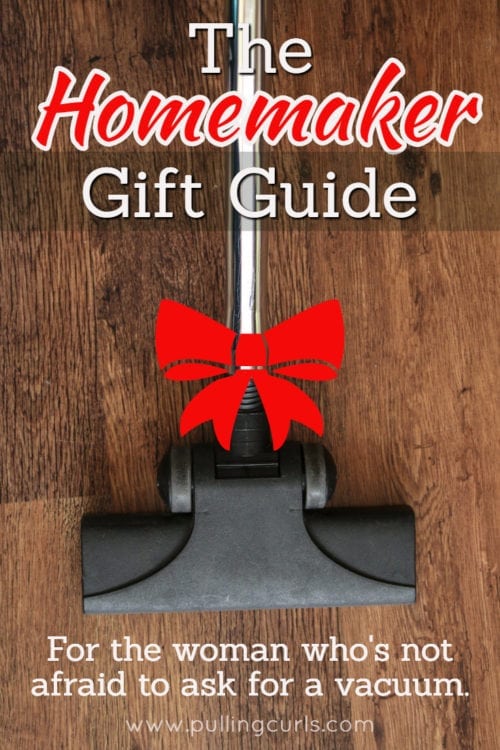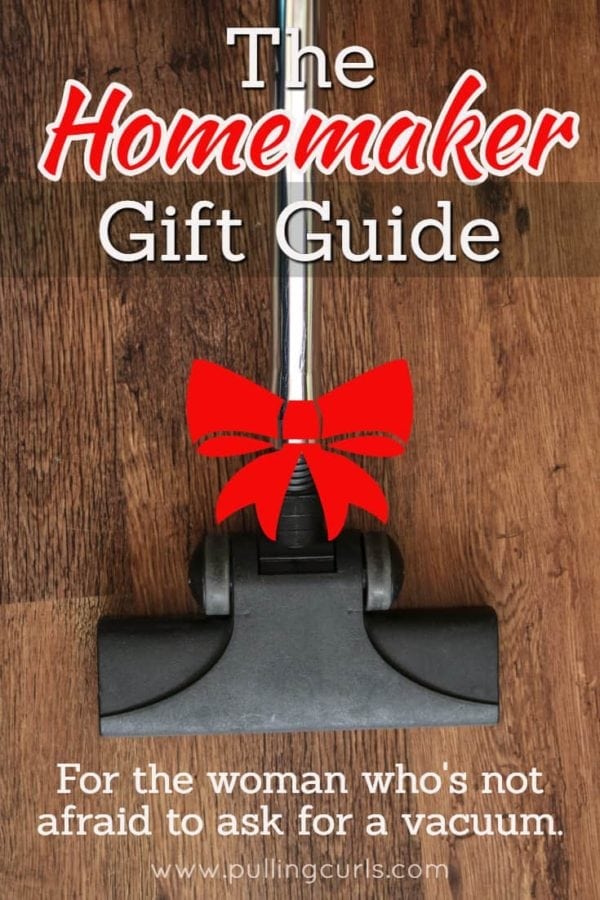 FYI, this is part of my Gift Ideas for Families Series << that post has TONS of gift ideas for everyone on your list!
A new garbage disposal. Ok, this sounds insane, but we had a HORRIBLE garbage disposal for so long. A few apple peels and that baby would get all choked up and need at time-out/clean out. It ended up dying (cue funeral music) and we bought a new one and I swear it's made my dinner clean up SO much easier. A few tips — I'd go with at LEAST 3/4 horsepower. Just works better. They're not hard to install, tons of YouTube videos on it. A great gift for the whole family!
I am a huge fan of the fact that having the right tools makes a job SO much easier. And often, the right tools aren't that expensive. I bought a couple of brushes that have made cleaning so much easier. These guys can make grout cleaning SO much easier. And a good one with a large surface can help when you have a larger area to get to. A great stocking stuffer! 🙂 I have a whole post about some of my favorite tools right here.
As I said before, my husband gave me a KitchenAid mixer one year and I couldn't have been happier. It makes bread and cookies so much easier, and tastier. If you have a family, I'd recommend getting the largest one. You can often find a great price on a refurb one. Those still come with a good warranty. Also, the gears on the larger professional kinds are more sturdy. Mine does sometimes over-do it but if I unplug and wait a half an hour for it to cool down, it comes back to life. So grateful for my Kitchenaid. It has a place of honor in our kitchen. 😉 FYI,I get asked a lot why I chose Kitchenaid over Bosch — at the time we had such little counter space that was my deciding factor, it had a smaller footprint. If I had to choose now, I'd probably still go Kitchenaid because it's more versetile, but I think both are great (and Bosch is better for bread).
Good scoops can make a lot of kitchen tasks SO much easier. I love to use them when I make pancakes, muffins, cookies, even meatballs! It just makes it SO much easier. While I don't think you NEED to buy the Oxo ones (this post seriously isn't sponsored by them, I just love their products) be SURE that you get one that won't rust. I had a problem with that with my other scoops — make sure you get good quality stainless steel (make sure it's dishwasher safe since they're a pain to clean out) – at least 18/10 (whatever that means — I just know to look for that). They can make a lot of cooking tasks so much easier!
I love these scrapers. I love them so much, in fact, I gave them to my friends for Christmas last year (no kidding). They are so grate for SO many things: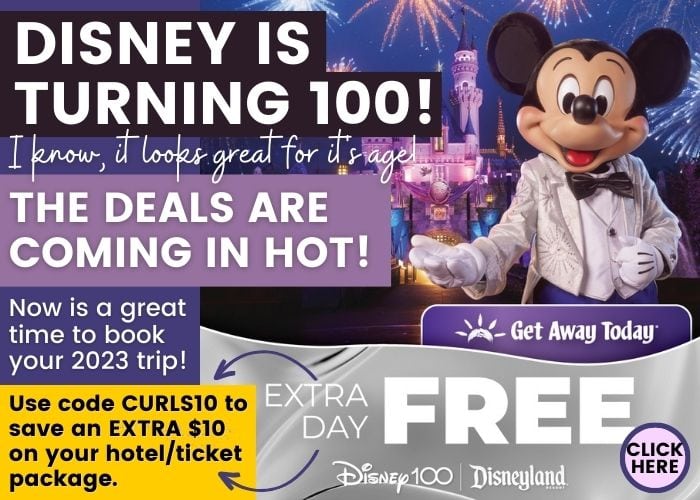 Getting gunk off pans (no more using a knife to scrape and possibly damage the pan)
Cleaning goo off of things
Cleaning sticky stuff off the floor
Cutting washi tape (seriously)
And like 9 million more things
See how one edge is rounded and one is square. Seriously, it gets me right in the feels. 🙂 Another great stocking stuffer!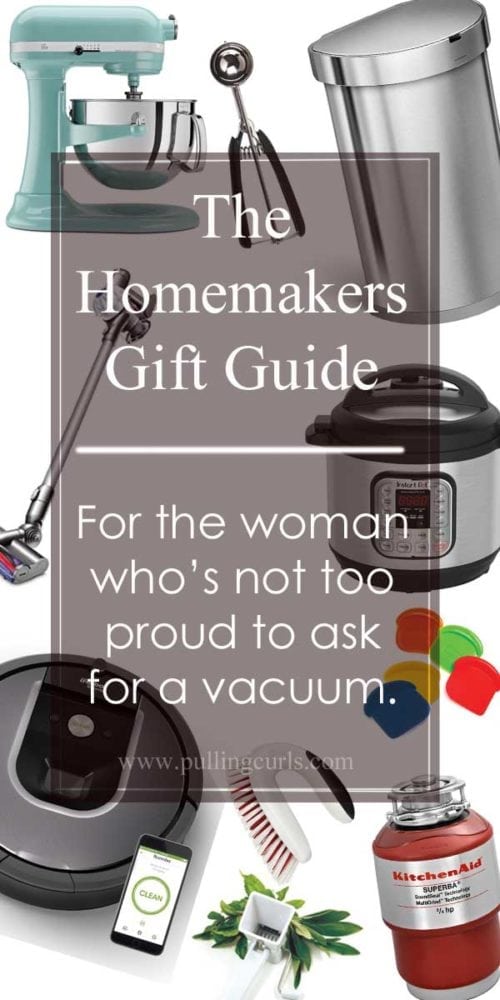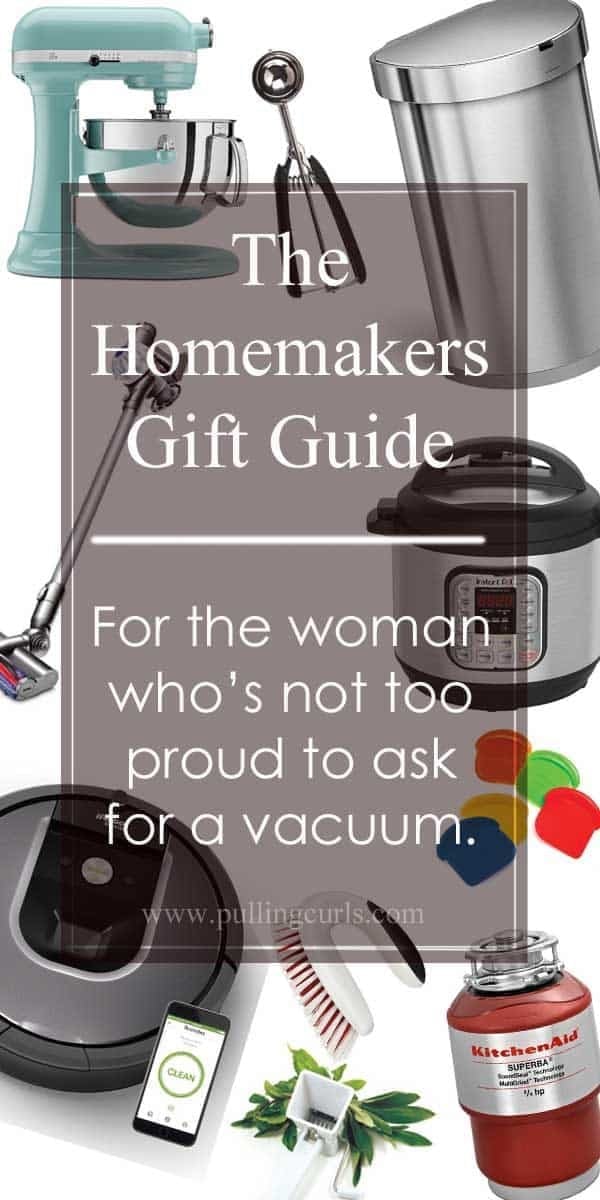 A great vacuum is the key to a clean house. I really feel that. I have a very non-descript vacuum. It's nothing fancy but it's a workhorse and it gets the job done. We bought it from a vacuum repair guy and it does the job. This one on Amazon gets SO many reviews and is priced well. If mine goes on the fritz, that will probably be on my list. Of course, if we're talking a GIFT I'd love the Dyson cord-free because it would be great for all our tile. Currently, we have this Hoover and I absolutely love it — but I always think the grass is greener with another one — anyone else like that?
The Instant Pot — this baby seems to be all the rage lately. I have something REALLY similar that I bought about 6 years ago that I really like. They just speed up cooking time (and effort) immensely. The food comes out so juicy because it's cooked under pressure. My friend even makes homemade yogurt in hers.
AND, if you think the Instant Pot is a win — check out the Mealthy. It turns your Instant Pot into an air fryer! Save space and it works really well. I have a whole IG story about it here. I also have a CrispLid review & coupon code.
Herb Mill — I have a friend who absolutely loves hers. I love using fresh herbs, but I must admit the chopping of them with the stems, etc is such a pain.
Sensing Garbage Can — Hate it when your hands are full of nasty chicken leftovers and you're trying to get your trash can open? Well, this baby stops that problem in its tracks. 🙂 We got ours at Costco, but I like how this one has a large area to throw your trash. We love ours, I am not sure I can ever go back to a regular trash can in the kitchen.
The Roomba. Boy oh BOY would I love one of these. We have tons of tile and I would just go crazy excited to have someone else vacuum it all up, besides me (or me yelling at my kids to get it done). #Icovet — anyway, it is on my wish list this year. But I always seem to put my kids desires over my own. Maybe someday. 🙂 You can learn more directly at the Roomba Website or check out the pricing on Amazon!
If you liked this post, be sure to sign up for my newsletter, and check out all my other gift giudes below that:
[pt_view id="8d8937f4da"]