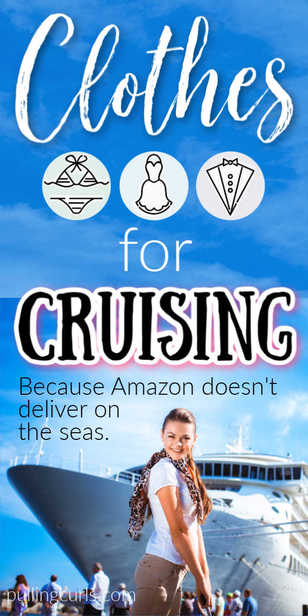 When you're figuring out what to put in your suitcase for an upcoming cruise — WHAT are you going to wear? There's a lot of events to dress for, including formal nights, day ship wear and port clothes. I'll touch on all of them, and some fun ways to get outfits you'll love!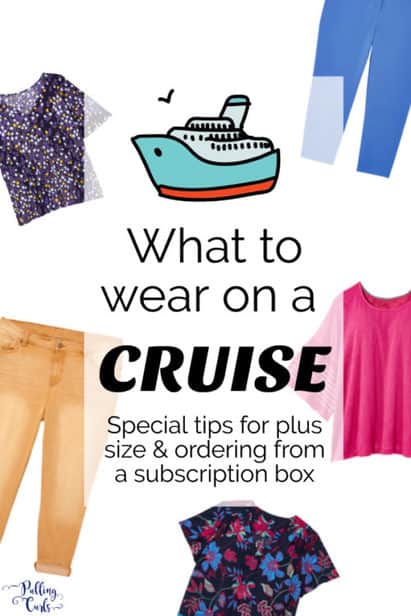 What to wear on a Cruise?
For me, I've mostly watched about 100 YouTube videos preparing me for what I'd need. In fact, I had no idea they still did formal nights on Carnival cruises until I researched a bit. We are going on a 7-day cruise, and we will have 2 formal nights (YIKES). I'm so excited, but I also really work on packing light — so what is a girl to do?
BTW, if you're wondering. We booked our cruise with Get Away Today because they have absolutely PHENOMENAL customer service, and had the best variety of rooms for when we wanted to book!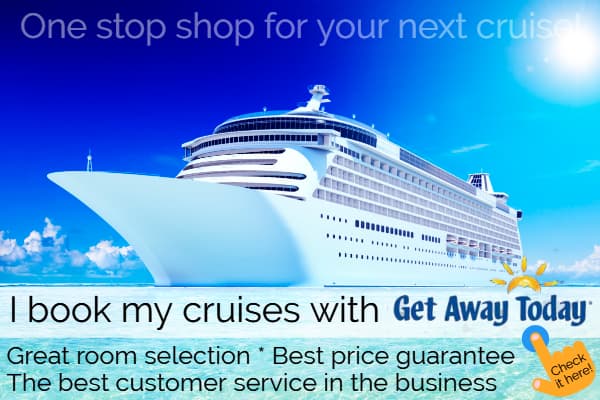 For me, I did get a fashion subscription and asked it to be tailored for a cruise. I was really happy with what they sent — and I wanted to share why for some of the items (I hope it gives you an idea of what to pack) — AND I will also share a great place to get excursion-wear if you're plus sized (hint: it's here).
BTW, I use Dia & Co (and, full disclosure, they send me these boxes every once and a while for PR — but all the reviews & opinions are all my own!). You can see ALL of my Dia & Co Reviews.
Why a fashion subscription? Honestly, I have a hard time finding the clothes I like in stores, and I've had good luck with them in the past. They did a pretty good job!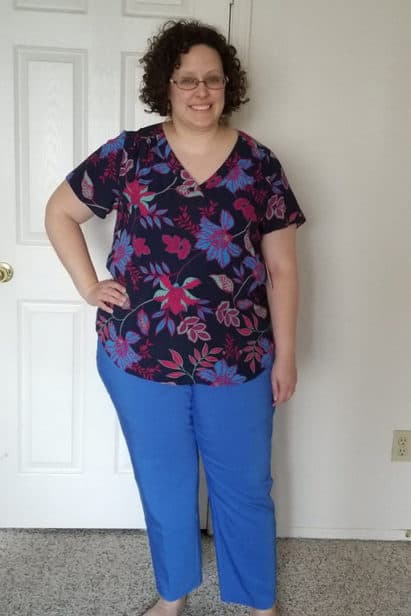 Ok, one of the things you REALLY need to think about is transporting clothes and making sure they still look alright. Dia did a GREAT job of thinking of that (and honestly, I might not have been as thoughtful).
This shirt is going to travel REALLY well, and the pants fit SO well — and will also not get wrinkled in my suitcase.
My last box was a bit off on fit, so I was THRILLED to see the fit of all these items to be SPOT ON.
Top $52 ($39 with a full-box discount)
Bottoms: $65 ($48.75)
What do you guys think of that one? While the outfit looks "put together" it is also SUPER comfortable (and frankly, feels a bit like scrubs — from this nurse) 🙂
---
Ok, onto outfit 2: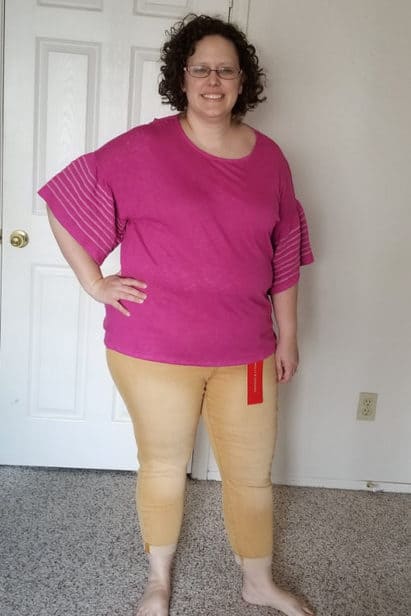 I love, love love the colors of this. Something VERY different than what I normally wear. BUT, those bell sleeves? Oy vey. Not a fan. What do you guys think?
The pants are SO comfy and soft. They will be great for travel. A nice "lighter" option without being white (so if they get a bit dirty it won't be as noticeable — especially on port excursions, etc).
AND, as far as cruising, this top is really fun — and does sort of say "Mexican Riviera" with those sleeves. It is a nice weight for windy boat rides, and the knit will pack REALLY well. It is a cruise win, for sure.
Top: $69 ($51) — besides not being in my comfort zone, I think it's a bit pricey — BUT it IS well-made.
Bottoms: $59 ($44.25)
Ok, and I have one other top (Dia boxes come with 5 pieces):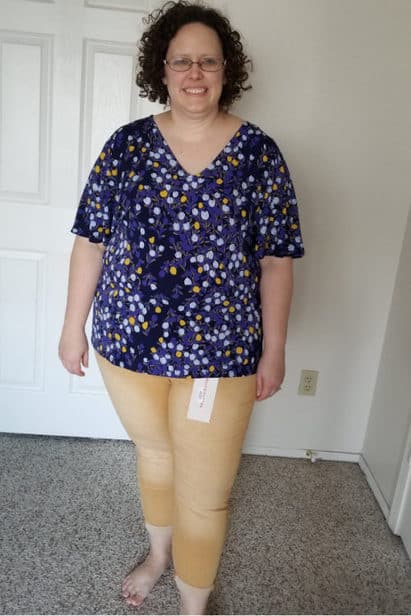 I like how it goes with the pants. The colors are alright, not as bright as I prefer (I prefer really bright clothes), and AGAIN — the flutter sleeves!
I guess I hadn't been specific enough about my sleeve preferences, but no fear — I let them know in my comments.
HOWEVER, I do think on hot port days, the flutter sleeves might be a win. A little more air flow and a bit less restriction will probably be welcome. 🙂 Also, I live in Arizona, and I may love these tops long-term. 🙂 It is also a GREAT fabric for packing, and will not show stains as I chow-down on the ship. A cruise win, for sure.
Top: $59 ($44.25) — I was super-impressed with the pricing on this one! If it didn't have flutter sleeves, I'd want it in every color.
Total Box Cost: $303 –– total with keeping the full box would be $227.25 — which is very much in line with my other Dia Boxes (I have a whole post on Dia & Co Pricing that you might want to check-out if you have more interest in them).
Subscription Box Cruise Tips: Make SURE to be SPECIFIC about what you wanted. I told them when I was going, and where I was going so they could aim right for the weather and activities I'd be doing. Any time you spend giving them more info, is time well-spent!
CRUISE TIPS: While you might not want to get a Dia box before your cruise, I think we can all learn some things from what they sent me. Dia has always listened pretty well (EXCEPT FOR THE SLEEVES, eh-hem) and I often have a free styling fee so you can try it out at no cost. If anything it will give you some ideas to try out on your own.
AND, if you're not plus sized I recommend Stitch Fix or Trunk Club!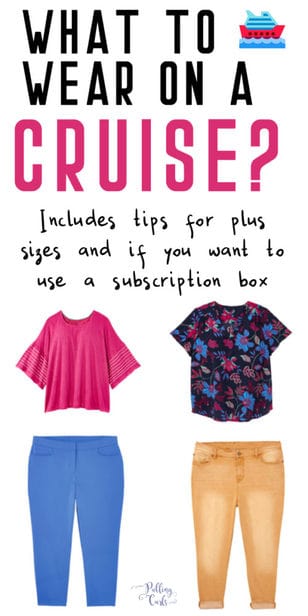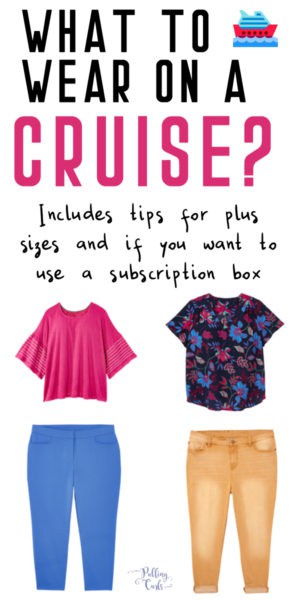 ---
What to wear on a cruise in the Evening
That is the BIG question — right? I was sad Dia didn't send any dresses. I think they were thinking "formal" but my idea of formal is a long dress… and I have LOVED Dia dresses in the past. I plan to actually take a couple of them.
I plan to take the purple one from my November 2018 box, and the floral one from my April 2018 box. Both have become favorites of mine, and can easily get very dressy depending on accessories (while still being VERY comfortable!)
What should men wear on a cruise in the evening:
Keep in mind, you don't HAVE to do the formal evenings, but we plan to — and I think it will be really fun.
Men are expected to not wear jeans, and likely have a suit and tie on. From the Carnival website it says:
Men: dress slacks, dress shirts, and we also suggest a sport coat; men may also wish to wear a suit and tie or tuxedo
I think my husband plans on a sport coat and non-jean pants. 🙂
What should kids wear on elegant nights on the cruise?
My son will likely wear a pair of dressier pants (which can also be worn on the ship, so I'm not talking SUPER dressy), a shirt and tie.
My daughter will likely wear a dress (a friend of mine recently got some awesome wrinkle-free dresses for girls on Amazon, and I think that's a top-notch idea), or a skirt and shirt.
What to wear on Cruise Excursions?
Oh man, as a plus size gal I struggled with this! We are planning on doing some really active things through Shore Trips — including Kayaking & Snorkeling.
Plus Size Cruise Excursion Wear
I found a great plus-size swimwear & active company with Juno Active.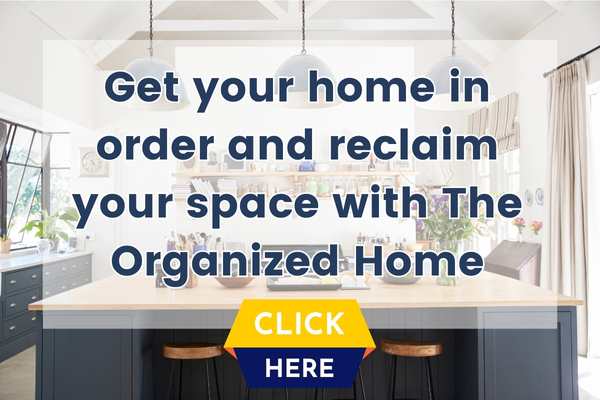 I love how they have SO many options with their swimsuits. They were nice enough to send one to look over. My hips and top are SO different I am so grateful for tankinis. AND, I tend to chaffe in my thigh area, so I was really grateful for a pair of shorts that would help that issue as we're walking to our different excursions. I REALLY like the top, (the top they sent me isn't available anymore, but many are similar and I would pick one that fits your body type) and how it will let me be "active" (vs many plus size-suits that are so busy slimming they don't let you move).
Juno Active Suits are made to withstand harsh conditioners like chlorine and ocean water. I am confident their suits will last me a while!

Before I found Juno Active I shopped around a bit… I wanted some longer shorts as we will have to walk quite a bit (and I tend to chaffe in a suit alone). I got these from Amazon, and a rash guard is a MUST to protect my pasty skin from the sun.
AMAZON WARNING: Sizing is ALL OVER THE PLACE. So, be sure to order a few months before your cruise, so you have time to get it right!
Non-water Excursion Wear
I mostly will wear something that can get a little dirty, and not get too noticed. I thought that a lot of the items from Dia above would work well for that!
So, that's my plans. What do you think I got right or wrong? I'd love to hear in the comments!
If you're interested in cruising, climb on board to hear the rest of my cruising posts — and check out my other travel tips below that!
[thrive_leads id='45797′]
[pt_view id="672b576eab"]