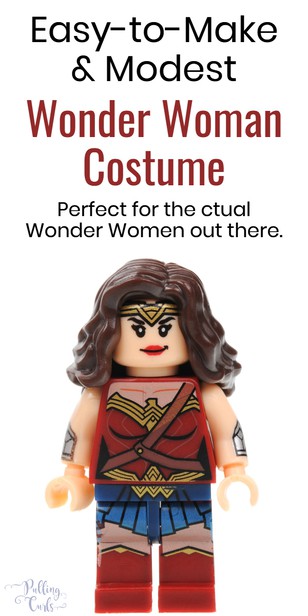 We'll show you how to make a wonder woman costume — it's an easy way to dress up for an event. This one includes shorts, boot covers, wristlets and a headband! It is also a modest Wonder Woman Costume.

This Wonder Woman Costume takes just a few pieces you can find at a thrift store. Plus, you won't look like a porn star when you wear it. Let's do it!
Get us out from under… WONDER WOMAN!!!! 🙂 Best part of the song, no? When my family decided they were going to do a superhero theme, there was no question who I would be. Only caveat — I couldn't be the sexy slinky wonder woman on TV. I had to be the more modest version.
The year we did super heroes, I bought a TON of t-shirts, shorts, etc. from a company that sold that type of thing. If I did it again, I'd just look for them at Goodwill. While they were fairly inexpensive, I think I could have done better, but I digress.
Make a Wonder Woman Costume
Wonder woman consists of a few parts:
Headband
T-shirt
Cape
Wrist cuffs
Shorts
Boot Covers
Belt/Lasso of Truth
1. DIY Wonder Woman Headband
I bought a fair amount of the REALLY thick fuse-able interfacing. I forget what it's called, but it's like poster-board with fusing on each side. it's super handy to have around, and we have a lot of it. just go to your local fabric shop and ask them. They'll know what it is. For the headband, I measured my head,I then roughed out her headband, minus a couple of inches. I then used the headband to pattern on some gold spandex (which I bought at fabric.com — I couldn't find any local, and I got good shipping from them). I sewed it, right sides together. It is stretchy, so I could still shove the stiff interfacing part into it. Then I used an inch of elastic to connect the two. I then used fabric glue to put a red star (made of fake red leather) on the front.
2. DIY Wonder Woman T-Shirt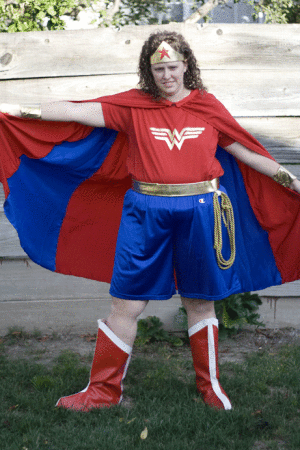 Got the red t-shirt online (but as I said, I'd do Goodwill if I had to do it over again). I then went on google images and found the wonder woman logo . I printed and cut it out. I then cut out that image in both fuseable interfacing and my gold spandex (bought from fabric.com). I put them together on the shirt. I think I used some of my fabric weights to weigh it down on the edges intially. It was REALLY hard to get it lined up well. I covered it with a damp washcloth and ironed to get the interfacing to bond. In the end, I think it turned out REALLY well. It's been washed a few times, and is still holding strong.
You could also easily do this if you had a silhouette or cricut machine with vinyl.
3. DIY Wonder Woman Cape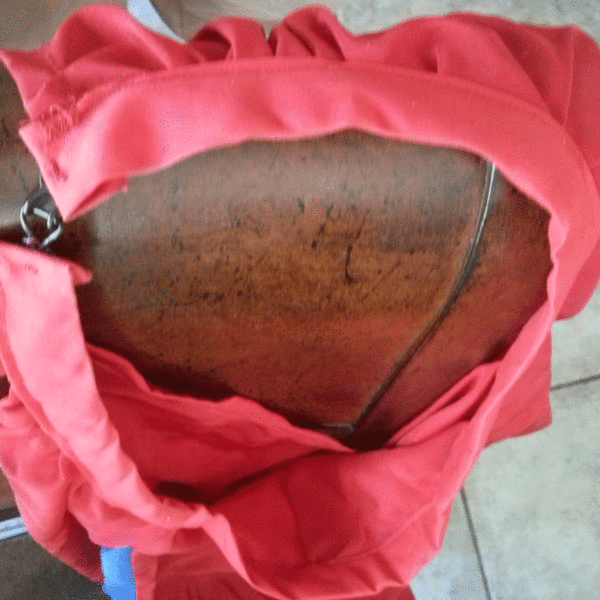 Little known fact about me, I can sew capes without a pattern now. I've done quite a few, actually. I wanted it to be more than JUST red. I bought some shiny fabric (the name eludes me, it's satin-y). The I cut the red fabric into 3rd's (the middle third being larger than the other 2) and inserted triangles of the blue satin-y fabric in it and sewed them together — this cape is not lined, I just zig-zagged the edges. The raw edges I turned under and sewed. I then took a bit of the red fabric and made a little neck band. To do that, I just measured my neck, added a few inches to where I thought it would be comfortable, and sewed the 2 short edges, and one long edge right sides together, and then turned it out. I gathered the cape (putting MANY more gathers towards the front of the cape, and less in the back — the front red panels are gathered almost as much as they will go. I pinned it into the neckband (turning the bottom of the neckband at the same time, so I didn't have a seam allowance — you could press it if you wanted to. i then sewed it, and added a large hook and loop at the end to keep it on. Whamo. CAPE.
4. DIY Wonder Woman Wristbands
You will OBVIOUSLY need wristbands. I mean, if a bullet comes at you — let's just say they're a safety issue. 🙂 I just meaured my wrists, added a bit. I made a template from the heavy interfacing and then sewed a tube of gold spandex to shove the interfacing in. I then zig-zagged the edges shut. That's it. They are ugly as sin up close — but costumes are meant to be viewed from afar. 🙂
5. DIY Wonder Woman Shorts
I bought basketball shorts. I put them on. 🙂
6. DIY Wonder Woman Boot Covers
I took a measurement around my calf, added a couple of inches, and added a shoe at the bottom of it (both sides just the same). I sewed those, right sides together, and then covered up the sewn seam with a strip of white pleather. I sewed velcro on the backs, so I could close it. I sewed elastic at the bottom to keep them from riding up. Boot covers are a good skill to have if you plan to make m any superhero halloween costumes. 🙂
7. DIY Wonder Woman Belt/Lasso of Truth
I just used some gold cording. I didn't want to use regular rope, because I am too classy for that. 🙂 The belt is just thick elastic (non-roll), covered in gold spandex (the same way I had done before). I added a little loop of elastic to hook the lasso to my belt. It was awesome. The belt closes with 2 large hook and loop closures.
I put some leggings on, just because my shorts were JUST too short. What a shame. I have used this costume twice. It's worked well. You'll see variations on it as I talk about my other superhero costumes soon.
Do you make costumes for Halloween? I sort of enjoy it, but you mostly need to remember nothing's going to be perfect. I think the wristbands are a good example of that for all of us. They look great on, horrible off. I haven't been killed by a bullet yet. 🙂 Have questions, ask them below and I'll try to respond!
Check out my other costumes:[pt_view id="0726fa8b7b"]